I Thought All Hand Creams Were Way Too Greasy — Until I Tried This One

mbg Beauty & Wellness Editor
By Jamie Schneider
mbg Beauty & Wellness Editor
Jamie Schneider is the Beauty & Wellness Editor at mindbodygreen. She has a B.A. in Organizational Studies and English from the University of Michigan, and her work has appeared in Coveteur, The Chill Times, and Wyld Skincare.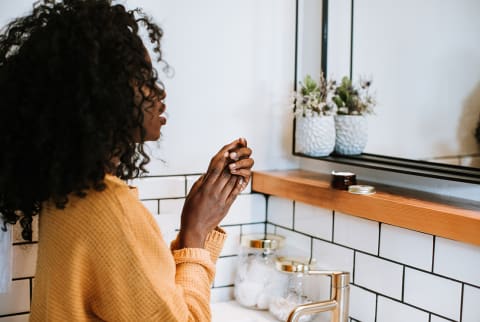 Image by Leah Flores / Stocksy
November 13, 2021
Some people have their go-to hand cream on lock, copping their favorite tube by the cartful and popping one into every handbag they own. I'm not one of those people. While I can appreciate a decadent formula, I was never married to a certain cream. I've tested a fair bunch, but I could never find one I loved enough to trot around, a salve I felt eager to massage into my skin multiple times per day.
I'm not a hand cream loyalist, plain and simple. Or, well, I wasn't—until now.
Advertisement
This ad is displayed using third party content and we do not control its accessibility features.
This cream has recently become the hero of my fall beauty routine, and I can't stop applying (seriously, it doesn't leave my side). Allow me to divulge the silky formula I've been keeping within arm's reach.
My skin status: dry and flaky hands.
Before the Great Hand Cream Discovery (I'm getting there, promise!), my relationship with the product category was...hot and cold, at best. My hands have been desert-level dry of late—not an uncommon gripe, especially given the vigilant hand-washing and sanitizing of the last 18 months—and I'm also a frequent cuticle picker, which certainly doesn't help the flaking.
Still, I would frequently ignore my hands' cries for attention, chalking it up to cold-weather woes. The only time I would actually slather them in moisture was when I was safely tucked into bed for the night. Because here's the thing about hand creams: They often leave a greasy finish. Great for a soft-as-butter feel—not so great for wrangling your keys. Or securing a jewelry clasp. Or holding a pen—or anything that requires some dexterity.
Yes, hand creams are luxurious and nourishing, but the stickiness made them not so user-friendly—at least not for me. As a result, my poor paws would remain cracked and scaly, especially around the knuckles.
Enter: the hand cream that does it all. 
In case you couldn't tell, I have high standards for hand cream. It needs to coat my skin in enough moisture without leaving behind an oily film—if the texture is at all greasy, I simply won't stick to it. So if I do enjoy a certain formula (so much that I rave about it for pages) you can trust that it ticks every single box.
I've been testing mindbodygreen's brand-new postbiotic hand cream for a few weeks now, and, man, does it deliver. It's luxuriously hydrating, with moringa seed oil and olive-derived squalene to promote a strong skin barrier. Oat oil also helps soothe my inflamed nail beds, while shea butter softens the skin and fills in microcracks. Shea also gives the formula that deliciously creamy texture, which makes the experience oh-so-lavish.
It also features postbiotics to help tend to my skin microbiome, which can become compromised from all the hand-washing, and especially as we enter cooler weather. Now, you may have seen probiotics and prebiotics in skin care formulas, which replant healthy bacterial strains or feed the strains we have naturally (respectively). Postbiotics follow a similar beat, but think of them as the endgame: They supply the skin with healthy byproducts from the start, like peptides and fatty acids.
But the real kicker? This cream doesn't make my hands slippery whatsoever, even seconds after applying. We can thank aloe vera for that advantage: In addition to fading dark spots, soothing inflammation, and keeping the skin supple, the aloe provides a smooth texture and faster absorption. So the hand cream delivers a splash of moisture, sinks in like a dream, and never leaves my hands feeling oily.
Advertisement
This ad is displayed using third party content and we do not control its accessibility features.
The takeaway. 
I'm a texture enthusiast, in case you couldn't tell—if a beauty product has a goopy or sticky feel, I won't enjoy using it (and will typically end up gifting it to a friend). I know exactly what went into the making of mbg's hand cream; I've tested multiple iterations, and let me just say: It's a real winner. My hands now greet me with smooth, supple skin, not a greasy (or dehydrated) fingertip in sight.