How To Use Essential Oils To Calm Stress & Anxiety
Doctor of Chiropractics
By Mariza Snyder, D.C.
Doctor of Chiropractics
Mariza Snyder is a functional wellness practitioner and public speaker currently living in Northern California. She received her Doctor of Chiropractic degree from Life Chiropractic College West and specializes in holistic medicine and nutrition.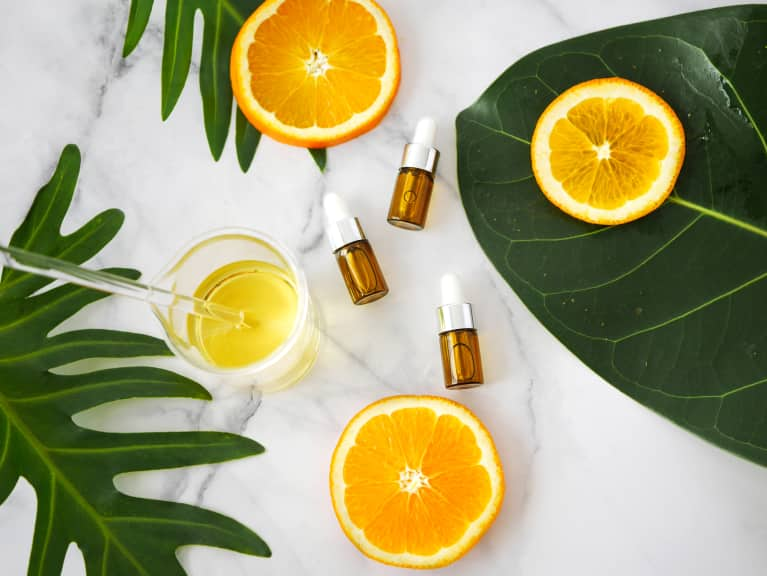 Our editors have independently chosen the products listed on this page. If you purchase something mentioned in this article, we may
earn a small commission
.
Last updated on January 27, 2020
2 stress-busting essential oil blends:
When we inhale the aroma of an essential oil, it immediately kicks our body into action as its molecules travel through the olfactory system into our brain. From there, it can directly affect the many bodily reactions and systems, including emotions, memory, blood pressure and heart rate, breathing, hormones, and stress. You can fill any room in your home with the scent of an oil using a diffuser. Here are two more of my favorite blends to diffuse when anxiety kicks in:
Calm & focus diffuser blend
3 drops rosemary essential oil
2 drops lavender essential oil
2 drops wild orange essential oil
1 drop peppermint or spearmint essential oil
2 drops geranium essential oil
2 drops clary sage essential oil
1 drop patchouli essential oil
1 drop ylang-ylang essential oil
How to take your relaxing diffusions on the go.
If you don't have access to a diffuser, you can reap the benefits of essential oils by getting a little creative. For example, if you want to get pumped for your stress-relieving workout, drop a cotton ball with peppermint essential oil into your gym bag. It will open up your airways for deep breathing, keep you alert and focused, and perk up your mood naturally, especially when combined with wild orange.
And if you experience stress and anxiety behind the wheel, you can add a drop of calming lavender, ylang-ylang, or bergamot to a clothespin and place it on your air vents to ease your nerves during a tense commute. Aromatherapy jewelry is also immensely popular, from diffuser necklaces with felt pads to hold the essential oils to terra-cotta pendants that naturally soak in their scent. Even leather bracelets can both provide aromatherapy throughout the day when worn on your wrists, where pores tend to be larger (just make sure you're using an oil that is safe to place directly on skin, or diffuse it with a carrier oil).
How to work essential oils into a deep breathing routine.
One of the simplest ways to tell your body that you're in control is by breathing deeply. When we get scared or stressed, our breath shallows, our heart rate increases, and cortisol levels run high. And chronic stress causes prolonged periods of these fight-or-flight reflexes. Deep breathing calms the body, regulates the heart rate, and almost tricks the brain.
When you regularly practice deep breathing, it becomes second nature to you, so I recommend scheduling breathing pauses throughout your day. Start by practicing a 10-second ritual at the top of each hour to train your body to utilize the diaphragm. Most people suck in a deep breath by pulling their shoulders up; they assume it just means inflating the lungs. But beneficial deep breathing focuses on the diaphragm, which is located in the abdomen. When you inhale, your abdomen should blow up like a balloon. Exhaling involves sucking in your abdomen to push the air back out. Allow the rhythm of your breaths to complement a slow count of 10 in your head, with a steady stream of air flowing in through your nostrils, billowing into the deep recesses of your lungs, pausing gently in the middle for five seconds to find a center of peace and balance, and then gently leaking the air out, passing through your mouth and over your lips.
Lavender is my favorite essential oil to pair with this deep breathing routine. (Bonus, it also tends to be an affordable oil.) I'll take a whiff before getting started and let the oil circulate through my body as I go. When used on a consistent basis, lavender can naturally boost mood and aid the body in finding a calm. Its primary constituents, linalool and linalyl acetate, are organic compounds that have amazing abilities to soothe the mind and body. High-quality lavender oils will be more powdery and soft than pungently floral. It's not fancy, and it's not new—but it is well-researched and effective!
How to incorporate calming essential oils into a self-massage.
Chronic stress and anxiety can keep our bodies in a constant state of tension, causing our muscles to feel like a rubber band stretched to its bounds, ready to break apart at any second. Excess cortisol from stress also shuts down our digestive and reproductive systems, because who wants to eat or have babies when our world is at risk? In cave-man times, this made perfect sense, but in today's world, we often stand in our own way by allowing stress to take dominion. Therapeutic massage can be the perfect way to relieve the effects of chronic stress, especially when paired with the healing power of essential oils.
Topical application allows the essential oils to permeate the dermis and directly enter the bloodstream, where it can be directed toward the area of the body that needs its healing power. Combining essential oils with a carrier oil is always a safe idea, and it allows for a greater surface area of application, so be sure to use a carrier oil such as sweet almond oil, coconut oil, or jojoba oil with your essential oil massage. One of the most effective trios of essential oils for massage include lavender, bergamot, and frankincense. Mix one drop each of the three essential oils in 1 teaspoon of carrier oil and apply with long, smooth strokes to the body. Throw in your deep breathing for the ultimate aromatherapeutic stress relief.
How to apply soothing oils to the skin.
Topical application of essential oils can also help reduce stress and anxiety, especially when paired with deep breathing. Keeping a rollerball bottle ready with the essential oils that best complement your needs can help to maintain a calm and reduce tension throughout the day. Some of my favorite essential oils for rollerball include roman chamomile, vetiver, and clary sage. Pairing citrus oils like lemon and bergamot can also help to improve your mood throughout the day.
For a tried-and-true rollerball that has helped many of my patients, try these recipes:
Tension-Relief Roller Blend
15 drops lavender essential oil
15 drops frankincense essential oil
5 drops peppermint essential oil
Carrier oil of choice (fractionated coconut oil or sweet almond oil)
Directions:
Add essential oils in a 10 mL glass rollerball bottle and fill the rest of the way with your carrier oil. Dab on pulse points (behind the ears, temples, wrists, ankles, over heart, etc.) and down décolletage for immediate calm and tension release. Be sure to avoid rubbing near the eyes, as the menthol in the peppermint may cause discomfort; if this does happen, flush with more carrier oil, NEVER water!
Stress-Relief Roller Blend
12 drops lavender essential oil
9 drops frankincense essential oil
9 drops wild orange essential oil
Carrier oil of choice
Directions:
Add essential oils to a 10 mL glass rollerball bottle and top off with carrier oil of your choice. Apply blend to bottoms of feet, back of neck, or spine to reduce stress.
While essential oils cannot cure an anxiety disorder, they can help support a better mood and positively affect the body and mind. That said, chronic stress and anxiety can be the symptoms of other underlying issues or could also indicate a larger issue at hand. Please be sure to discuss your health situation with a trusted health care provider before you start to use essential oils. There is no EO panacea for stress or anxiety, and what works for one person may not work for another. Only a health care professional can work with your specific symptoms and root issues to ensure that you are receiving the care that you need on an individual basis.
Along those lines, no essential oil will work the same for each individual, so finding the ones that you love is all part of the journey. Be sure to take them one at a time and really assess how they make you feel in the moment and throughout the day.