11 Places To Find Sexy & Sensual Erotica For Women: Stories, Audio & More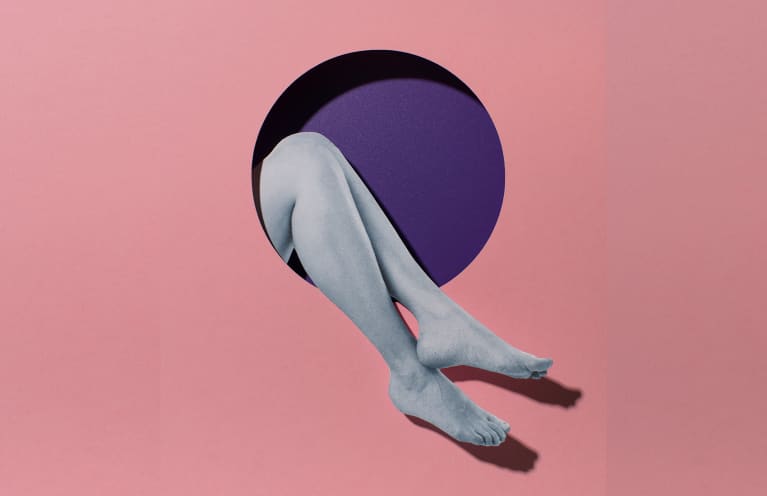 Our editors have independently chosen the products listed on this page. If you purchase something mentioned in this article, we may
earn a small commission
.
Masturbation is self-care, and sometimes you need or want something extra to help yourself along. Enter erotica—because sometimes your imagination or classic porn doesn't quite hit the spot. Here's exactly how to find good erotica for women.
Erotica can be understood in a couple of different ways. In some definitions, it's any art form that deals with sexually arousing themes in a sensual manner, whereas others think of it as specifically the nonvisual version of porn—i.e., written or narrative material specifically made to arouse and aid sex or masturbation.
When it comes to women specifically, erotica has often been held up as being especially beloved. "There seems to be something very intertwined about a story and many women's sexuality," explains Kyle Zrenchik, Ph.D., LMFT, ACS, couples' and sex therapist, and clinical director at ALL IN Therapy Clinic in Minneapolis. "Men are more visual, and women are more narrative. Of course, I'm speaking generally, and there are many exceptions."
If you're on the lookout for some great erotica aimed toward women, then look no further, because we've put together some of the best sites for your pleasure. (Note: These are all NSFW links!)
Autostraddle's SLICK series
Autostraddle is the world's most influential independent website for queer women and nonbinary people, and it's 100% owned and run by queer women. In addition to its editorial content about all things sex and relationships, the site features its very own erotica series SLICK. Every SLICK story is written and edited by queer people, and the stories promise "titillation, torture, fucking, and getting off," according to the website.
In order to read SLICK stories, you need to be a member of Autostraddle's A+ membership club. It costs $4 a month, and for that price you get access to all the A+ content on the site—not just the erotica—such as advice columns, personal essays about a wide plethora of lesbian and queer issues, and discount codes.
Literotica is a user-driven erotica site, featuring stories submitted by anyone who feels called to do so. The site is handily divided into different categories such as "lesbian sex," "sci-fi & fantasy," and "first-time." The site has a low-tech, retro feel, which might make you nostalgic for the days long before Instagram. Best of all, all the stories on the site are free.
Smile Makers are the creators of cute sex toys, but they also have a section of their site dedicated to free erotica written by members of the Smile Makers community. The stories are described as "based on real sexual fantasies" for women and people with vulvas. Some of the stories are geared toward straight women, whereas others feature queer or lesbian women. There's even some erotic poetry in the mix.
Lickerish Library bills itself as being "created by women as an erotic panacea to hard-core pornography." The site features erotic stories focused on a mix of lesbian, bisexual, and straight content without strong BDSM overtones. Each story comes with an "explicitness rating" so you can know what you're in for before starting to read. What sets Lickerish Library apart is its elegant sensual photographs that accompany every story. It costs £4.95 a month (about $6 USD) to access all the content.
The Casual Sex Project comes recommended by certified sex therapist Janet Brito, Ph.D., LCSW. "I really like this site. It's fun and has a story for everyone," she says. Every story on the site is written by regular people and describes a hookup they've had. The site is free to read and is handily sorted by themes such as "sex with an ex" and "one-night stands." This site is great for those who are curious about how other people's sex lives look and for those who have a bit of a voyeuristic streak.
Sugarbutch Chronicles is run by Sinclair Sexsmith, a well-known (in certain circles) butch dominant whose lesbian erotica anthology was nominated for a Lambda Award in 2016. This site is for you if you're into unabashedly queer stories centered on explicit BDSM. The content is free to access, and there's an extensive archive to peruse as the site has been running since 2006.
Dipsea is a little different from the aforementioned sites because it's a collection of audio erotica stories instead of written erotica. It's also primarily an app, although you can listen in your browser as well. Dipsea professes to create a "narrative universe that cares about your needs, wants, and fantasies—down to the smallest, most intimate details." It features sexy stories, in addition to sleep scenes and wellness sessions, which are "designed to turn you on and then tuck you in."
Dipsea is also committed to diversity; it claims that over 50% of its characters are voiced by people of color, and over 25% of its stories are queer. Each story is tagged and organized so you can easily select what you're interested in. Themes covered include threesomes, BDSM, and off-limits hookups. A monthly subscription currently costs $12.99.
OhCleo is another audio erotica app, available for Apple and Android. This one was founded in Sweden and created in order to provide an alternative to pornography for women. It's suited to a variety of tastes and has been downloaded in over 130 countries. "Giver or taker? Master or commander? Confident or shy? We don't care and neither should you. The only rule in sex is consent," reads their website. It costs 79kr a month (approximately $8 USD).
Crashpad is not technically erotica; it features porn videos. That said, it is some of the best porn made by and for queer women and trans people out there. Crashpad has a cult status among queers as the place for ethical, dirty, and diverse porn. Every Crashpad performer has complete control over their scenes and often performs with their real-life partners and friends. Crashpad has something for you if you're looking for queer and trans content featuring adults of all ages, genders, abilities, and body sizes. You can pick up a year's membership for $9.99 a month.
Emjoy is an audio-based sexual wellness app that features erotic stories alongside tips, advice, and information from sex therapists and psychologists. It was created to address the orgasm gap that exists for cisgender women by equipping them with the self-knowledge they need about pleasure and their bodies. The stories are organized by theme and can be easily selected according to what kind of mood you're in, i.e., "seductive," "flirty," or "spontaneous." Emjoy is well suited to women who are getting started on their journey to figuring out what they like, as the app was specifically made to help women get in touch with their sexualities. The app is free to try for seven days and is subscription-based thereafter.
Quinn is another audio erotica app and website for women featuring an impressive selection of stories suited to a wide variety of tastes and kinks such as DDLG and praise kink. You can also select guided masturbation if you want a dominant voice in your ear telling you exactly what to do and how to do it. Hot! Some of the categories featured are age difference, bondage, co-workers, enemies to lovers, and finish inside me. It costs $4.99 a month.
Masturbation is a healthy and normal part of life, and regularly engaging in it can be a wonderful part of your wellness routine. There are reams of erotica out there to be discovered, no matter what you're looking for. Next time you fire up your vibrator (or fingers) to give yourself a little love, consider turning to the written or spoken word to get you over the edge.