No, I Didn't Get A Facial — This New Skin Care Duo Is Just *That* Good

Beauty & Health Editor
By Jamie Schneider
Beauty & Health Editor
Jamie Schneider is the Beauty Editor at mindbodygreen. She has a B.A. in Organizational Studies and English from the University of Michigan, and her work has appeared in Coveteur, The Chill Times, and Wyld Skincare.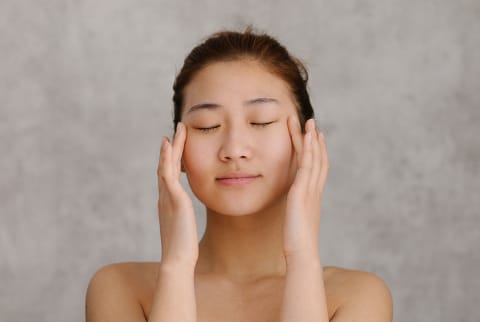 Image by Nabi Tang / Stocksy
June 8, 2022
We carefully vet all products and services featured on mindbodygreen using our
commerce guidelines.
Our selections are never influenced by the commissions earned from our links.
I can credit many of my skin-healthy habits to board-certified dermatologist Whitney Bowe, M.D. I've followed her skin-cycling regimen ever since I saw—and covered—her four-day cycle on TikTok. (I even convinced my partner to hop on board; he's a huge fan of night No. 2.) My skin has never looked more vibrant and even. So when Bowe announced a new skin care line, Dr. Whitney Bowe Beauty, I could not wait to get my paws on it.
I've been testing the two products for almost five weeks now, and I've been asked more than a few times what products I'm using and if I recently stepped out of a facial (that last one will make any beauty editor quite giddy). Finally, I'm happy to report the launch that helped me secure a long-term glow.
What makes this skin care ritual special.
Bowe is no stranger to the gut-skin connection; she frequently raves about her favorite high-fat, water-dense foods for a brighter glow. And in true holistic derm fashion, Bowe found it crucial to create a skin care ritual that enhances skin health from the inside out.
We'll start with the outer skin care portion: the Bowe Glowe Microbiome Nourishing Cream. This lightweight, luxurious, refillable moisturizer contains targeted ingredients to nurture the skin microbiome, such as pre- and postbiotics, squalane, ceramides, and hyaluronic acid. You won't find any exfoliators or ingredients to promote cell turnover (she even skips niacinamide, which can be irritating when used in excess). Rather, this moisturizer acts as a blanket for your skin barrier, perfect for days you'd like to focus solely on recovery.
"No new skin care product that comes to market can claim to benefit the skin without keeping the microbiome in mind, using ingredients that support a healthy microbiome and avoiding ingredients that disrupt or damage the microbiome," Bowe tells mbg about the skin barrier. That includes your skin and gut microbiomes, as the bacteria in your gut influence the balance of bacteria on your skin.
For this reason, Bowe pairs the nourishing cream with the Bowe Growe Pomegranate Microbiome Elixir. These water-enhancing skin care drops are packed with polyphenols from pomegranate, blackberry, blueberry, black currant, cranberry, and concord grape, all of which feed the healthy bugs in your gut microbiome. Not to mention, these powerful antioxidants help protect your body's cells (including skin cells) from free radicals, which can lead to premature aging in the skin.*
Allow me to sing the praises of pomegranate for just a moment: Pomegranate is, hands down, one of my favorite ingredients for skin health. Every time a product features pomegranate extract or oil in a formula, I'm game. And when you ingest a concentrated dose of pomegranate through skin-supporting supplements the benefits abound: Not only are you getting loads of prebiotic fiber, but those antioxidants can also increase skin's resilience1 against UV rays.*​ (This is why mbg included pomegranate in our cellular beauty+ supplement—another must-have addition to my skin care routine, by the way).
Testing the new formulas. 
Of course, I had to ask Bowe how to incorporate Bowe Glowe into my skin-cycling routine. You can layer the gentle moisturizer over any potent actives without fear of irritation, as the formula only features calming, nurturing ingredients for the skin microbiome; however, Bowe says it's especially great to use on recovery days when you want to pamper the skin.
I also decided to forgo my hydrating serums as I tested the formula since it already includes high-powered hydrators like hyaluronic acid, squalane, and ceramides. To my delight, my skin appeared bouncy and plump from the nourishing cream alone (that also makes it worth the steep $95 price tag, as it essentially combines two skin care steps). And because of the breathable, lightweight texture, Bowe Glowe makes a fabulous daytime moisturizer: It wears exceptionally well under makeup with almost the consistency of a functional primer—it grips onto the skin without feeling tacky.
As for the Bowe Growe beauty drops, I found myself looking forward to my tart, tasty drink each day. With notes of pomegranate and lemon, it's a tasty way to reap the benefits of those powerful polyphenols; add a few drops into sparkling water, and you've got yourself a refreshing summer spritz in about three seconds flat. The ritual also serves as a consistent reminder to hydrate throughout the day—a reminder I always welcome since getting the recommended amount of water for your body increases the dermal layer2 (thereby making your skin more hydrated).
The takeaway. 
Bowe's inner-outer skin care ritual is versatile enough to fit in any beauty routine. Yes, it's a pretty penny ($49 for the elixir and $95 for the cream), but you're paying for high-quality hydrators, clean and clinically tested formulas, and results that truly deliver. Call it a HydraFacial in a bottle.
Want to turn your passion for wellbeing into a fulfilling career? Become a Certified Health Coach! Learn more here.

Jamie Schneider
Beauty & Health Editor
Jamie Schneider is the Beauty Editor at mindbodygreen. She has a B.A. in Organizational Studies and English from the University of Michigan, and her work has appeared in Coveteur, The Chill Times, and more. In her role at mbg, she reports on everything from the top beauty industry trends, to the gut-skin connection and the microbiome, to the latest expert makeup hacks. She currently lives in Brooklyn, New York.