This Holistic Derm's "Skin-Cycling" Routine Will Leave You Impossibly Glowy

mbg Beauty & Wellness Editor
By Jamie Schneider
mbg Beauty & Wellness Editor
Jamie Schneider is the Beauty & Wellness Editor at mindbodygreen. She has a B.A. in Organizational Studies and English from the University of Michigan, and her work has appeared in Coveteur, The Chill Times, and Wyld Skincare.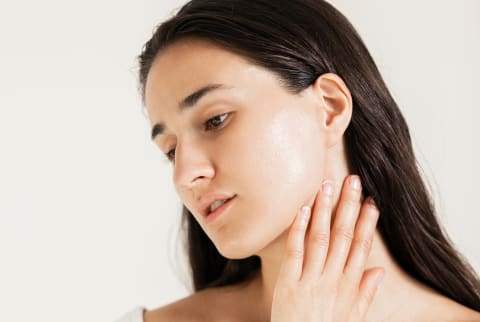 Image by Federica Giacomazzi / Stocksy
February 28, 2022
It happens to me more often than I'd care to admit: I get all jazzed up about a new exfoliating serum, brightening mask, or luxurious scrub, and cannot wait to fold it into my routine. You can assume what happens next: My poor skin barrier lashes out from all those potent actives.
Of course, I'm all about being intuitive with your skin care, investigating what your skin needs on a particular day, and tending to it from there. But sometimes you do need a firm schedule to keep you from going overboard—I can certainly benefit from a few parameters. Recently, board-certified dermatologist Whitney Bowe, M.D., recently shared her four-day "skin-cycling," regimen on TikTok, and it's a great way to dole out your actives. Here, we break down Bowe's go-to routine.
Advertisement
This ad is displayed using third party content and we do not control its accessibility features.
A holistic derm's skin-cycling routine.
"Skin cycling does two main things," notes Bowe. "First, it prevents irritation. Secondly, it really helps you get the most out of each one of your powerful active products." So skin-cycling isn't only for those with sensitive skin—even if you can tolerate more intense actives, it's worth your while to space them out.
Just one more note before we get started: This is a nighttime-only routine. Bowe doesn't actually cycle her skin care in the morning, as she likes to keep her a.m. regimen pretty consistent (and in terms of morning-approved actives, antioxidants like vitamin C take the cake).
To kick off your skin-cycling routine, Bowe recommends some form of exfoliation (physical scrubs, AHA serums, and the like). "Not only does that give you an immediate glow, but it actually helps prep your skin to get the most out of Night 2," she says. Without a layer of excess dead skin, any subsequent actives can have an easier time penetrating the skin.
Advertisement
This ad is displayed using third party content and we do not control its accessibility features.
Which transitions us right into Night 2: the retinol night. You can read all about the benefits here, but generally, the vitamin-A-derivative is hailed for reducing fine lines, easing dark spots, evening tone, and promoting faster skin cell turnover.
Of course, not everyone can tolerate the buzzy ingredient, but you can find a range of options to better suit your skin type—from stronger concentrations for acne-prone individuals to gentler formulas buffered with hyaluronic acid or ceramides for those with sensitive skin. Find our all-time favorites here, and read up on our retinol FAQ for any lingering concerns.
3.
Nights 3 and 4: recovery.
"Nights 3 and 4 are what I call 'recovery nights,'" says Bowe. "On those nights, you want to avoid any exfoliating acids, you want to avoid any retinoids, you want to avoid any potentially irritating ingredients, and just focus on nourishing your skin barrier." Some of her favorite nourishing players include jojoba oil, sunflower seed oil, glycerin, hyaluronic acid, and aloe. Essentially, stick to gentle ingredients with the sole purpose of pampering the skin. "Just think hydration, hydration, hydration," Bowe adds.
Advertisement
This ad is displayed using third party content and we do not control its accessibility features.
After you baby your skin with hydrating, nourishing ingredients, it's time to repeat the process over again, starting with exfoliation. Just know that some people may need to fold in more recovery nights than others, and that's OK—it's important to listen to your skin rather than following the exact regimen to a T. For example, you might dedicate an entire week to skin recovery before you even think about reaching for the chemical exfoliator. Don't be afraid to tweak the schedule to tend to your individual skin's needs.
The takeaway. 
Everyone has their own tried-and-true skin care routine, but if you are going to mirror someone else's regimen, a dermatologist is a pretty safe influence. Follow Bowe's form when it comes to introducing heavy-duty actives; not only can it keep irritation at bay, but your skin will get more use out of those ingredients.