If A Holistic Derm Could Bring *One* Food To A Desert Island, It Would Be This

mbg Beauty & Wellness Editor
By Jamie Schneider
mbg Beauty & Wellness Editor
Jamie Schneider is the Beauty & Wellness Editor at mindbodygreen. She has a B.A. in Organizational Studies and English from the University of Michigan, and her work has appeared in Coveteur, The Chill Times, and Wyld Skincare.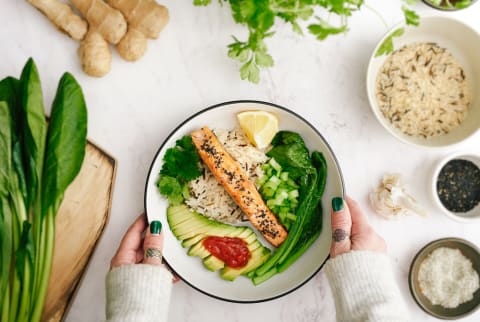 Image by Darren Muir / Stocksy
February 3, 2022
The list of foods for hydrated, supple skin is a long one; plenty of water-dense, high-fat, antioxidant-rich staples are beloved for their glow-inducing abilities. What's more, different foods can support certain skin goals—be it collagen production, hydration, antioxidant protection, or gut support—which is why experts recommend a balanced, nutrient-dense diet filled with skin snacks to deliver loads of complexion-supporting benefits.
However, we do occasionally ask these experts to play favorites, if only to streamline our shopping lists. This brings us to a recent TikTok video from board-certified dermatologist Whitney Bowe, M.D.: "If this dermatologist were stuck on a desert island and I could only have one food with me, it might just be salmon," she says.
Advertisement
This ad is displayed using third party content and we do not control its accessibility features.
The one food a dermatologist would bring to a desert island. 
Wild-caught and sustainably sourced salmon is an excellent source of healthy polyunsaturated omega-3 fatty acids, which "keep the skin supple and hydrated," Bowe notes. In fact, experts routinely recommend increasing fatty-acid intake to help improve and protect the skin.* These omega-3 fatty acids, in particular, provide the building blocks to produce healthy cell membranes; as a result, they help improve the integrity of the skin barrier1 and help the skin retain its moisture.*
"[Salmon] also contains something called astaxanthin, which gives the salmon that pink-orange fleshy color," Bowe adds. Astaxanthin is a free-radical-fighting carotenoid powerhouse that is clinically shown to improve skin hydration, increase elasticity, improve skin texture, and reduce fine lines in as little as six weeks.* And since it's likely pretty sunny on that desert island: The carotenoid also has the ability to protect skin cells from UV light.* "Astaxanthin protects the skin from the inside out from those harmful rays while I'm on the desert island,"* Bowe agrees.
If you're familiar with astaxanthin, you likely know that the potent phytonutrient actually comes from green microalgae—when fish (like salmon!) eat this algae, the astaxanthin is what gives them a peachy pigment. So as one ingredient-savvy user comments on Bowe's video: "Why not just eat algae?"
It's a great point, says Bowe—people typically associate salmon with astaxanthin because the fish has a good amount of this super-antioxidant2, ranging from 6 to 38 mg/kg across different species and farmed (lower astaxanthin) versus wild-caught varieties. However, you would still need a hefty amount of salmon daily (around two to 12 fillets, depending on the type you're eating) to reap the carotenoid's skin-supporting benefits.*
That said: "You can absolutely take a supplement made from astaxanthin extracted from algae," notes Bowe. For example, our cellular beauty+ contains premium algal-sourced astaxanthin at a potent dose of 6 milligrams to reflect the current research on skin health3 and to leverage its wrinkle-fighting power.* So if Bowe could bring one food and one supplement to this desert island? We'd wager she'd keep this skin-care-focused formula close by.
Advertisement
This ad is displayed using third party content and we do not control its accessibility features.
The takeaway. 
Salmon is a popular skin food among dermatologists, considering its load of omega-3s and astaxanthin. Add it to your grocery list, and pair the fish with other skin-supporting foods (broccoli, squash, avocado, etc.) for a well-rounded meal.
If you are pregnant, breastfeeding, or taking medications, consult with your doctor before starting a supplement routine. It is always optimal to consult with a health care provider when considering what supplements are right for you.
Advertisement
This ad is displayed using third party content and we do not control its accessibility features.