Natural Self-Tanners: How To Apply Them + The Best Brands To Use No Matter Your Need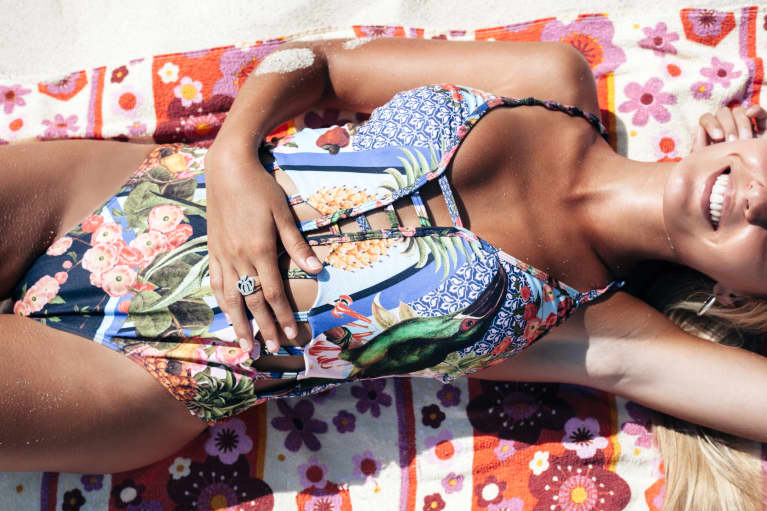 Our editors have independently chosen the products listed on this page. If you purchase something mentioned in this article, we may
earn a small commission
.
Last updated on May 1, 2020
Recently, I was chatting with a friend who always has the most lovely, just-spent-the-day outdoors glow. I admired it but assumed it was never for me, as my very fair skin is sensitive to burns. A day in the sun equals red, never tan. Well, imagine my surprise when she admitted her perennial summer haze was actually self-tanner.
Post-aughts, I sort of thought self-tanners had more or less phased out of popularity. But what I didn't realize was that self-tanners didn't go away; they just got better.
How do natural self-tanners work?
Gone are the days of streaky, messy lotions and orange sprays. Modern self-tanners are effortless and barely there; they just leave a soft-focus glow that's much better for you than baking in the sun all day. And these new tanners are better for you in another way: Many are both clean and natural. And I wanted to try them out for myself: So, I went for a few spot tests.
But before we get to that, a bit of back story on how self-tanners work. The active ingredient in sunless tanners is dihydroxyacetone (DHA). It penetrates the naturally occurring dead skin cells on your epidermis and darkens them, mimicking a tan. The most common DHA is synthetic, but it can be derived from sugar, which is what you'll find in natural options. Natural DHAs work the same way as your traditional options. How deep a product "builds" depends on how potent the DHA is in the formula. Then, as your dead skin cells slough off, or as you exfoliate, you'll see your tan fade.
Here's how to prep, apply, and prolong your glow.
Before you apply, you need to exfoliate your skin to create a fresh base for the formula. (Because the actives work by staining your top layer of dead skin cells, you should remove the outermost layer as they are likely to shed faster—speeding up your fade time). And make sure you use an exfoliator that's oil-free, as oil can screw up your tan.
And the step most people forget? "Moisturize ahead of application in order to avoid an uneven or patchy tan. Discoloration in drier areas—such as elbows, ankles, neck, and knees—is caused by too much product absorbing into the skin; moisturizer helps to ensure that your self-tan won't cling, so you'll be left with a perfectly flawless glow once your color develops," says Jules Von Hep, bronzer to the stars and founder of natural self-tanning line Isle of Paradise.
For the application itself, the technique might vary from product to product (always make sure to follow the brand's instructions), but a few basic rules always apply. For example, work in sections—start at the base of one leg and in tight, circular motions work around the limb. Avoid long sweeping motions, as that's how you miss spots and get streaks. And when in doubt? Blend more: You can never blend enough. And finally, always wash your hands after applying, even if you wear a mitt (some options come with a blending mitt) so the crevices between your fingers and palms don't stain.
Between tanning sessions, make sure you apply regular lotion. "Always keep your skin moisturized so that your natural glow can be on display," says Von Hep. "This is a step you can't skip if you want to prolong your tan and ensure that it fades evenly."
What are the best options?
Think about how tan you want to be and how immediately you want the results.
Gentle color and a slow build: Kora Organics Gradual Self-Tanning Lotion
For day to day, most women want something gradual—so it's not a stark difference from one day to the next. If that's you, try Kora Organics Gradual Self-Tanning Lotion. (To illustrate how popular this product is, it sells out on the site regularly come springtime.)
The formula looks, feels, and smells like any daily body lotion might: Along with the natural DHA, it's made with noni fruit extract and rosehip seed oil for added skin care benefits. I applied it post-shower after toweling off completely dry. Then I applied it like I might my regular lotion, just with more attention and care to how I blended it in. And unlike with my regular lotion, I waited until I was completely dry (and then some; I wasn't going to take any patch-inducing risks) to put my clothing on. And this option, true to its name, is gradual. For best sun-kissed results, you should use it regularly, and you'll start to see color within a few days. Then, once you reach your desired tone, you can switch to every other day—or as needed.
Subtle with fast results: The Organic Pharmacy Self-Tan.
For a middle-ground option, opt for The Organic Pharmacy Self-Tan, another absolute cult favorite. ("Subtle and perfect. Love it," says one Amazon reviewer.) The glow develops within three hours, so it works when you need a tan fast but you want it to be not too noticeable. This, too, is made with moisturizing ingredients—like aloe and shea butter—so it feels like a lotion upon application. To give this a go, I spot-tested it (as I would recommend everyone do, especially with non-gradual products). After the formula developed on my skin, there was a slight difference; however, for something more serious, I'd need another application.
Rich color, quickly: Isle of Paradise's Ultra-Dark Self-Tanning Mousse.
And, finally, for those of you who want a tan tan there's Isle of Paradise's Ultra-Dark Self-Tanning Mousse. Von Hep's brand became famous for their self-tanning drops, and this is their newest launch. The whipped, airy texture just sinks into skin; the formula's also made with chia seed and avocado extracts so it feels soft, too.
Unlike the other options here, the brand recommends exfoliating 24 hours beforehand (like I noted, every application instruction is different, and you should always default to the brand's guide). I spot-tested for this one as well, and let me tell you: This isn't messing around. It promises up to six shades darker in four hours or under, and this can deliver. I could almost watch my little bronzed spot turning throughout the day. The final shade was so creamy soft and rich that despite the fact it was a good four shades darker than the rest of my body, it could have fooled me for the real deal.
Just for the day: The Paradise Bronzing Oil
Finally, if you're not ready for a full-on sunless tanner but just want a boost, all-natural Balmyard Beauty's summer launch is the perfect option. The Paradise Bronzing Oil is an allover hydrator that also contains cacao, coffee oil, and a very light shimmer to temporarily bronze the skin, and then it will wash off in the shower.
The best natural self tanners: