Reviewers Love This Collagen Powder For A Blood-Sugar-Friendly Nightcap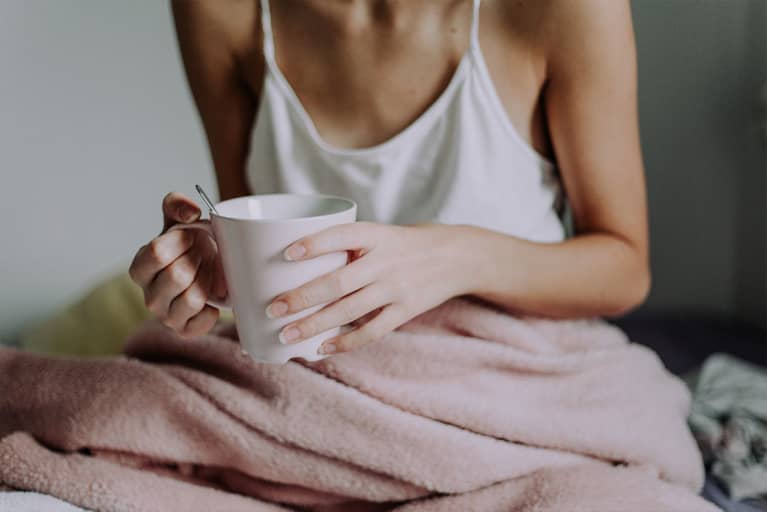 Our editors have independently chosen the products listed on this page. If you purchase something mentioned in this article, we may
earn a small commission
.
If you're in the market for a late-night snack that won't spike your blood sugar and keep you awake, we've got you covered. Generally, we're big fans of magnesium-rich foods like bananas, chickpeas, and nuts and seeds, but if you prefer something sweeter to sip on before bed, we highly suggest making our beauty & gut chocolate collagen+ part of your evening ritual.
In fact, a few mbg reviewers have shared creative ways they use our collagen powder to satisfy a late-night sweet tooth—here, find why our rich chocolate blend makes a fabulous nightcap (with a couple of recipes, to boot!).
Why mbg's chocolate collagen makes a great nightcap.
Simple: Our collagen powder nails a decadent chocolate flavor without any added sugar, which are common culprits for causing glucose spikes right before bed (thus keeping you awake for longer). Instead of actual added flavors, our chocolatey goodness comes wholly from organic cocoa, and we also incorporate organic monk fruit extract to enhance the taste without adding any artificial sweeteners. Our organic monk fruit extract is derived from 100% pure monk fruit native to Asia (also known as luo han guo and "Buddha fruit"). Plus, mogrosides, the unique compounds in monk fruit that deliver its natural sweetness, have antioxidant properties and are blood-sugar-friendly.*
One verified buyer of mbg beauty & gut collagen+ took to the review section to share their sugar-free hot cocoa recipe they sip on before bed. This sweet treat is arguably one of the simpler late-night snacks you could choose: All you have to do is heat up your milk of choice (she chose oat milk) and add one scoop of the chocolate collagen powder. You can either stir it in with a spoon or use an electric beverage whisk (like this one) to make it extra smooth. If you're looking for extra flavor, top it off with a dash of cinnamon.
Or, if you'd rather stick to unflavored collagen, reviewer Sara A. mixes mbg's unflavored collagen powder with an ultimate gut-loving ingredient: apple cider vinegar. "I add one tablespoon to my hot apple cider vinegar in the evening, also whisked in with some honey," she writes. Simply heat up some water, add in a bit of ACV (anywhere from a tablespoon to a shot glass full), toss in one scoop of the unflavored mbg beauty & gut collagen+, and mix in some honey. Easy as can be!
What's more, our collagen mix contains the amino acid L-glutamine. Supplementing with this protein building block has tons of benefits for the body, and it shines bright when it comes to gut health. That's because glutamine is known to provide fuel for the gut lining (epithelium) cells while also playing a pivotal role in maintaining the integrity of our gut lining, which is why digestive health indicators like gut permeability are affected by this amino acid.*
So whether you're looking for a healthy hot chocolate dupe or a boost of gut-loving goodness before you tuck into bed, we've got you covered.
Everyone deserves a late-night treat, but that doesn't mean you have to reach for something packed with sugar. Our collagen powder, both chocolate and unflavored, comes sugar-free, so you can enjoy your nightcap without it interfering with your sleep. Now if you're looking to incorporate your collagen supplement into your morning routine instead, try some of our favorite energizing recipes—like this collagen matcha latte and these skin-loving overnight oats.