6 Running Tips To Keep You Safe This Fall & Winter, From Coaches
Health Writer & Editor
By Kristine Thomason
Health Writer & Editor
Kristine is a writer, editor, and editorial consultant who lives in Long Beach, CA.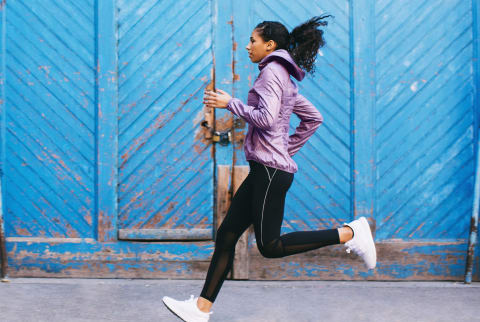 Image by BONNINSTUDIO / Stocksy
November 12, 2020
We carefully vet all products and services featured on mindbodygreen using our
commerce guidelines.
Our selections are never influenced by the commissions earned from our links.
If running has become your go-to means of cardiovascular exercise and stress-release this last year, you've certainly got company. In fact, data from Fitbit cites that amid the pandemic, users are opting for more stress-relieving and non-gym activities, including running.
However, if you're dedicated to logging your miles outside (*raises hand*), then the shorter, colder days of fall and winter can present a set of challenges. To help keep you safe and thriving as a runner from now until spring, running coaches and gear experts share some of their best advice:
1.
Give yourself extra time to warm up.
One of the best things about running is the convenience—all you need to do is lace up your running shoes and head out the door. But when the weather shifts, you should be extra mindful of going from 0 to 100.
"In cold weather, it will take longer to warm up," says Annick Lamar, an RRCA and USATF Level 2 certified running coach with NYRR. "Be sure to give yourself 15 minutes of easy running before trying to go fast. This will allow your muscles to be appropriately primed for harder efforts."
2.
Pay attention to your body.
It's important to recognize that your runs may feel more challenging in colder weather, says Lamar. After all, "your body is managing both the fatigue of running and working to maintain your core temperature." As a result, you may need to reduce the intensity or distance of your runs while your body acclimates.
The surface you're running on may be another reason to scale back, says Danny Mackey, the head coach of Brooks Beasts pro running team. The way he explains it: If you live in a place where you can run on softer trails in the summer, but those same trails freeze over in the winter, you'll probably need to find alternate routes on concrete or asphalt. That switch "could affect soft tissue and your lower legs," says Mackey. To avoid injury, "Cutting back on intensity and volume of workouts to ensure your body is acclimated to the harder surfaces is recommended."
3.
Hydrate, hydrate, hydrate.
That's right, hydration isn't just a concern on hot, summer days. "In the colder weather, runners tend to neglect hydrating appropriately because they are sweating less," says Lamar. "However, being hydrated is still very important for energy production, cardiovascular health, and recovery. Carry a water bottle with you throughout the day, and constantly be sipping."
As you probably could have guessed, wearing the right activewear for cold-weather runs is key. But you don't want to overdo it on the bundling—instead, opt for layers that are easy to shed as you begin to warm up, says Mackey.
"Your base layer should sit closely on your skin, and it should be a performance fabric," says Lamar. On top of your base layer, she advises wearing a long-sleeve shirt and a light jacket. "Avoid large jackets or sweaters that will cause you to overheat, sweat more, and then chill you due to the sweat."
Thermal running leggings are generally a good choice when temperatures really start to drop, and opt for socks that keep your ankles warm. "Runners often forget to cover their ankles, but those muscles, tendons, and ligaments all perform better when warm," says Lamar.
A good trick to help you select the right level of layers: "Dress as if it is 10 degrees warmer than the thermometer reads because you will warm up during the run. For example, if it's 45 degrees, dress for 55 degrees," says Lamar. "Following this tip will keep you from overdressing or underdressing for the weather."
5.
Be mindful of daylight.
Another important consideration when the days get shorter is daylight or lack thereof. Unless you're a morning runner or have a flexible daytime schedule, chances are you may need to log some miles after dusk. "If you are running later in the evening, recognize you will need lights or reflective gear," says Lamar.
However, the type of reflective gear you choose is important, too. "When running in low-light or no-light environments, it's always important to find apparel pieces that combine high-contrast colors along with correctly placed reflectivity features," says Mike Orton, product line manager at Brooks, who facilitated extensive research on this topic while developing their Run Visible Collection. "During our research with 3M, we took the POV of a driver in a vehicle and found that when the driver recognizes you as a human instead of a stationary object like a sign or cone, they will drive more cautiously—slowing down and giving space between the runner and vehicle." To help make that distinction, their research indicated that reflective strips should be placed along "key motion zones" on a runner's body (think joints and moving limbs) to better help identify runners as humans rather than objects.
If your running route has little to no light at all, you may also want to opt for some kind of gear to help guide your path, such as a Biolite headlamp. Orton also recommends surveying your route at least one time during the day to see if there are any hidden obstacles to note.
6.
Have a game plan for the elements.
Fall and winter weather doesn't just mean colder temps; you may also be facing chilly rain or snow, too.
"Running in the rain in cold weather is a tough environmental condition, as your body can't maintain a higher body temperature when soaked through," says Lamar. In this case, a waterproof jacket is an essential addition to your gear list.
Mackey even thinks that cold rain is one of the most difficult weather conditions since it's challenging for your body to stay warm. "I'd recommend avoiding longer out and back runs and do loops, so if you are getting cold while running, you can return inside."
As for snowy weather, Lamar says it's important to be extra careful since ice can be extremely dangerous to runners. "Choose clear paths and roads without snowbanks," she says, "as snow piles cover sidewalks and leave you no place to go should a car come." If snow is unavoidable, it may be worth investing in weatherproof running shoes with grippy lugs (those pieces of rubber on the sole).
For particularly cold conditions, remember: "When you're running, your body is supposed to naturally warm up, so if you feel that not happening due to extreme weather conditions, I'd recommend taking your exercise inside," says Mackey.
Lamar agrees: If the weather is too extreme, take a day off of running. "Do an at-home workout, such as a strength or circuit workout. Get creative and recognize that temperatures will rise again, but it is better to be inside than to attempt unsafe running."
Kristine Thomason
Health Writer & Editor
Kristine is a writer, editor, and editorial consultant who lives in Long Beach, CA. Kristine is a New York University graduate with a degree in journalism and psychology, and also a NASM-certified personal trainer. She has spent her editorial career focused on health and well-being, and formerly worked for Women's Health and Health. Her byline has also appeared in Men's Health, Greatist, Refinery29, HGTV, and more. In her current role she oversees, edits, and writes for the health, food, and movement sections of mindbodygreen.