3 Ways To Make Cauliflower Rice Way More Satisfying + A Springtime Recipe

Cookbook Author
By Vasudha Viswanath
Cookbook Author
Vasudha Viswanath is the author of The Vegetarian Reset and the founder of We Ate Well, a community for foodies that puts nutrition back in focus.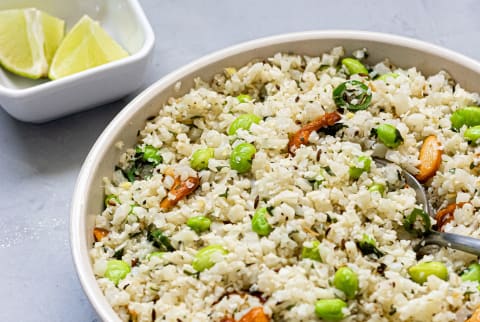 Image by Vasudha Viswanath
April 1, 2023
We carefully vet all products and services featured on mindbodygreen using our
commerce guidelines.
Our selections are never influenced by the commissions earned from our links.
With increasing awareness of the importance of balancing blood sugar, riced cauliflower has emerged as a popular alternative to white rice.
In my cookbook, The Vegetarian Reset, I adapted several traditional rice recipes from around the world to include cauliflower rice and was thrilled to find that it absorbed and showcased the flavor of spices beautifully. Plus, it added an extra serving of veggies to meals and even looked like the real thing. But the unexpected bonus was that cooking with cauliflower rice was much faster than cooking with white rice or whole grains. Time saved in the kitchen with the added benefit of gut-friendly fiber? That's so worth it, in my opinion.
Here are three tips to make cooking cauliflower rice super easy and flavorful:
I tend to prefer frozen to fresh cauliflower rice, as fresh rice develops a sulfurous odor if you don't use it within a few days. If you buy fresh, make sure you use it quickly, within the first day or two.
The frozen cauliflower rice available in most supermarkets is usually flash-frozen to preserve freshness. The store-bought version also has uniformly sized pieces, which is helpful in getting the right texture in your final dish.
You can also make your own at home using the larger holes of a box grater or the grater attachment in your food processor. But the key is to use it immediately or freeze it. It stays fresh in the freezer for up to three months. If you're feeling adventurous, you can also mix it up by adding broccoli, carrots, or even beets!
2.
Saute with olive oil until dry
OK, now this is really important: Never cook cauliflower rice in the microwave! I find that following the microwave instructions leaves you with boiled cauliflower that has a really intense cauliflower taste.
When sauteed in a pan until dry, cauliflower rice takes on a neutral flavor and becomes a great carrier for other ingredients in the dish.
I usually throw it in a pan on a low flame (straight from frozen) and let it cook with a little olive oil (you can also use grass-fed butter or ghee for an even more satiating dish), stirring occasionally and breaking up frozen lumps. Cover the pan with a lid to steam it as it cooks if you like it softer. I prefer mine with a bit of a crunch.
Once your rice is in the pan, you can add seasonings like salt, pepper, cumin, curry powder, lemon juice, herbs, or nuts. Riced cauliflower pairs beautifully with any flavorful Indian gravy like this Saag Paneer. It also makes a great side for any meat dish or a light yet satisfying main when paired with protein and healthy fat, such as in this recipe:
Cilantro-Lime-Coconut "Rice" With Edamame
This green and zesty cauliflower rice recipe packs a protein punch because of the edamame. It makes the perfect easy spring meal.
Ingredients:
12 oz./340 g cauliflower rice, frozen or fresh
1½ tsp + 2 Tbsp extra-virgin olive oil
1 tsp cumin seeds
2 Tbsp chopped raw cashews
2 tsp ginger
1 serrano pepper, sliced
½ tsp fine sea salt, to taste
¾ tsp pepper
¾ cup/100 g frozen shelled edamame, thawed
2 Tbsp lime juice
¼ cup finely chopped cilantro
2 Tbsp dry unsweetened shredded coconut
Method:
In a medium saute pan over medium-low heat, cook the cauliflower rice with 1½ tsp olive oil until dry, stirring often to break up lumps. Transfer to a plate.
Heat the same pan over medium heat. When hot, add the remaining olive oil and cumin seeds. When cumin seeds turn dark brown, add the cashews. When cashews turn golden brown, add ginger, serrano pepper, salt, and pepper, and cook for about 30 seconds. Add the cauliflower rice and edamame and mix until heated throughout. Turn off the stove. Add the lime juice, cilantro, and shredded coconut and mix well to incorporate.
Serve with a dollop of your favorite plain yogurt. You can save cooked cauliflower rice in the fridge for up to five days.
The takeaway
Cauliflower rice is low-carb, rich in fiber, and comes together faster than other rice and grain options. Do yourself a favor and buy it frozen, cook it in a pan (not the microwave!), and pair it with flavorful seasonings for a deliciously satisfying side dish or main course.

Vasudha Viswanath
Cookbook Author
Vasudha Viswanath is the author of The Vegetarian Reset and the founder of We Ate Well, a community for foodies that puts nutrition back in focus. She has been a lifelong vegetarian and passionate home cook. Her journey into eating healthy started with a doctor's note about her elevated blood sugar after a routine physical. She transformed the way she cooks to cut out excessive starch and sugar and has never felt better. After spending over a decade on Wall Street, Vasudha left her career in finance to write a cookbook and create We Ate Well. She grew up in Bangalore, India, and now lives in New York City with her husband and daughter. Find her on Instagram using the handle 'v8well'.