The Best Way To Position Your Desk For Productivity, According To Feng Shui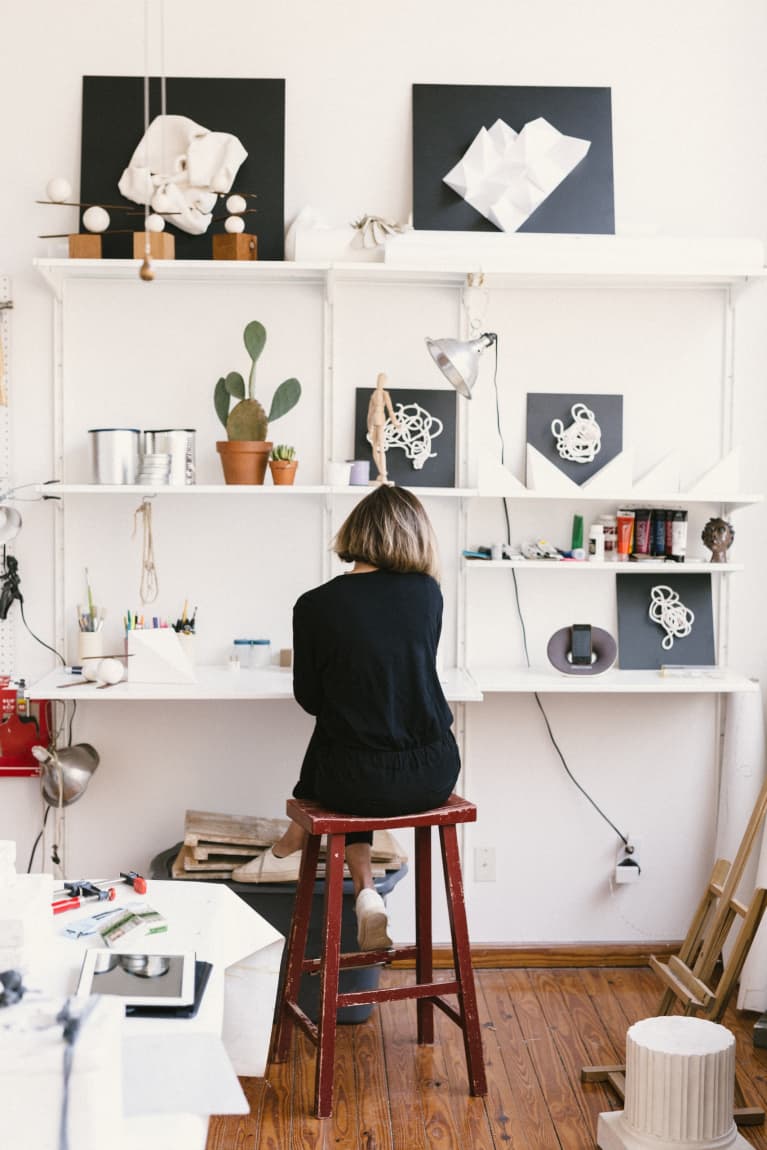 Our editors have independently chosen the products listed on this page. If you purchase something mentioned in this article, we may
earn a small commission
.
Feng shui can help us balance the energy in every room of our homes—and it's also worthwhile to incorporate it at the office. After all, your desk is where you go to focus and get work done. So, whether you've got a working-from-home setup in your place, or you've still got your office desk, here's how to position it the feng shui way.
The best way to position your desk according to feng shui.
As Los Angeles–based interior designer Gabrielle Santiago explains to mbg, when we can't see what's entering our space, it creates a sense of exposure and distraction.
By this logic, it's important to make sure your desk is facing a door. This way, you can easily spot anything going in and out. If that doesn't make sense with the layout of your office space, try to at least avoid having your back to the door. You can also position a small mirror so you can see the door from where you're sitting at your desk.
"We feel more balanced, productive, and secure when we can see firsthand what's coming in and out," Santiago adds. "Think of this like an elevator full of people; when we see the elevator is full, we tend to stand by the buttons because it's a point of control, or with our backs against the wall because it's the safest way for us to see everything."
We subconsciously want to feel in control, she notes, and when we don't, it can be challenging to fully engage with the work in front of us. With your desk (the focal point for productivity) facing the door, your subconscious will be more at ease.
Some more feng shui desk tweaks:
Once you've got your desk positioned, consider some of these other feng shui tips for your desk:
1.
Incorporate the elements.
One of the main components of feng shui is balancing the five elements within a space, which are wood, fire, earth, metal, and water. Think plants, candles, seashells, crystals, a photo of your favorite body of water, or even certain colors.
Nothing breaks focus like a cluttered workspace. Try to make sure your desk is visually inviting, clear of clutter (both on top and underneath!), and energetically refreshed. You can call on your senses to help you with this process, whether that's through pleasant scents from a desktop diffuser, the peaceful tones of a Tibetan singing bowl, or the feel of an ergonomic desk chair. (Be sure to check out our full guide on energetically clearing your desk for more ideas!)
You can also incorporate things like plants, or your favorite crystals, to raise the energy of the space. Monstera plants, bamboo, African violets, and money trees are just a few of the plants associated with financial abundance and professional growth in feng shui.
3.
Treat your desk like a vision board.
And lastly, remember that your desk can inspire you. You can think of it like a functional, interactive vision board, where you bring your professional goals to life. Whittle your stack of books down to the ones that really motivate you, and place your favorite pieces of art in places that'll catch your eye for a visual refresh.
Want to turn your passion for wellbeing into a fulfilling career? Become a Certified Health Coach! Learn more here.