What Time Should You Eat Before A Workout? The Answer May Surprise You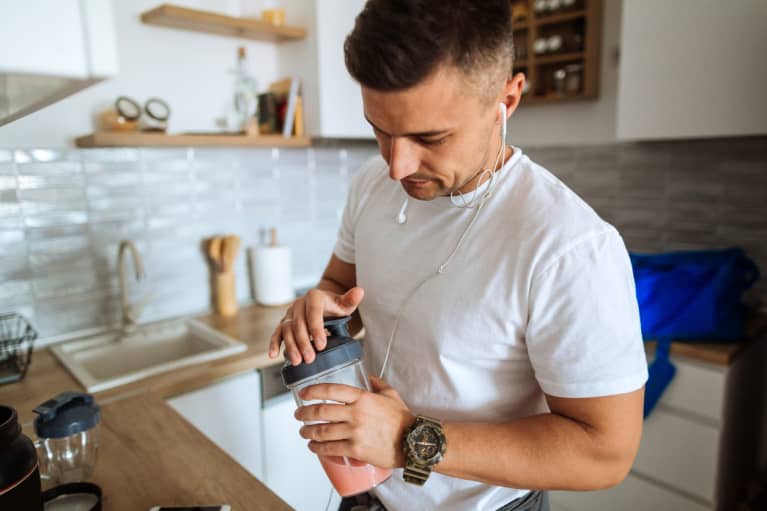 Our editors have independently chosen the products listed on this page. If you purchase something mentioned in this article, we may
earn a small commission
.
Fueling your body for exercise is key, but when it comes down to the details of exactly when you should be eating before hitting the gym, things become a little blurry. There are several factors that determine what and when you should eat prior to starting your workout. Perhaps it's dealing with a sensitive stomach or preparing for a particularly strenuous workout—whatever the case, there are always considerations when it comes to fuel-optimizing.
So when exactly should you be eating before working out? Experts offer some guidance.
Do you need to be eating before exercise?
Before answering the question of when you should be eating before a workout, it can first be helpful to determine if you even need to eat at all. "Whether or not people eat before their workout is highly individualized," naturopathic doctor and dietitian Jaime Schehr, N.D., R.D., previously told mbg. "Some people need to eat before working out, where others feel best if fasted."
That's right, it all comes down to personal preference. Just as what you do for exercise is catered to what you actually enjoy, it's important to listen to these cues when it comes to eating, as well. If you don't feel you need the extra energy and would perform better fasted, that's your prerogative.
Just remember, food is fuel, and one thing that's not negotiable is eating after a workout. "Dietary proteins are made up of amino acids, which are largely responsible for both muscle building and muscle repair. And exercise (strength training in particular), although beneficial to building muscle, works by creating microscopic tears or damage to the existing muscle," Schehr says. "The protein we eat, in turn, gets broken down into amino acids, which supplies the nutrients needed for repair of these damages."
When should you be eating before a workout?
If you are opting to eat before getting your sweat on, timing your meal or snack is important for getting the most out of your fuel and ensuring it won''t upset your stomach. "Meals should be consumed one to four hours prior to your workout, while snacks can be incorporated anywhere from 30 minutes to one hour before exercising," registered dietitian Maggie Michalczyk, R.D., previously told mbg.
For runners, eating right before a workout may cause intestinal distress resulting in something known as the "runners trots" (ahem, bathroom urgency), so keep this in mind before chowing down and hitting the pavement. However, in other forms of exercise like weight lifting, you may benefit from eating closer to your fitness session to get a natural energy boost. For this, carbs are a great pre-workout snack to give your body the fuel it needs to perform your best.
What about drinking water?
Not only should you be drinking water throughout your workout, but it's also essential to hydrate leading up to working out as well. "Hydration also plays a critical role in keeping your body fueled for workouts," Michalczyk adds. "Shoot for 20 ounces of water one to four hours before, and five to 10 ounces of water in the hour leading up to your session."
Failing to adequately hydrate may result in muscle cramping, dizziness, and exhaustion while you're at the gym, so it's actually essential to drink enough water to make sure you're staying safe, especially during the hot summer months.
Whether or not you eat before a workout is ultimately up to you, but if you do choose to fuel your body, you should make sure you have at least one to four hours to digest depending on the activity. This will avoid stomach cramps and discomfort, and overall make your workout a better experience. If you're inclined to enjoy a full meal or a snack, giving your body the time to digest will improve your energy levels so you can focus on your exercise. Just remember to stay hydrated!