The Benefits Of A Hybrid Mattress + A Shopping Guide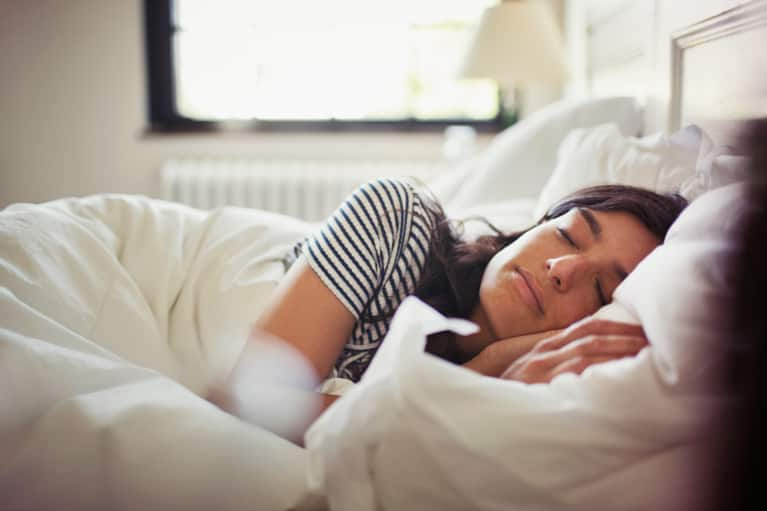 Our editors have independently chosen the products listed on this page. If you purchase something mentioned in this article, we may
earn a small commission
.
Oftentimes, you need to kiss a few frogs before finding your dream mattress. While cushy foam options may feel too soft for your liking, spring beds can be too firm. Hybrid mattresses—which combine the functionalities of both—tend to be ideal for the widest variety of sleepers. Today, we're sharing what to know about this mattress type, how to shop for one, and six brands that could be your prince or princess charming.
What are hybrid mattresses?
Hybrid mattresses are composed of a layer of firm spring coils covered with a softer layer like memory foam or natural latex. They combine the firm qualities of a spring mattress with the soft, absorbent qualities of foam into a hybrid that many sleepers find comfortable. Hybrid mattresses can be comfortable for side sleepers, back sleepers, and stomach sleepers, depending on their firmness.
Ideally, your hybrid mattress will hug your body but also leave you free to move around and change sleeping positions as the night goes on. And sleep experts agree that it's worth taking your time to find this perfect fit. "The average person will spend one-third of their life on a mattress, so choosing one that is comfortable and supportive to health is important," Alan Hedge, Ph.D., an ergonomics researcher and professor emeritus at Cornell University, tells mbg.
"If we don't have a comfortable mattress providing us adequate support, we won't get good-quality sleep, which has a cascade of effects," adds Doug Cary, Ph.D., a physiotherapist and sleep posture researcher based in Australia. "There is no system in the human body that is not affected by lack of sleep."
Benefits of hybrid mattresses.
These are some of the perks of a high-quality hybrid:
Supportive for back, side, and stomach sleepers
Promotes healthy sleep posture
Minimizes stiffness or pain upon waking
Comfortable
Easy to move around in
Breathable
Quiet motion transfer
Can be affordable
What to look for in a mattress.
Not all mattresses are created equal, and Cary and Hedge both agree that you'll want to try out a mattress for yourself before buying. That's the only way to truly ensure that it's comfortable for you and your body type. When searching for your perfect mattress, these are the boxes they say to tick:
1.
It's the right firmness level.
Hedge explains that you'll want to avoid mattresses that feel too soft or too hard to you.
"If a mattress is too soft, it can feel comfortable in the short term, but it will restrict movement during the night, which can restrict circulation to muscles, and it will be uncomfortable in the long term (like sitting on a bean bag chair)," he explains. If a mattress is too hard, on the other hand, "it will compress the soft tissues of the body (like sitting on a rock-hard chair)."
The right hybrid mattress will strike a nice balance between these two: feeling comfortable yet supportive. Any new mattress can be an adjustment at first, so give it a few nights before gauging how the firmness feels to you.
2.
It allows for movement.
Hedge and Cary explain that it's perfectly normal to move around in your sleep—and your mattress should give you the freedom to do so.
"Keeping the body still in one position restricts blood circulation, which disturbs muscle function, causing stiffness and pain," Hedge explains. "Movement is important for spreading skin pressure over different body regions and promoting good circulation."
A hybrid mattress' spring layer should allow for easy movement, while its plush layer should minimize any bed squeaking as you adjust position.
3.
It promotes good sleep posture.
Healthy sleep posture allows you to stay in a neutral, comfortable position as you rest. It shouldn't lead to hyperextension or put too much pressure on any one part of the body. After years of studying people's sleep habits, Cary has found that back sleeping and side sleeping tend to be the most supportive sleep postures—but there's a catch. Side sleepers will want to make sure that their legs are aligned as they sleep. If one knee is farther forward than the other, it can lead to a rotation in the spine, causing you to wake up with pain or stiffness in the neck or back.
He's found that it's possible to train yourself to have better sleep posture (and offers a free program to help), but it will be more difficult if you're sleeping on the wrong mattress.
Medium-firm mattresses tend to be best for promoting healthy sleep positioning, and many hybrid mattresses fit into this category.
Finally, Hedge adds that you'll want to find a mattress that doesn't trap heat during the night, as toasty environments can disrupt sleep quality (especially for those who are already prone to running hot while they sleep). You'll likely need to spend the whole night on a mattress to get a sense of this; yet another reason to try before you buy.
Clearly, there are a lot of factors to consider on the mattress hunt, and what works for one person won't work for the next. With that in mind, we put together this list of order-online hybrids that earn the highest marks from reviewers—the people who actually sleep on them!
All of them have at least a 100-night trial period, so you can easily try them out to make sure they check the above boxes for you. We opted for medium and medium-firm models since these tend to be the most supportive for sleep posture.
A little more about our ranking criteria: At mbg, we prefer products to be made using natural, nontoxic materials whenever possible—and mattresses are no exception. Memory foams are more likely to off-gas volatile organic compounds (VOCs) that may cause respiratory irritation, skin irritation, etc., than 100% natural latex foam extracted from rubber trees. Plus, traditional foams are petroleum-based, so they're not doing our planet any favors. We prioritized mattresses made using natural foams and marked when they are not.
All of the prices listed are for queen mattress sizes, but there's always a chance they've changed since publication.
Best fast delivery: Leesa Hybrid Mattress
Firmness: 6/10
Price: $1,699
Trial period & warranty: 100-night trial, 10-year warranty
Standout perk: Free & fast shipping
Con: Synthetic foam, need to set up yourself
If you want to try out a new mattress stat, Leesa can do that for you. Your order will go out to you within three to five businesses days and arrive in a box for you to unpack yourself. Reviewers rave about the hybrid design that supports the neck and hips, and many of them say that this mattress has helped ease arthritis pain as well as the general aches of getting older. The finishing touch is a top layer that is hole-punched to stay cool all night. Leesa is also a B Corp certified brand, making them a leader in the sustainable mattress space.
Leesa, Hybrid Mattress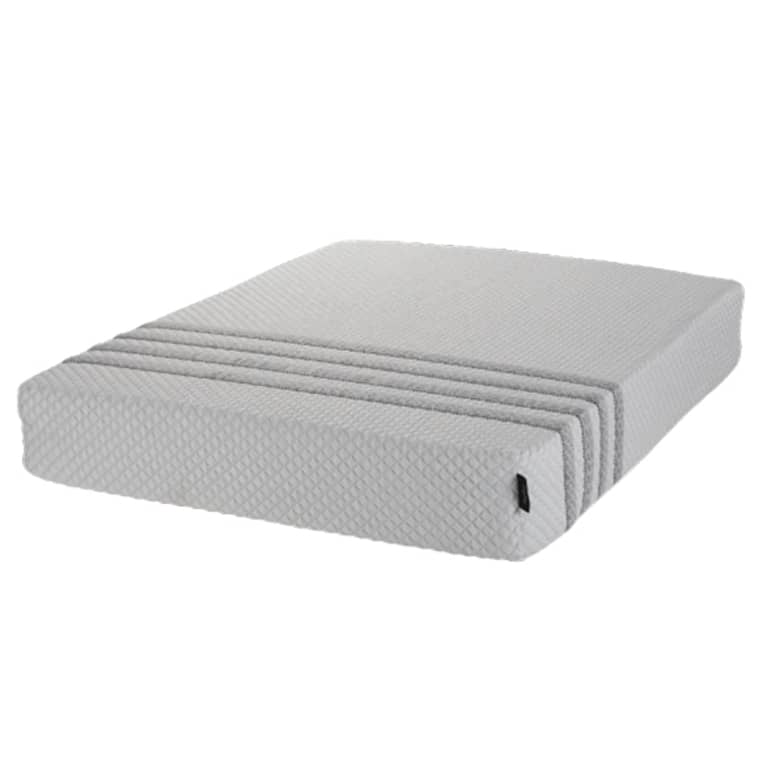 Leesa
Best for side sleepers: Casper Nova Hybrid Mattress
Firmness: 5/10
Price: $2,295
Trial period & warranty: 100-night trial, 10-year warranty
Standout perk: Designed for ergonomic alignment
Con: Synthetic foam, need to set up yourself
The ergonomic zones of this mattress are great for side sleepers (most of us, it turns out!). As Cary pointed out, those who sleep on their side will want to be mindful of their sleep posture because this position can easily strain the back and hips. Casper's Nova Hybrid zones (soft under the head and feet and firmer under the shoulders, hips, waist, and lower back for a more comfortable fit) can help keep you in good sleep form.
This mattress has a cushy feel, well suited for side sleepers seeking a softer bed. It's made of a combination of polyurethane foam and memory foam (we'd prefer to see natural latex, but Casper at least tests its foam for emissions).
Casper, Nova Hybrid Mattress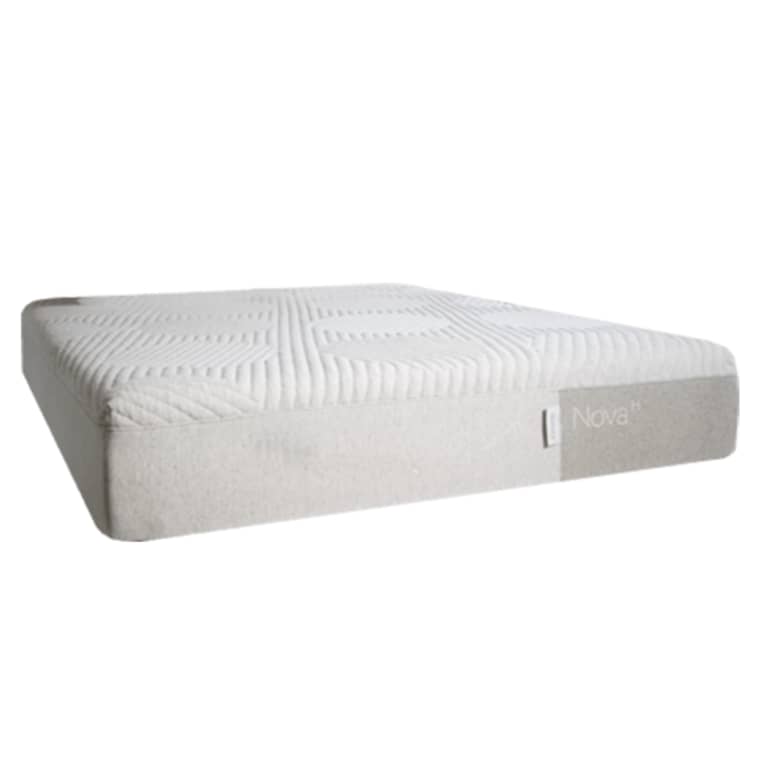 Casper
Best for couples: Nest Sparrow Signature Hybrid Memory Foam
Firmness: 1-10/10, depending on foam layers
Price: $1,529
Trial period & warranty: 365-night trial, lifetime warranty
Standout perk: Option to split firmness (with King and Cal King)
Con: Synthetic foam, need to set up yourself
The most versatile mattress on the list, Nest lets you easily add and remove foam layers if you're looking for a softer or firmer feel. And if you share the bed with someone who prefers a totally different firmness, you have the option to split levels with the King and Cal King (both $1,799) sizes. You'll both appreciate Nest's lifetime warranty and 365-night trial period. This is another bed-in-the-box model, and swapping out the foam layers does take some maneuvering, so it's not necessarily a set-it-and-forget-it sleep experience. This bed also uses memory foam, not natural latex.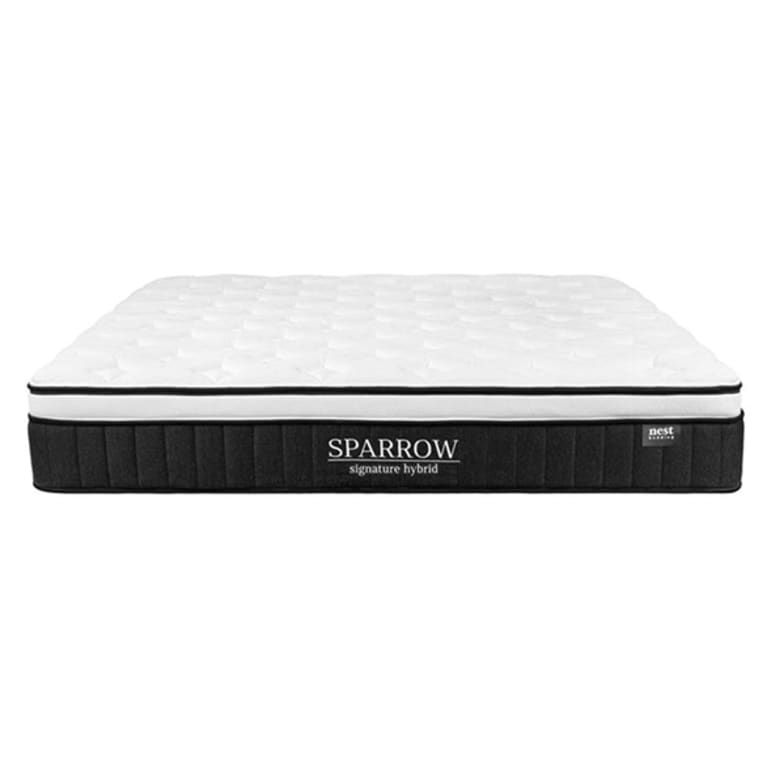 Nest
Best organic: Plush Beds The Botanical Bliss® Organic Latex Mattress
Firmness: 6-8/10
Price: $1,899
Trial period & warranty: 100-night trial, 25-year warranty
Standout perk: Made from organic materials (latex, cotton, and wool)
Con: Need to set it up yourself (though setup options are available)
While some beds are treated with lots of potential irritants, Plush Beds are certified free of flame retardants, heavy metals, lead, and a whole host of other nasties. Their latex, wool, and cotton layers are also certified organic. If you're concerned about the VOCs emitted by mattresses over time (we wouldn't blame you), this is a solid pick. Reviewers also note that it's supremely comfortable, and both the firm and medium-firm options get high marks for helping all sorts of sleepers snooze through the night comfortably.
Plush Beds, The Botanical Bliss® Organic Latex Mattress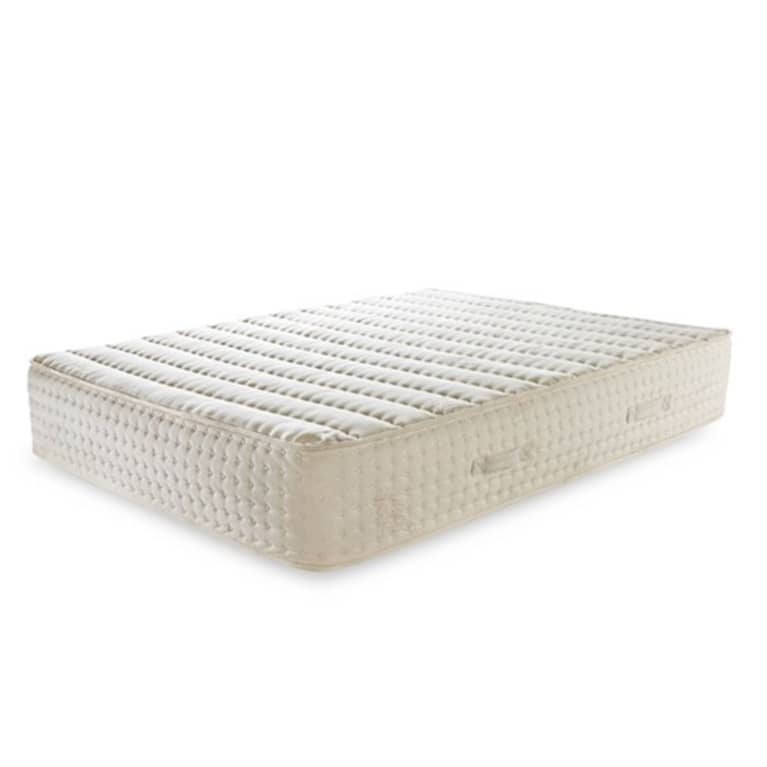 Plush
Best overall: Birch Natural Mattress
Firmness: 6/10
Price: $1,799
Trial period & warranty: 100-night trial, 25-year warranty
Standout perk: Made from organic materials (latex, cotton, and wool)
Con: Need to set it up yourself, topper option is expensive
Helix is a standout in the bed-in-a-box space for its wide range of personalized, comfortable mattress options. Their Natural Mattress from child company Birch combines functionality with sustainability. Made of organic wool and cotton and natural latex, it's a cozy bed that you can feel great sleeping on. It falls squarely in the medium-firm range. Those seeking more softness can add the accompanying topper (also organic) but it will set you back $450.
Birch, Natural Mattress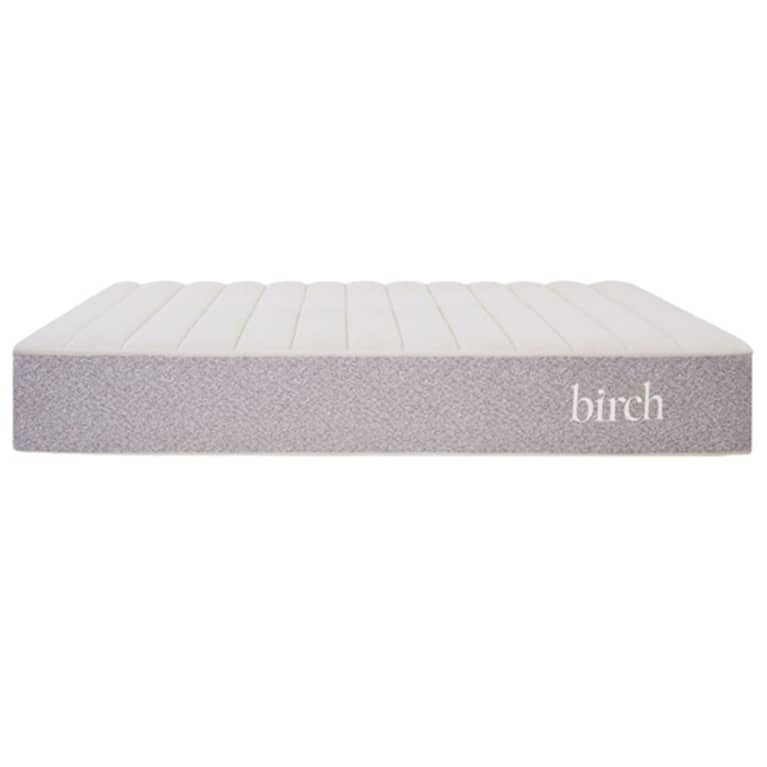 Birch
Best for back pain: The WinkBed
Firmness: 1-10/10 (depending on type)
Price: $1,499
Trial period & warranty: 120-night trial, lifetime warranty
Standout perk: Designed for back pain
Con: Synthetic foam, need to set it up yourself
For back pain sufferers, WinkBed's mattress comes with a "lumbar" layer in the middle for added support for your spine. It's been named the best bed for back pain sufferers by many third-party sites including Wirecutter and the Sleep Foundation.
The hybrid also comes in four firmness levels (soft, firm, extra firm, and plus for heavier sleepers) and has a lifetime warranty. It's made from conventional poly foam, though; for a small sustainable perk, its spring coils are made from recycled material.
WinkBed, The Winkbed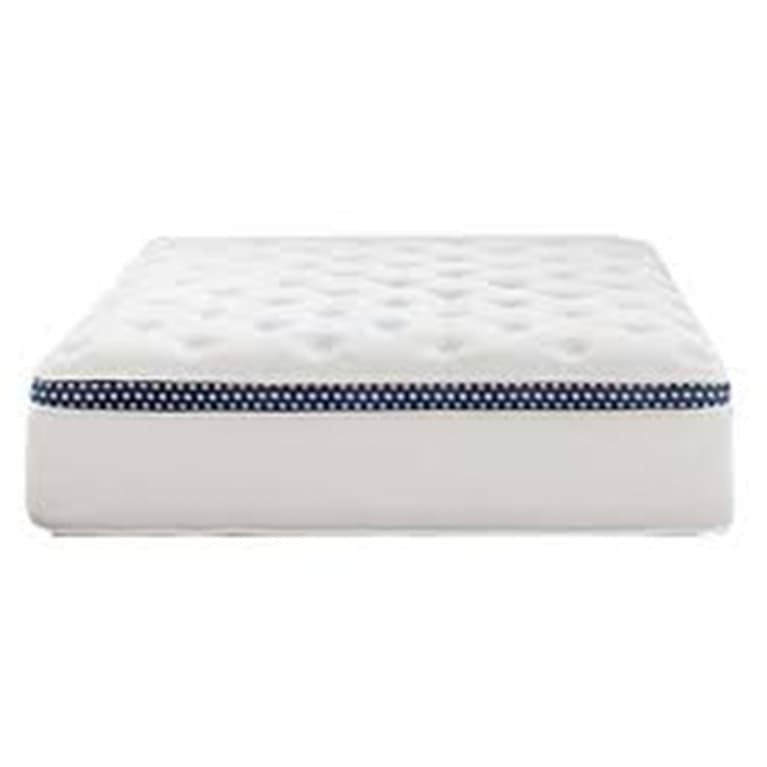 Winkbed
Hybrid mattresses can set you up for a happy-medium sleep experience. They're not too soft, not too firm, and provide the best of both spring mattresses and foam ones to help you fall asleep fast and stay snoozing comfortably through the night. If you're still in the market for more recommendations, here are our favorite nontoxic mattresses and mattresses for side sleepers.