paid content
 for

5 Hacks For Keeping It Cool & Light During The Hottest Days Of Summer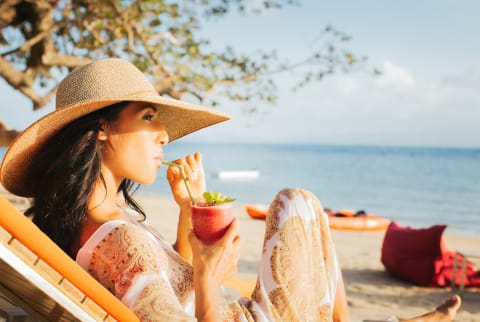 Image by VisualSpectrum / Stocksy
August 8, 2022
If we had it our way, we'd choose summer 365 days a year. From backyard barbecues to afternoons spent poolside, there's no such thing as too much summer fun… But when the dog days of summer roll around and temperatures trend toward triple-digits, we need ideas for keeping things cool and light.
With a blazing sun overhead, the last thing we want is a heavy, hot-cooked meal or a workout that spikes our body temp. Enter: quick and cooling alternatives that still help us embrace summer and our best selves! Whether that's a little air-conditioned crafting or declaring Baileys Deliciously Light on the rocks as your new afternoon treat—we've compiled the perfect summer swaps to keep you feeling easy-breezy, no matter what the forecast reads.
Advertisement
This ad is displayed using third party content and we do not control its accessibility features.
5 simple summer hacks for staying cool and light this summer:
Swap your hourlong workout with a quick and dirty HIIT routine. Long and scenic runs around the city park, heated Vinyasa yoga, Harry Styles–themed spin classes—all ways we love to get our sweat on, but not when it's so hot the ice cream truck is melting. For a lighter workout that still gets the endorphins flowing, swap your hourlong sweat sesh for a quick HIIT routine. If this style of training is new to you, start with this beginner-friendly HIIT workout. Or, for a HIIT-cardio fusion, check your day's workout off the list with this 15-minute class.
Opt for recipes that are light and cooling. When it's unbearably hot, who wants to spend 30 minutes preparing food over a hot stove? As summer climbs toward its peak, swap out your regular recipes for light and cooling dishes—think crunchy raw veggies, citrusy sauces, and refreshing herbs like mint. For a no-cook salad with cool-as-a-cucumber flavors, try out this Greek Salad With Cashew Tzatziki. Other low-key summer staples include Vegan Rainbow Rolls and this Cucumber Matcha Soup (served cold!).
Lighten up your indulgence with Baileys Deliciously Light. This season is all about treating ourselves to the pleasures in life—and so often that looks like passing a summer evening with a delicious cocktail in hand. But for a summer sip that beats the heat, enjoy the lighter indulgence of Baileys Deliciously Light. This treat delivers the same delectable rich cocoa and vanilla flavors as Baileys Original, but with 40% fewer calories and sugar. It's perfect on the rocks but can be spun into a variety of decadent treats. If your afternoon calls for a little sweetness, whip up a Baileys Deliciously Light Raspberry Smoothie. Or if you need a pick-me-up, try a Baileys Deliciously Light Iced Coffee!
Invite your friends indoors for air-conditioned crafting. Summer is the season for a flourishing social life—but when hot temps make breweries and backyards off limits, invite your friends over for some crafting à la air conditioning. Nothing lightens the mood like a little creativity, so set up stations for simple embroidered wall-hangings, pressing fresh flowers and leaves, and coloring books designed for adults. Add extra flavor to your gathering with Baileys Deliciously Light Matcha Smoothies—light, indulgent, and energizing for a day full of crafting!
Spend the day submerged in cool water. It's only natural—the greater the temperature, the greater our desire to locate the nearest body of water. If you can't stand feeling stuck indoors when the sky is perfectly blue, pack up your sunscreen, bathing suit, plus plenty of water, and make it an official pool, beach, or lake day. Hot days can still be redeemed by tubing down the river, lounging on the pool floatie, or pulling that beach chair right up to the shore. The dog days of summer can feel insurmountable—but they're nothing a cool dip can't handle.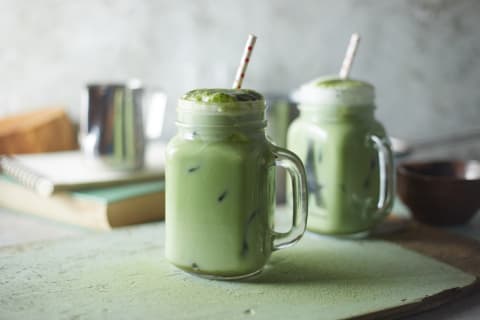 Image by musicphone1 / iStock
Advertisement
This ad is displayed using third party content and we do not control its accessibility features.
Keep it light.
In the dead of winter, we fantasize about long days spent under a warm and generous sun. But when you can practically fry an egg on the sidewalk—cooling down and lightening up become the modus operandi. Summer may be the time for celebrating well-being and living our best lives, but save the infrared saunas and herbal teas for later. 'Tis the season for cold dips, refreshing meals, and Baileys Deliciously Light over ice. Cheers to staying cool!
Advertisement
This ad is displayed using third party content and we do not control its accessibility features.
Devon Barrow
Branded Content Editor
Devon Barrow is a Branded Content Editor at mindbodygreen. She received her degree from the University of Colorado. When she's away from her desk, Devon is teaching yoga, writing poetry, meditating, and traveling the world. She's based in Boulder, Colorado.
Devon's first book, Earth Women, is coming soon. To learn more, join the mailing list, and receive updates, head to www.devonbarrowwriting.com.