This Vegan Rainbow Sushi Roll Is Culinary Arts & Crafts
mbg Associate Editor
By Jamie Schneider
mbg Associate Editor
Jamie Schneider is the Associate Editor at mindbodygreen, covering beauty and health. She has a B.A. in Organizational Studies and English from the University of Michigan, and her work has appeared in Coveteur, The Chill Times, and Wyld Skincare.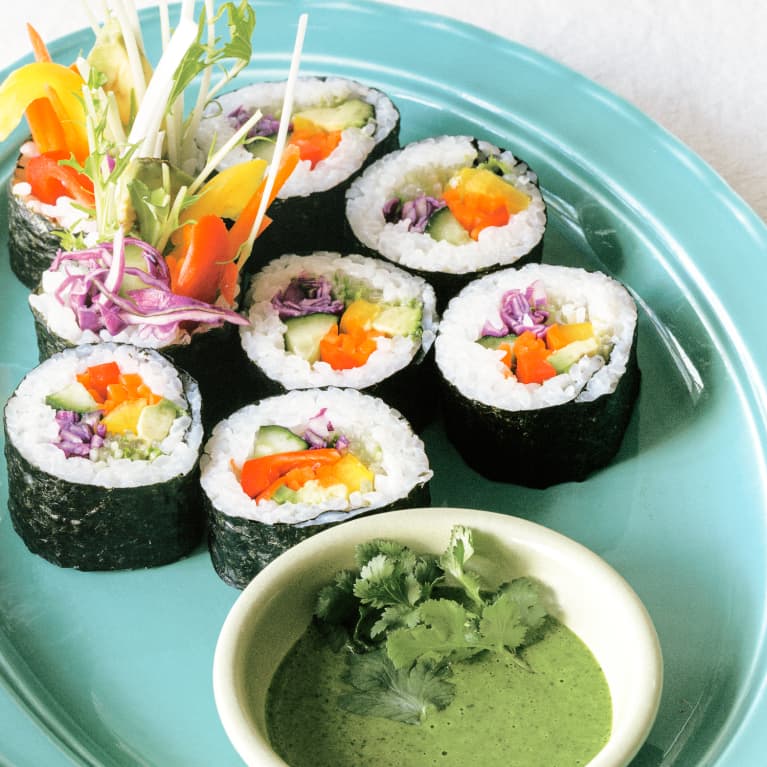 Our editors have independently chosen the products listed on this page. If you purchase something mentioned in this article, we may
earn a small commission
.
When it comes to vegan sushi, you can never go wrong with a beautiful rainbow roll. No matter which specific veggies you'd like to feature in your masterpiece, you'll be able to pack in a ton of fiber and nutrients into your creative, colorful meal.
For a healthy hack, swap the sushi rice for brown rice or even quinoa (yes, it's possible!) for an extra boost of fiber, B vitamins, and minerals. This recipe from iina's Sushi Modoki proves that there's tons you can do with simple, plant-based ingredients. So rather than chucking your veggies and whole grains into another kale bowl, try rolling some sushi for a fun (and delicious) afternoon activity.
¼ medium carrot
½ cup (30 g) shredded red cabbage
Salt
¼ cucumber
¼ avocado
⅛ red bell pepper
⅛ yellow bell pepper
1 ounce (30 g) mizuna or other mustard greens
One 8-by-7-inch (21-by-19-cm) nori sheet
¾ cup (150 g) sushi rice
Julienne the carrot and mix with the cabbage. Sprinkle with some salt.
Quarter the cucumber lengthwise. Dice the avocado and peppers into ¼-inch (5-mm) cubes. Trim the mizuna to the same width as the nori sheet.
Assemble the futomaki, using the vegetables as the filling. Serve with soy sauce, if desired.
TIP: Since the filling is made up of seven different items, you can adjust the amounts of each item to make it easier to roll.
Making futomaki (thick sushi rolls):
The rule of thumb for making sushi rolls is to be careful not to use too much rice or filling. When using multiple fillings, assemble them in layers. This will show the beautiful layers when the roll is cut into pieces.
1. Prepare vinegar water (equal parts water and rice vinegar) in a small bowl.
2. Place a sushi mat flat-side-up on a flat working surface. Place a sheet of nori coarse-side-up on top, aligning the nori and the mat.
3. Moisten your hands well with vinegar water. Spread ¾ cup (150 g) sushi rice on the nori, leaving a ⅜-inch (1-cm) margin on the near side and a ⅝-inch (1½-cm) margin on the far side.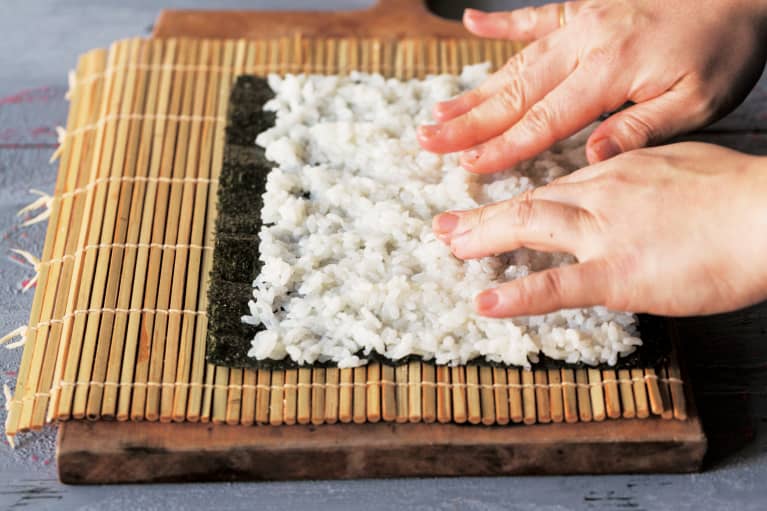 4. Arrange the fillings across the sushi rice slightly below the middle. Add multiple fillings in layers.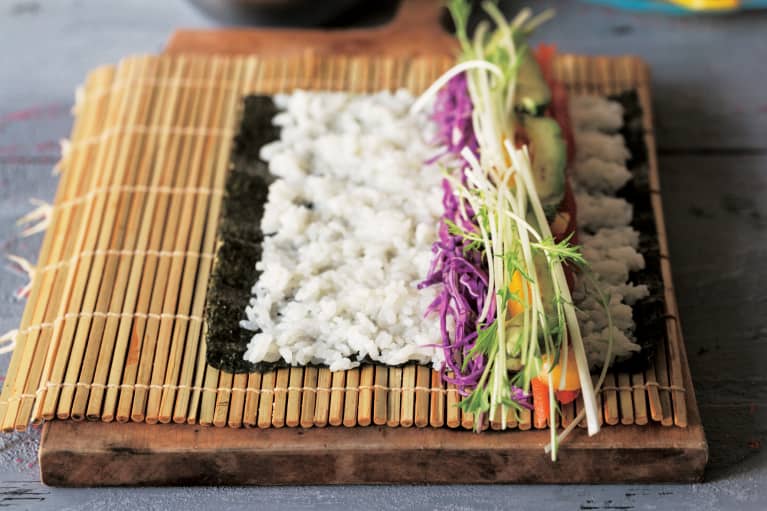 5. Pick up the near side of the mat and roll it over the filling and away from you.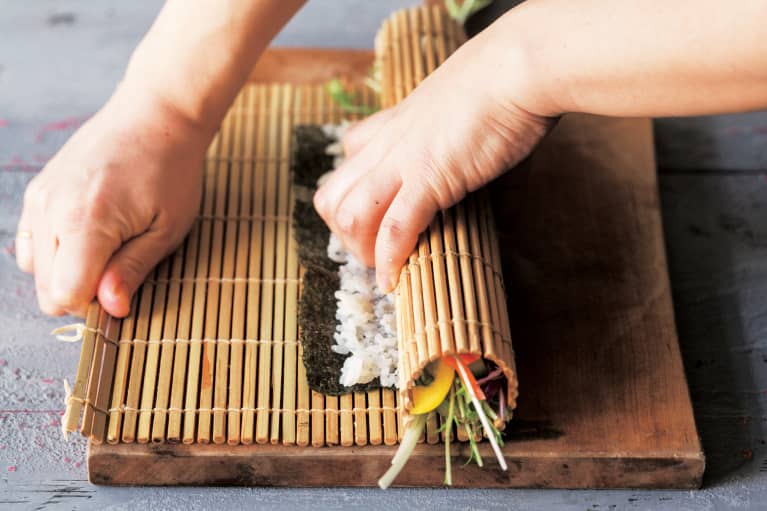 6. With your left hand, pull up on the far side of the mat while holding the rolled portion of the mat to tighten the roll and continue rolling.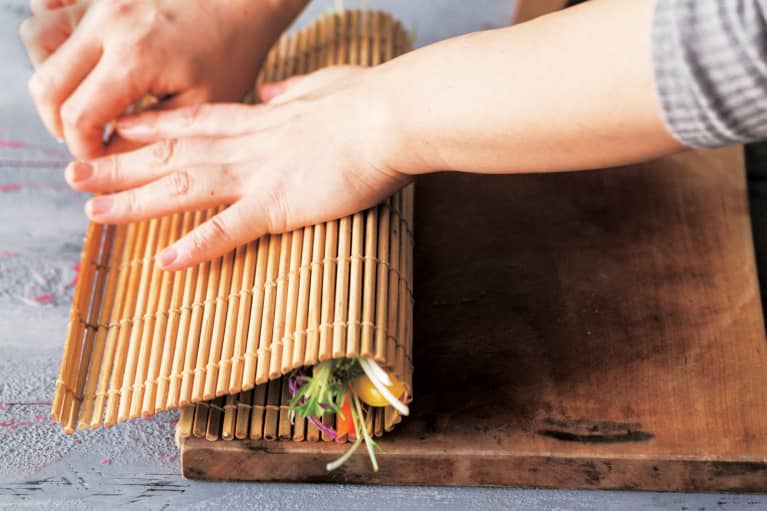 7. Set the roll aside for a couple of minutes before cutting to the desired size (this will make it easier to slice).
TIP: Prepare a damp kitchen towel and wipe off the blade of your knife as you slice. This will prevent grains of rice from sticking to the blade.
Recipe excerpted from Sushi Modoki: The Japanese Art and Craft of Vegan Sushi by iina. © iina and Graphic-sha Publishing Co., Ltd., 2017, 2019. Reprinted by permission of the publisher, The Experiment. Available wherever books are sold, theexperimentpublishing.com.