How To Make Pumpkin-Spiced Sushi (Yes, Really)

Beauty & Health Editor
By Jamie Schneider
Beauty & Health Editor
Jamie Schneider is the Beauty Editor at mindbodygreen. She has a B.A. in Organizational Studies and English from the University of Michigan, and her work has appeared in Coveteur, The Chill Times, and Wyld Skincare.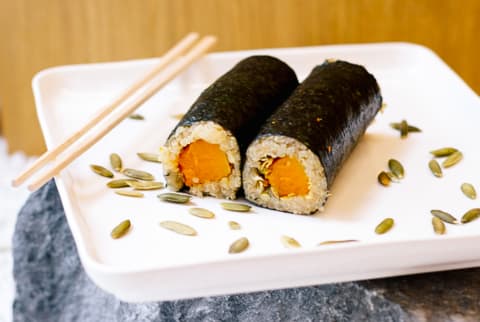 Image by Preethi Rajaguru / Contributor
October 27, 2019
Nothing quite screams fall like the transformation to pumpkin-spiced everything. Pumpkin lattes, candles, hummus, you name it—we're officially in the throes of fall-inspired mania.
But one thing I truly haven't seen before is this idea of pumpkin-spiced sushi. On-brand? Of course. Appetizing? Strangely—also yes. Many vegan sushi joints include squash or pumpkin on their menus, as it gives the roll a similar, soft consistency to traditional maki. That's why I was drawn to ROLLN's newest fall offering, their Triple Pumpkin Roll, as it adds a pumpkin-spiced element to their version of vegetarian sushi. Despite its sweet ingredients, this roll is surprisingly savory. Plus, the quinoa rice is an excellent life-hack to add extra nutrients to your meal.
Below, we're sharing the home-friendly recipe for ROLLN's newest pumpkin sushi roll, so you can create your own masterpiece in the comfort of your own kitchen. Who would've thought a fall activity could include rolling nori sheets?
ROLLN Triple Pumpkin Roll
Ingredients:
1 Whole Sugar or Long Island Cheese Pumpkin (**can easily substitute Butternut Squash)
Pinch of salt
Olive oil, drizzle
1 cup cooked pumpkin, chopped
1 cup of Greek yogurt
½ cup coconut sugar (plus a tablespoon, for the roasted pumpkin seeds)
½ teaspoon pumpkin spice
2 cups sushi rice or quinoa
5 tablespoons sushi seasoning (preferably Mizkan)
Nori sheets
To prepare the pumpkin:
Place the whole pumpkin (do not peel) in a large pot of boiling water and cook for around 30 to 45 minutes until cooked through and tender but not too soft. Tip: Boiling the pumpkin whole will keep the flavor of the pumpkin inside.
Scoop out seeds and set aside 1 cup of pumpkin for the pumpkin-spiced cream. Then, cut the remainder of pumpkin into rectangular strips approximately ¾ of an inch thick.
To prepare the roasted pumpkin seeds:
Preheat oven to 400°F.
Take previously scooped pumpkin seeds; rinse thoroughly and dry.
Drizzle a small amount of vegetable oil over approximately ½ lb. of pumpkin seeds. Toss in coconut sugar and a pinch of salt.
Spread pumpkin seeds evenly on a baking sheet; place in oven until lightly toasted (approximately 4 minutes).
To prepare the pumpkin-spiced cream:
In a saucepan, mix the 1 cup pumpkin, coconut sugar, and pumpkin spice and bring to a boil (approximately 2 minutes). Add the Greek yogurt once cooled in a separate bowl.
Then blend or pass through a sieve to make a smooth cream; let cool before using.
Tip: The cream will thicken as it cools. If needed, you can add more blended pumpkin meat to thicken and adjust seasoning accordingly.
To prepare the sushi rice or quinoa:
Start by rinsing the rice/quinoa in cold water until the water runs clear.
Once rinsed, cook rice/quinoa using your preferred method (1:1 rice to water ratio, 1:2 quinoa to water ratio), either in a rice cooker or saucepan.
Once cooked, let stand for 15 minutes.
Mix rice/quinoa with sushi seasoning until fully coated. Set aside.
Lay a sheet of nori (shiny side down) on a sushi rolling mat or flat surface. Spread a thin layer of warm rice/quinoa on top of a sheet of nori, about ¼ inch thick, leaving a 1-inch strip at the top empty.
Tip: The empty strip of nori is meant to be a flap with which to close up the sushi roll.
To fill the rolls:
Place the cooked pumpkin in a line down the middle of the row, horizontally. Tip: Don't overfill the rolls! Less is more: Start with a thin row of pumpkin, and add more if needed.
Top the roasted pumpkin with approximately 2 tablespoons of the roasted pumpkin seeds.
Next, drizzle a generous amount of the pumpkin cream over the roasted pumpkin and seeds.
Starting from the bottom, roll the nori sheet over the fillings, to form a cylindrical tube. The thin, empty strip of nori should be at the bottom—this will help keep the roll together.
Using a small dab of water, seal the roll shut.
Repeat until the rice and filling are gone.
Enjoy either as a hand roll or cut into slices! Serve with additional pumpkin cream as a side for dipping.
Want to turn your passion for wellbeing into a fulfilling career? Become a Certified Health Coach! Learn more here.

Jamie Schneider
Beauty & Health Editor
Jamie Schneider is the Beauty Editor at mindbodygreen. She has a B.A. in Organizational Studies and English from the University of Michigan, and her work has appeared in Coveteur, The Chill Times, and more. In her role at mbg, she reports on everything from the top beauty industry trends, to the gut-skin connection and the microbiome, to the latest expert makeup hacks. She currently lives in Brooklyn, New York.