How To Make Your Smoothies Taste Expensive & Add Yummy Nutrients
Assistant Beauty & Health Editor
By Hannah Frye
Assistant Beauty & Health Editor
Hannah Frye is the Assistant Beauty Editor at mindbodygreen. She has a B.S. in journalism and a minor in women's, gender, and queer studies from California Polytechnic State University, San Luis Obispo. Hannah has written across lifestyle sections including health, wellness, sustainability, personal development, and more.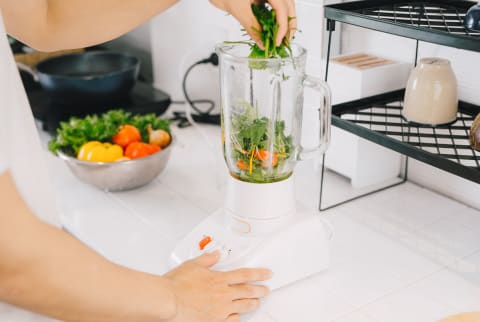 Image by Marc Tran / Stocksy
September 1, 2023
Store-bought smoothies just taste better sometimes. It can be hard to put a finger on what, exactly, makes a $10 blend so delicious, but I'm here to tell you from experience—the key is adding more elements than your standard fruit, greens, and milk trio. To come, three worthy upgrades that will make your at-home smoothies cafe-quality:
1.
Incorporate complementary spices, roots & butters
Spices and roots are one of the easiest ways to elevate your smoothies. Still, it'll take some experimenting to figure out which spices you prefer with which fruit.
If you're someone who always puts hot sauce on your dishes, consider adding cayenne to your blend. I'm personally a fan of putting this spice in blends with fruits like mango, pineapple, and cherries.
Other fruit bases with berries and bananas will blend better with cinnamon—especially if you have an element of chocolate or vanilla in your cup.
When working with greens and tart fruits like pineapple, try adding a thumb of ginger or turmeric. Be careful to only add a small bit at first, as roots tend to carry a heavier flavor than spices, and you don't want the bold ingredient to completely take over.
For an apple base, consider topping it off with pumpkin pie spice or nutmeg—the perfect fall seasonal beverage.
You can also utilize different natural butters to make the consistency and flavor more rich. Examples include coconut butter, peanut butter, almond butter, and so on. You can also drizzle these on top of your smoothie for an extra burst of flavor (and plant-based protein).
2.
Rotate your recipes with the seasons
Another way to keep things interesting is to rotate your fruit with the seasons. If citrus is at its peak, lean into smoothies with grapefruit and oranges. If apples are ripe, utilize those. If you have a farmers market near you, this will be even easier, or you can keep up with in-season produce at your local grocery store.
Personally, I reserve tart and bright smoothies for the summer and keep my sweet, nutty blends for the winter. To me, it just makes my smoothies feel more aligned—but you do whatever fits your taste buds at the time.
I also find it helpful to have a few recipes written down in my notes for each season. This will make it easier to get everything you need at the grocery store and provide your own limited cafe menu, perfect for when you're craving a smoothie but unsure exactly what to make.
3.
Add supplements for texture and flavor
Sometimes you may splurge on a store-bought smoothie for its fancy ingredients. Think items like collagen powder, protein powder, spirulina, greens powder, etc.
The thing is, you'll get a better bang for your buck if you buy your own supplements and add them to your smoothies daily. After all, a daily commitment is necessary to see results. Plus, you'll have the freedom to select high-quality supplements that actually fit your lifestyle, as not every supplement is best suited for every person.
One supplement many folks can benefit from is collagen powder—but not all of them taste great. I've tested plenty of blends before, and I still agree that the mindbodygreen chocolate beauty & gut collagen+ is one of the best-tasting powders out there.
In fact, it can entirely replace cocoa powder (another common cafe ingredient) in any sweet blend.
I adore this chocolate collagen mixed with bananas, almond butter, coconut milk, coconut butter, and cinnamon—it tastes like dessert with skin and gut benefits.*
Plus, these powders often add a texture to your blend that's way creamier than fruit and milk alone. These days, my smoothies froth up like a dream.
The takeaway
If you want your smoothies to taste just like they were made in a cafe, try adding spices and nut butters, rotate your smoothies with the seasons, and add collagen supplements for more texture and flavor. Ready to blend? Here, find some dynamic smoothie recipes to get you started.
If you are pregnant, breastfeeding, or taking medications, consult with your doctor before starting a supplement routine. It is always optimal to consult with a health care provider when considering what supplements are right for you.
Hannah Frye
Assistant Beauty & Health Editor
Hannah Frye is the Assistant Beauty & Health Editor at mindbodygreen. She has a B.S. in journalism and a minor in women's, gender, and queer studies from California Polytechnic State University, San Luis Obispo. Hannah has written across lifestyle sections including skin care, women's health, mental health, sustainability, social media trends, and more. She previously interned for Almost 30, a top-rated health and wellness podcast. In her current role, Hannah reports on the latest beauty trends and innovations, women's health research, brain health news, and plenty more.