I'm An Esthetician, Hairstylist & Makeup Artist: Here, 3 Beauty Tips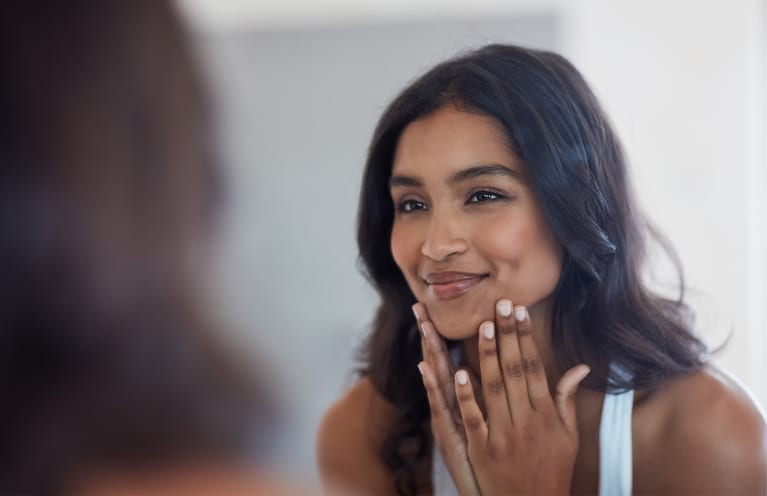 On this week's Clean Beauty School, we cover a lot of ground. We open the episode with a fruitful conversation about how our guest fosters self-love, her beauty journey, and what she wants to teach her daughters—and end it with a treasure trove of skin care, makeup, and hair care tips.
But with a guest who has as robust of a resume as Tiffany Lee, it makes sense. She's licensed as an esthetician, makeup artist, and hairstylist (a beauty triple threat, if you will) and shares her words of wisdom all over social media. Including this tip that aligns just so with the day the episode is published: "If you use them as tools for creativity, makeup, skin care, hair care, and wellness are all an act of love and self-care," she says.
Here, three beauty tips from the episode that will help you show yourself some love.
When asked about the biggest issues she sees in skin care, overexfoliation ranked at the top of the list. "I think a lot of people just follow a person they love on social media who may not be educated on skin care and are instead just recommending products they personally use," she says, noting that this skin care strategy can lead to irritation. And all that product aggression is decidedly not doing wonders for your complexion: "This can really ruin your skin barrier," she says. "Always give your skin a break—only use those potent exfoliators once a week, or maybe every other day if you can tolerate it."
Sometimes beauty isn't that serious. Case in point: Playing around with some color. "I run across so many women that are so afraid of trying new things with makeup. I have to remind them it's not permanent," she laughs. "Have fun! Try a color! I know so many people who won't even wear lipstick because it's just so foreign to them. I'm like, 'Oh my gosh, it will wipe off.'" Just be sure always to hydrate your lips prior, we might add.
You have to care for your skin with antioxidants and SPF. "You can do all the work and then if you don't wear SPF, you'll just go [undo it all again]," she says. As for antioxidants, Lee can't suggest vitamin C enough, both topically and internally. "I really think everyone needs to use vitamin C," she says. "Whether it's topically or you take it with supplements, you need to get your fill of the antioxidant." She's not wrong! Not only is the antioxidant a free-radical fighter, but it supports your body's natural collagen synthesis.