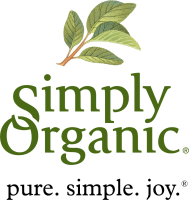 Simply Organic
We're Simply Organic.
The pure, delicious flavor of our seasonings bring the goodness of organics to everyday meals. We are committed to offering organic seasonings grown and processed in a sustainable manner. We develop genuine relationships with growers to offer high quality spices for all your baking and cooking needs. And each time you purchase a Simply Organic product you support organizations that research and promote organics through the Simply Organic 1% fund. To date, more than $1.2 million has been donated worldwide.
Eat right, live well and join Simply Organic on their mission to nourish people and planet.
Connect With Simply Organic
Brought To You By Simply Organic