paid content
 for
Meet The Vegan Eggnog You'll Want To Sip All December Long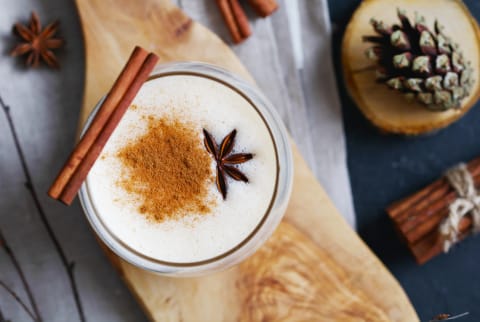 December 4, 2017
December is finally here, and with it, a host of sugar-laden treats that can make staying healthy feel like an uphill climb. There are a few easy ways to come out of the month feeling better than ever, including trying to #cookforachange, prioritizing getting in the kitchen, and making your own version of holiday staples. Home cooked food is always better for your body (you control the ingredients, and know exactly what's going in it), and it's better for your soul, too. From the perfect spiced carrot side dish to the vegan eggnog you're going to want to sip all season long, we've got your healthy holiday covered.
Advertisement
This ad is displayed using third party content and we do not control its accessibility features.
Rosemary Balsamic Roasted Carrots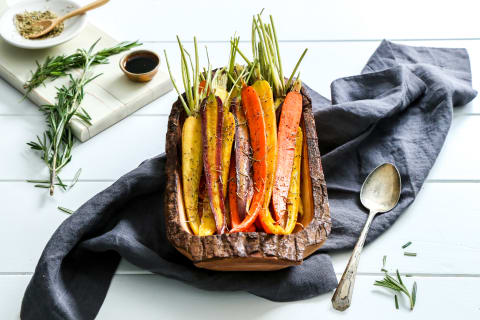 Rainbow carrots are roasted with their tops and served whole on a platter and drizzled with balsamic marinade.
Serves 4-6 people as a side
Ingredients
1 bunch medium-size rainbow carrots, with stems (about 12 carrots)
2 tablespoons extra virgin olive oil
2 tablespoons pure maple syrup
1 tablespoon Simply Organic rosemary
½ teaspoon salt
½ teaspoon Simply Organic black pepper
2 tablespoons balsamic vinegar
Advertisement
This ad is displayed using third party content and we do not control its accessibility features.
Preheat the oven to 425F.
Peel the carrots. Slice the carrots in half, lengthwise. Spread the carrots on a high-rimmed baking sheet. Drizzle the olive oil and maple syrup over the carrots, followed by the rosemary, salt and pepper. Toss the carrots with the spices, oil, and maple syrup.
Roast the carrots for 20 minutes. Remove the carrots from the oven, and drizzle with the balsamic vinegar. Toss the carrots to completely cover them in the vinegar. Cook the carrots for an additional 5 minutes.
Serve warm.
Tip
If you're using carrots with stems, cover the stems with a sheet of foil while roasting to prevent the stems from burning. It's important that all the carrots are relatively the same size to ensure even cooking.
Advertisement
This ad is displayed using third party content and we do not control its accessibility features.
Organic Spanish Vegan Meatballs with Smoked Paprika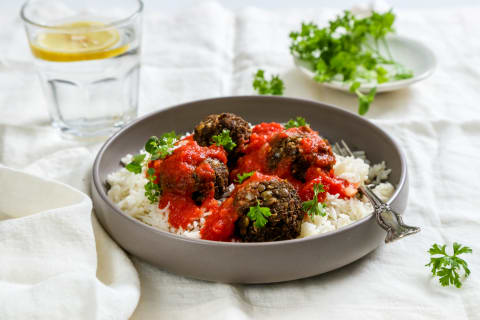 These vegan meatballs made with lentils, mushrooms and garbanzo bean aquafaba are dressed in homemade tomato sauce and brought to life with Spanish smoked paprika and other spices.
Serves 4
Ingredients
1 cup French green lentils
2 ½ cups water
3 tablespoons extra virgin olive oil, divided
7 medium baby bella mushrooms, chopped
Large white onion, chopped + divided
½ cup breadcrumbs
3 tablespoons garbanzo bean aquafaba (juice from can)
1 teaspoon Simply Organic parsley
1 teaspoon Simply Organic oregano
½ teaspoon Simply Organic garlic powder
1 ¼ teaspoons Simply Organic smoked paprika, divided
3 garlic cloves, minced
1 15-ounce can tomato sauce
1 14-ounce can diced tomatoes
½ teaspoon Frontier Sea Salt, to taste
Fresh parsley, for garnish
Advertisement
This ad is displayed using third party content and we do not control its accessibility features.
In a large saucepan, bring lentils and water to a boil. Reduce heat and let simmer for 20 to 25 minutes, until lentils are soft. Drain extra water and rinse lentils, then set aside.
Preheat oven to 400 degrees.
In the same saucepan or a medium-size skillet, heat 1 tablespoon olive oil. Add mushrooms and 1/3 chopped onions. Sauté, stirring occasionally, for 7 minutes.
In a food processor, combine lentils, sautéed mushrooms and onions, breadcrumbs, aquafaba, parsley, oregano, garlic powder, smoked paprika and nutmeg. Pulse for about 15 to 20 slow pulses, until mixture is easy to pick up and form into small balls. Form "meatballs" and place onto a parchment-lined baking sheet. Bake for 25 minutes, flipping halfway through.
In the same saucepan, heat olive oil. Sauté remaining chopped onions for 5 minutes, stirring occasionally, then add garlic and sauté for 1 more minute, until fragrant. Add remaining 1 teaspoon smoked paprika. tomato sauce, tomatoes and salt, to taste. Bring to a boil, then reduce to a simmer for about 15 minutes.
Serve over rice with sauce and garnish with fresh parsley.
Organic Rustic Apple Pecan Galette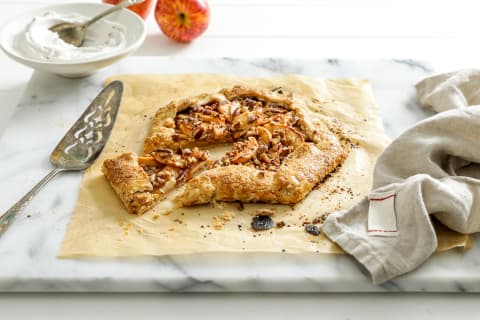 Advertisement
This ad is displayed using third party content and we do not control its accessibility features.
Exchange your traditional apple pie for this rustic apple pecan galette that's simple, yet elegant, and exquisitely satisfying.
Serves 6
Ingredients
For the crust:
1 ½ cups all-purpose flour + extra for dusting surface
3 tablespoons cane sugar
¼ teaspoon salt
½ cup unsalted butter, chilled and cubed
¼ cup cold water
1 egg
Splash of water
1 tablespoon turbinado sugar
¼ cup chopped pecans
Preheat oven to 425 degrees.
In a large bowl, whisk together flour, sugar and salt. Cut butter into flour mixture, using your fingers or a pastry cutter, until mixture resembles tiny crumbs. Add cold water and knead ingredients together to form a ball.
Lightly dust a sheet of parchment paper with flour. Roll out dough.
In a medium bowl, combine apples, brown sugar and vanilla. Sprinkle in flour, cinnamon, nutmeg and cloves, then stir to combine.
Arrange apple mixture in center of dough, leaving a space around outer edges of dough. Fold outer edges of dough one fourth of the way over filling.
Beat egg and water together. Brush egg wash over crust and sprinkle with turbinado sugar.
Transfer galette and parchment paper to a baking sheet and bake for 35 minutes, until apples are soft and the center bubbles. During the last 15 minutes of baking, sprinkle pecans over exposed filling.
Allow to cool slightly, about 10 minutes, then slice and serve.
Organic Vegan Eggnog with Cashew Milk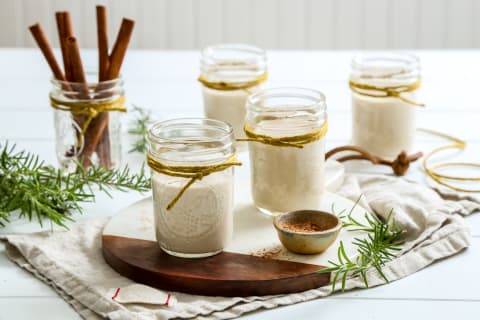 Whip up this simple vegan eggnog made with cashew milk, organic vanilla extract, Ceylon cinnamon, nutmeg and clove.
Serves 2
Ingredients
In a high-speed blender, combine cashews, water and coconut milk. Blend for 60 seconds, until well combined.
Strain milk through a fine mesh sieve, then return to blender. Add remaining ingredients and blend for 40 to 60 more seconds, until smooth.
Pour eggnog into a storage jar and refrigerate until cold and thick.
Store in refrigerator for up to 1 week. 4. Serve cold and top each glass with a pinch of nutmeg.