Close Banner
Advertisement
This ad is displayed using third party content and we do not control its accessibility features.
paid content
 for

The Ultimate Popcorn Recipe We'll Never Stop Craving
Move over, Friday
—
it's time to celebrate #TGIT. Simply Organic
®
and mbg are teaming up to encourage readers to put down their phones, step away from their desks, and celebrate going into the weekend a little early by hosting a get-together with friends and loved ones this Thursday night. Gather your closest friends and family to create your own low-stress #ThursdayMoments dinner party over easy, delicious, and organic food.
Whether it's cold and snowy outside, you're looking for some downtime from all the holiday madness, or you're just craving a night in with some friends, hosting a movie night is the perfect way to end a busy week. It's all about low-maintenance fun and snacks—lots of snacks. The menu for movie night should be unfussy, comforting, and all about appetizer-style finger food.
There are a few rules to hosting the ultimate movie night, but don't worry—these are the kind of rules that make your life easier and more fun.
1. Establish a dress code.
Tell your guests to come comfy. Sweats, fluffy socks, and even PJs are the go-to here.
2. Create a snuggly environment.
This just requires a variety of cozy seating (a good couch, a bean bag chair, floor cushions) and lots of blankets and pillows for getting extra relaxed and snuggled in.
3. Don't forget the big screen.
No worries if your TV isn't IMAX-sized; just make sure it (and your Netflix or DVD player) is working properly. That said, if you have a projector, now's the time to break it out.
4. Pick the right movie.
Make sure you choose a movie that everyone's on board with. Whether it's the movie based on that book you all read last summer, a new comedy no one's seen yet, or a classic thriller—have fun with it.
5. Provide lots of bowls and small plates.
Make sure you put out lots of bowls and plates with your snack spread so everyone can customize their own snack selection. These can be cute disposable plates and bowls (we like recycled paper or bamboo ones) to make cleanup easier post-movie.
6. Make popcorn (duh).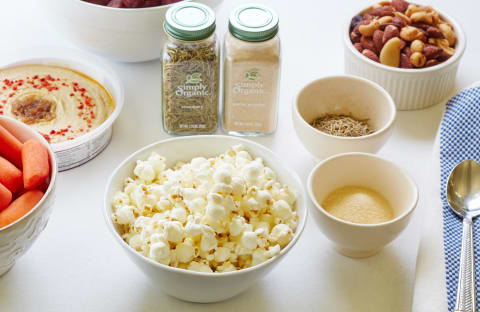 Popcorn is obviously a given. Make a big batch in your largest pot over the stove with some coconut oil, or make your own DIY microwave popcorn in paper bags. Seriously, it works!
Make them in batches so that everyone can share with a buddy or get their own.
How to do it:
Place 3 tablespoons to ¼ cup of popcorn kernels in a small- to medium-size paper lunch bag.
Roll up the end of the bag several times to make sure it's closed off.
Sit the bag upright and microwave on high for 2 to 4 minutes, listening for the pops to get few and far between, then take out.
Set out toppings for everyone to go crazy with, like:
Olive oil
Melted butter
Himalayn sea salt
Grated Parmesan cheese
Offer more food options
Be sure to add a few more substantial and slightly grown-up snacks to the menu, as this will serve as everyone's dinner. Think veggies along with spiced dips, maybe some chocolate-dipped dried fruit, almonds, and peanuts (like fancy M&Ms!).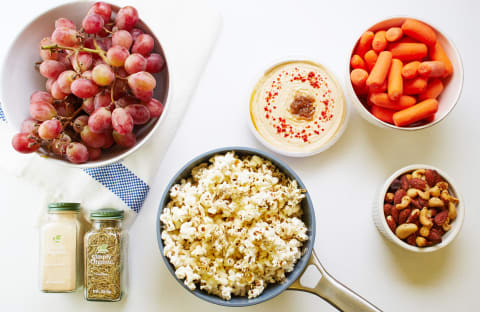 Some other ideas:
Crudites: sliced radishes, carrots, cucumbers, persimmons
Guacamole
7-layer Mediterranean dip (recipe here)
Corn chips
Roasted Brussels sprout skewers with sage brown butter (recipe here)
Chocolate-covered dried fruit (apricots and cherries are great)
Roasted and lightly salted nut mix (spices work great here, too!)
Cans of flavored sparkling water or club soda with homemade soda syrup
Share your organic moments and enter to win the Ultimate #ThursdayMoments Giveaway by taking photos of your parties and recipe creations and uploading to Instagram using #ThursdayMoments. Visit Simply Organic to find more ways to plan your #ThursdayMoments.
More On This Topic
more Food
Advertisement
This ad is displayed using third party content and we do not control its accessibility features.
Advertisement
This ad is displayed using third party content and we do not control its accessibility features.