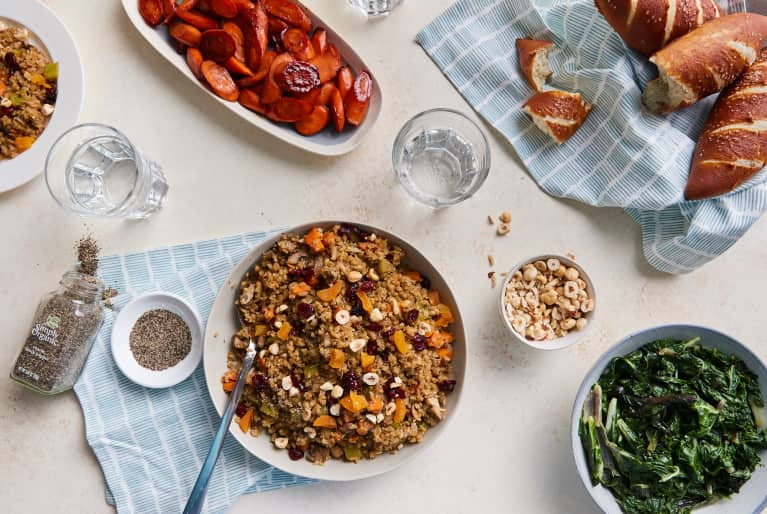 Not gonna lie—once the holidays roll around, you can find us in the kitchen, a.k.a. our happy place. Making delicious, wholesome food that nourishes our families' bodies and souls is hands-down, to us, one of life's greatest feelings. And it's even better when we're cooking our favorite foods alongside our loved ones.
So we wanted to take one of the top holiday side dishes on every family's table and give it a healthier spin. Stuffing: It gives us all the feels. Our version's got all the makings of the classic stuffing we all know and love—onion, garlic, and herbs like sage and rosemary from Simply Organic—but it's completely bread-free. We promise you won't even miss it, and here's more amazing news: You can have this on the table in under 30 minutes. Time to celebrate!
Stuffing Makeover With Cauliflower Rice
3 tablespoons olive oil
1 medium to large carrot, chopped
2-3 stalks celery, chopped
1 large onion diced small
6 oz. container fresh mushrooms chopped
2-3 cloves garlic minced
2 10-12 oz. bags of "riced" cauliflower
1 ½ teaspoon Simply Organic Ground Sage Leaf
1 ½ teaspoon Simply Organic Whole Rosemary Leaf
2/3 cups broth or stock
Salt and pepper to taste
Optional: roasted hazelnuts and chopped dried fruit for garnish
In a large sauté pan, heat olive oil on medium to high heat and cook carrots, celery, and onion for 5-7 minutes while stirring as needed. Add in mushrooms and garlic, cooking for 5 more minutes.
Turn heat to high, add in riced cauliflower and Simply Organic spices, and sauté while stirring occasionally for 7-8 minutes.
Stir in broth and continue to cook on high until broth is completely absorbed and stuffing is sautéed to your liking.
Add in salt and pepper to taste, garnish with spiced nuts and dried fruit, and serve!