Close Banner
Advertisement
This ad is displayed using third party content and we do not control its accessibility features.
paid content
 for

The 3-Step Chili Recipe We're Crazy About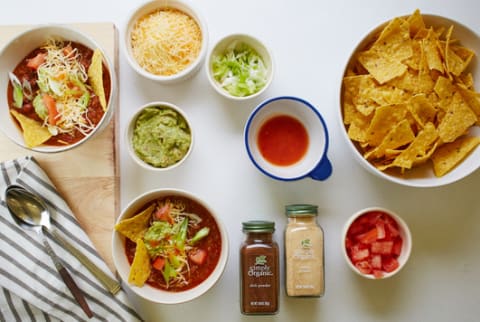 Move over, Friday
—
it's time to celebrate #TGIT. Simply Organic
®
and mbg are teaming up to encourage readers to put down their phones, step away from their desks, and celebrate going into the weekend a little early by hosting a get-together with friends and loved ones this Thursday night. Gather your closest friends and family to create your own low-stress #ThursdayMoments dinner party over easy, delicious, and organic food.
Autumn has well and truly settled in, which means cozy sweaters, falling leaves, and bowls of chili flavored with warming spices.
Before we dive head-first into fun-size candy bars and last-minute Halloween costume decisions, why not gather some friends for a pre-Halloween chili night?
Chili is a perfect food for entertaining because it's low-maintenance, you can make it ahead (the flavor actually gets better the longer it sits), and almost everyone likes it. Guests can serve themselves as they drop in and can even customize it to their tastes with a well-stocked chili bar.
Set Up a Make-Your-Own Chili Bar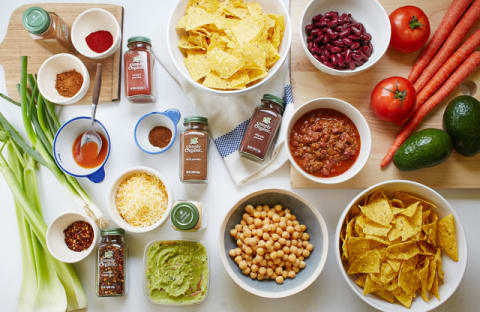 If you're hosting, you really only have three responsibilities:
Make the chili (we've got a great recipe for you below).
Set up a "chili bar" with assorted toppings (think of it like a salad bar but way better).
Keep the chili warm.
If you want to take the seasonal Halloween element of this chili party to the next level, decorate with a few mini pumpkins, winter squashes, and jars of classic treats. You can also create a "witches brew" with blood orange juice, sparkling water, and ginger kombucha, or whip up a red wine sangria and serve in a punch bowl or large glass pitcher in lieu of a caldron.
Your self-serve chili bar can include:
Corn chips
Guacamole or sliced avocado
Hot sauce
Toasted pepitas
Chopped scallions
Fresh cilantro
Pickled vegetables
Sour cream, Greek yogurt, or labneh cheese
Grated cheddar cheese
Gluten-free cornbread
Simply place selected toppings in their own bowls and leave out serving spoons for everything.
And don't forget to put out enough:
Bowls
Spoons
Napkins
Water
Glasses
And boom, you're ready to party—the #ThursdayMoments way.
Adobo Chickpea + Pinto Bean Veggie Chili Recipe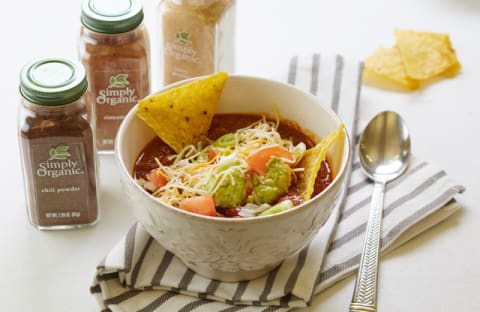 Ingredients
Preparation
Saute onions in olive oil in a cast-iron pot (or dutch oven) on low-medium heat, add a pinch of salt and pepper, and let sweat for approximately 5 minutes.
Add garlic and all spices and saute. Once the garlic looks a little toasted, add tomatoes, adobo, vinegar, and water. Let reduce for 2 minutes.
Once the tomato mixture is boiling, add the beans and adjust salt and pepper. Voila! You've got yourself a basic recipe for chili.
Share your organic moments and enter to win the Ultimate #ThursdayMoments Giveaway by taking photos of your parties and recipe creations and uploading to Instagram using #ThursdayMoments. Visit Simply Organic to find more ways to plan your #ThursdayMoments.