This Supplement Helps Ease The Sticky Stress & Tension You May Be Feeling*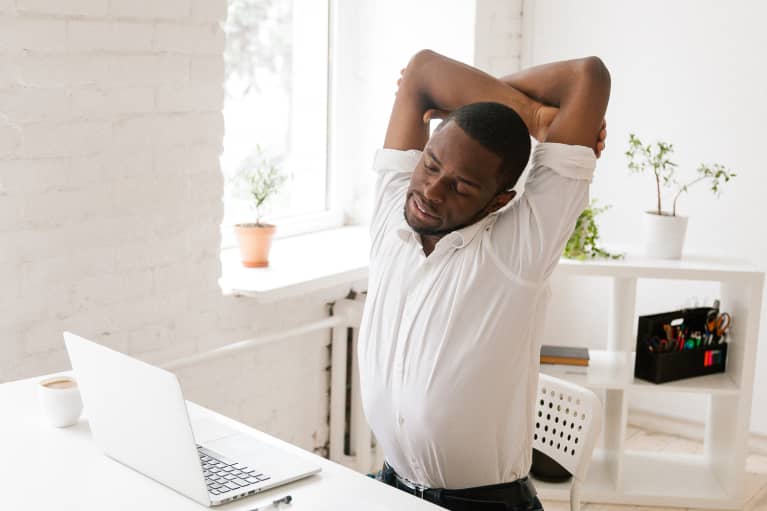 You've heard it before: Too much sitting can add up. When we spend hours seated looking at our devices, our backs can start to curve and our shoulders hunch forward, putting more pressure on the spine. Our muscles stiffen and tense, leaving us more prone to pro-inflammatory processes and muscle or joint issues. Recent research suggests that staying seated for long periods of time isn't so great for mental wellness, either.
If you have a desk job, of course, there's only so much moving you can do during the workday. While standing desks can help relieve some discomfort, they often still lead to soreness in the muscles that are being consistently activated.
My body hurts just typing this. And if you, too, have been sitting at a desk all day (or year...), yours probably hurts reading it.
What to do: Take mindbodygreen's calm+.
While not a cure-all for sitting-induced tension, the right supplement can offer some relief from the occasional aches of desk life.*
Hemp oil, for example, is full of beneficial plant compounds called phytocannabinoids that can promote relaxation throughout the body, including in tense muscles.* You've probably heard of hemp's best-known cannabinoid, CBD.
In preclinical research (mice), CBD and its cannabinoid derivatives have been shown to help support a healthy inflammatory response and healthy joints.* Meanwhile, the clinical research in humans for phytocannabinoids in hemp oil and joint comfort for both oral and transepidermal (topicals) delivery is an exciting area of emerging research.*
Some researchers suspect that the phytocannabinoids found in hemp act similarly to those that the body naturally produces (aka endogenous cannabinoids) during exercise.* This would help explain why, in addition to alleviating everyday stress, the plant compounds promote that full-body calm that you'd get after a good run.*
mindbodygreen's calm+ supplement combines cannabinoid-rich USDA- and EU-certified organic hemp oil with two other calming plants: ashwagandha extract and lavender oil.* The result is an everyday supplement that can help make the body feel a bit more balanced, no matter what funky position it happens to be stuck in.*
While calm+ can help counteract the effects of sitting all day, it won't cure them.* Be sure to pair it with proper posture (here are some PT-approved tips for cleaning yours up), occasional movement breaks, and stretches that focus on improving mobility and easing stiffness to stave off those deskside aches.
(And for more supplement recommendations, check out our supplements for stress roundup.)