12 Go-To Weeknight Dinners You Need In Your Life, According To Wellness Influencers

mbg Sustainability + Health Director
By Emma Loewe
mbg Sustainability + Health Director
Emma Loewe is the Senior Sustainability Editor at mindbodygreen and the author of "Return to Nature: The New Science of How Natural Landscapes Restore Us."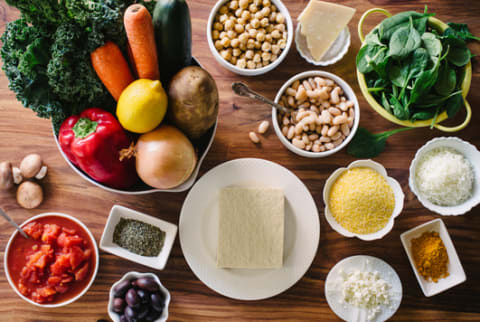 October 6, 2016
It's a weeknight and you're tired, hungry, and ready to devour just about anything. What are you reaching for?
We called on a pool of our health experts to find out their favorite quick, nourishing weeknight meals. Give some of them a try the next time you're tempted to give in and just order takeout.
1. Kristin Dahl, holistic nutritionist: Kitchari
I could eat kitchari any time of year. This ancient dish is incredibly healing and easy to digest—the perfect option whenever I need a reset. I make a big batch and eat it over the course of a few days, tossing in some seasonal vegetables and topping with fresh herbs, lemon, and lime!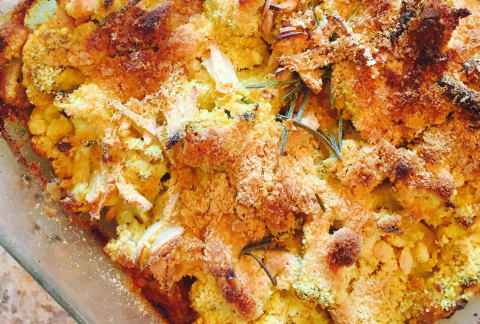 2. Fern Olivia, thyroid expert: Cauliflower bake
My go-to is my killer turmeric cauliflower bake. It's next level, and of course, gluten-free. I recently made it when I put on my chef's hat for one of my recent retreats, and everyone was coming back for thirds.
Check out more cauliflower-centric recipes here.
3. Dana James, nutritional therapist: Curried veggies
I'm wondering when I'm going to tire of this recipe, but I never seem to. I usually throw together some onion, tomatoes, zucchini, a yellow pepper, and whatever other vegetables I have. I toss the vegetables with turmeric, coriander, and cumin and then add the juice of one lemon. It's done in 15 minutes. Sometimes, I switch up the vegetables and add in protein if I want a hearty meal.
Make your own version at home with this healing veggie curry over rice.
4. Dr. Lissa Rankin, integrative health expert: Quinoa bowl
I love making quick and easy quinoa bowls. My favorite includes caramelized onions, sautéed broccolini, kale, and zucchini, and scrambled egg over quinoa with a sauce of half fresh lemon juice and half soy sauce or Braggs liquid amino. Add chili sauce or Sriracha if you like a kick. It's extra yummy with avocado or fresh cherry tomatoes on top.
Here are 11 more options if you're looking to add more quinoa bowls to your routine (and why wouldn't you be?).
5. Dana Claudat, feng shui master: Grilled veggies
All year round, one of my favorite go-to dinners that takes no time at all to prepare is a giant plate of grilled veggies. I toss chopped squash, zucchini, peppers, and anything else I have on hand with olive oil, salt, and pepper and roast them at about 350 until they're perfect. Cashew cheese sauce with soaked raw cashews, lemon juice, garlic, and smoked paprika and some seasoning blended up is the ultimate topping. It's proven very addictive, even for the least veggie-inclined of my friends!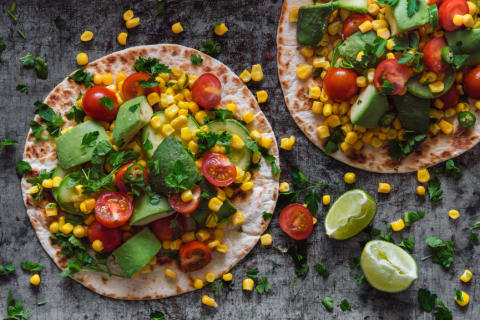 6. Kelly Leveque, holistic nutritionist: Veggie-heavy tacos
Tacos! Shrimp, fish, or grass-fed bison smothered in guac and loaded with veggies, either served in a bowl or wrapped up in lettuce or in Paleo coconut wraps. Growing up on the beach in Southern California, loving Mexican food was a rite of passage for me. Not to mention, these are so quick to make from a leftover rotisserie chicken, or in minutes by sautéing shrimp or ground bison. No excuse not to cook at home!
6. Emma Mildon, author and spiritual guru: Root veggies
Salads have never satisfied me, so my go-to soul foods are root chakra vegetables like pumpkin, squash, sweet potato, celery, onion, leek, yams, broccoli, kale, and spinach. Grounding and nourishing, these veggies are best served as soups, roasted salads, or mash-ups with a side of quinoa or chickpeas and kale chips! Violà, an earthing, chakra-balancing meal that is sure to serve your soul.
7. Dr. Sara Gottfried, gynecologist and hormone expert: Protein plate
My favorite dinner is a template: 4 ounces of clean protein (lately, steelhead trout, beluga lentils, or organic tempeh), 8 ounces of steamed vegetables, and an 8-ounce salad with healthy oil. It balances my hormones and keeps me in a healthy-size body.
Make healthy, restaurant-quality oil dressings for your salad using this trick.
9. Dr. Joel Kahn, cardiologist: Superfood salad
My go-to dinner is a superfood salad and dressing. It could be any combination of items, but my favorite has quinoa, red onion, orange, avocado, black beans, pomegranate seeds, and broccoli with lemon vinaigrette.
Incorporate more superfoods into your diet with these healthy hacks.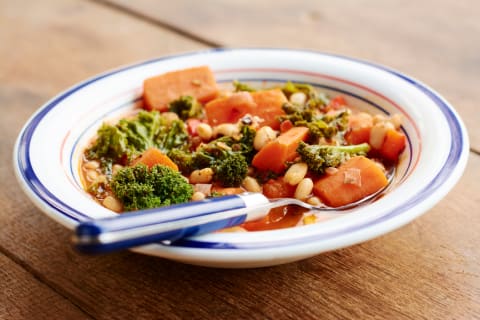 10. Light Watkins, meditation practitioner: Veggie stew
I work from home and often get cabin fever during dinnertime. LA is great because it's very affordable to eat out and still get healthy meals. So I'm more inclined to either eat out for dinner—usually a salad with some protein—or sometimes I've been known to cook the preproportioned meals from companies like Blue Apron or Home Chef. And of course, cooking simple veggie stews and other plant-based dishes is always a healthy go-to when possible.
Give this warming curried sweet potato and peanut variation a try.
11. Adriana Ayales, herbalist: Kale, quinoa, and tahini dressing
I never get tired of a big pile of kale, quinoa, and tahini dressing. I love making a big batch of dressing using tahini, olive oil, lemon, salt, and chickpea miso and massaging it into a fresh pile of curly kale and some black quinoa. Creamy, nurturing, and full of yum!
Use up your leftover tahini with these clean recipes.
12. Kathryn Budig, yogi: Spaghetti squash
I'm a huge fan of spaghetti squash! I'll roast it and toss it with roasted tomatoes, chili peppers, fresh herbs, whatever green I have on hand (often kale of arugula), almond milk ricotta, and local shrimp if I have time to pick it up!
15 Wellness Leaders On How They Find Energy First Thing In The A.M.