3 Delicious Recipes Using Cauliflower
February 24, 2015
Cauliflower is rich in many vitamins, minerals, antioxidants and other phytochemicals. The humble cauliflower is also extremely versatile. You can eat it raw, add it to salads, use it in place of mashed potatoes and throw it into all sorts of dishes.
Cauliflower can even be used to make "rice", which brings me to my first recipe. This amazing cauliflower fried rice is so delicious, you won't even miss the starch.
1. Cauliflower Fried Rice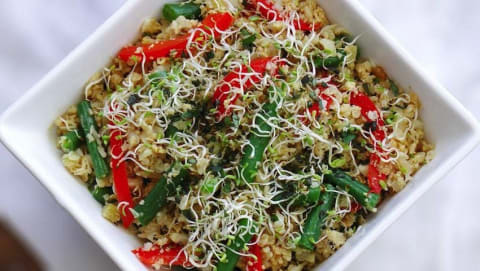 Fried rice is one of those dishes that you can easily adjust to suit your taste. You can add in an array of vegetables, herbs, and spices. You can have it vegetarian, or add chicken, prawns, pork, or other proteins if you feel like it. I think it's delicious as a dinner and leftovers are great for kids lunches. I actually like cauliflower fried rice better than the actual rice version.
½ large cauliflower head or 1 whole small head
1 onion, finely chopped
2 garlic cloves, finely chopped
a thumb size piece of ginger, finely chopped
1 cup green beans, sliced
½ large red capsicum/pepper, sliced
1 large handful of bean sprouts
2 spring onions, finely sliced
2 tablespoons of herbs of your choice (I used parsley and thyme)
4 eggs, beaten
2 tablespoons coconut oil
1-2 tablespoons coconut aminos
sea salt + freshly ground black pepper
1. Pop the cauliflower florets in a food processor and pulse until your cauliflower resembles rice. I used my Vitamix and did the cauliflower in four portions so it wouldn't jam the blades.
2. Heat the coconut oil In a large frying pan, on high heat.
3. Add onion and garlic and cook for 1-2 minutes until softened.
4. Add in the cauliflower, ginger, beans and red pepper and cook for about 2-3 minutes, until tender.
5. Add the eggs, spring onions, sprouts, coconut aminos, herbs, salt and pepper, and cook until everything is heated through and well combined.
2. Creamy Cauliflower Hummus
This delicious creamy hummus is a winner in our house. I have it after school a lot with my daughter. We cut up some apple, carrots and celery, and munch away while she tells me about her day. You could also serve it on a platter with salad, or pop it in your kids lunches with some chopped carrots, yum!
2 cups of steamed cauliflower
1 tablespoon of almond butter
2 cloves of garlic
3 tablespoons of olive oil
the juice of 1 lemon
sea salt + black pepper
1 teaspoon of ground cumin
2 teaspoons of tahini (ground sesame seeds and olive oil)
Put all of the ingredients in a food processor or blender and process until smooth. Place in a little bowl or serving dish. Sprinkle with paprika if you like.
3. Cauliflower, Yam + Thyme Soup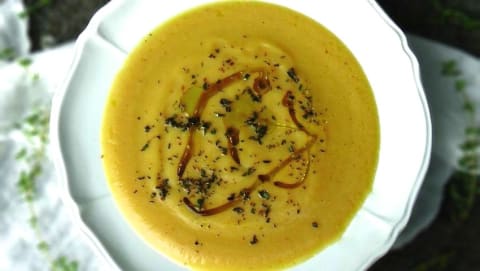 This is a great-tasting creamy soup which is full of flavor and has a little kick with the addition of garlic. The roasting of the cauliflower gives it a wonderful nutty taste. It also tastes like it has cream added, but no, the richness of flavour comes from the roasted cauliflower and yams.
1 head of cauliflower
2.5 cups of yams
3 cloves of garlic
2 tablespoons of olive oil
1 tablespoon of ghee or coconut oil
1 onion
a handful of fresh thyme
3 cups of vegetable stock
sea salt + black pepper
1. Preheat your oven to 350ºF.
2. Cut up your cauliflower into florets and peel and cut the yams in half. Drizzle cauliflower and yams with olive oil or ghee and season with sea salt and pepper.
3. Place cauliflower yams, and garlic cloves in a large roasting dish and bake for around 30 minutes or until golden.
4. Heat your ghee or coconut oil in a pan over a medium heat. Sauté the onion until soft. Chop thyme finely.
5. Place the stock, roasted cauliflower, yams, garlic, and onion into your slow cooker and cook on high for 1 hour until cauliflower and yams are completely soft.
6. I don't have a hand blender, so I let the soup cool slightly then I put it in my blender and blitz until smooth and creamy.
7. Then its back in the slow cooker on high to heat. I like this slow way as I can get onto other things while the soup is heating. If you want to speed things up, use a hand held blender and blend then serve immediately. Season with salt and pepper, drizzle with olive oil and finely chopped fresh thyme. Serve with a crisp green salad or some gluten free toasted bread and butter.
Photo courtesy of the author

Holly Yates
Holly Yates, founder of Square One Health and Fitness is a certified American Council of Exercise personal trainer and Holistic Health Coach studying with the Institute of Integrative Nutrition. She's a writer, foodie, dancer (for the soul, not professionally) and a mother of three. Her mission is to educate and inspire people to improve their health, fitness, and happiness through natural food, functional movement, and living well. You can find her at squareonefitness.tv and on Facebook, as well as getrealforfamily.com and Get Real For Family on Facebook.