It's Vitamin C Day: 3 Reasons We Love This Skin Care Staple + Our Favorite Selects

mbg Beauty & Wellness Editor
By Jamie Schneider
mbg Beauty & Wellness Editor
Jamie Schneider is the Beauty & Wellness Editor at mindbodygreen. She has a B.A. in Organizational Studies and English from the University of Michigan, and her work has appeared in Coveteur, The Chill Times, and Wyld Skincare.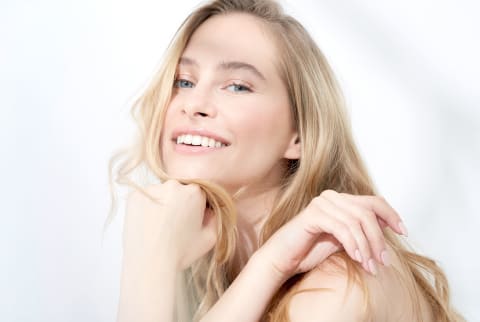 Image by ohlamour studio / Stocksy
April 4, 2023
Our editors have independently chosen the products listed on this page. If you purchase something mentioned in this article, we may
earn a small commission
.
Mark your calendars, folks: It's Vitamin C Day. A more recent addition to the faux holiday calendar (it began in 2019, a nod to the beauty benefits of this hero ingredient), but if there's any reason to celebrate one of our favorite antioxidants—we'll go ahead and take it.
There are so many reasons to love vitamin C (both in the health and beauty space), and we could go on and on about its laundry list of skin care perks (in fact, we already have; check them out here). For now, let's highlight three reasons to love this holy grail ingredient—see why we're celebrating below, as well as our favorite selects:
Advertisement
This ad is displayed using third party content and we do not control its accessibility features.
1.
It stimulates collagen production
Collagen literally holds your skin together—it's what gives your skin that youthful, plump bounce, and it diminishes over time for a variety of factors. As such, experts recommend supporting collagen production while you age, through topicals and supplements.
But here's the ticket: Vitamin C is a vital part of the collagen production process. According to Julia T. Hunter, M.D., founder of Wholistic Dermatology in Beverly Hills, "If you don't have vitamin C, your collagen can't cross-link to lift and tighten skin."
That's because vitamin C can actually promote fibroblast production1 and regulate collagen synthesis2 (aka, the pathway in which collagen is made). "Vitamin C is a key cofactor in the synthesis of collagen and elastin, [which helps] give your skin that plump and youthful appearance," Keira Barr, M.D., dual board-certified dermatologist, told us about vitamin C in collagen supplements.
Additionally, the vitamin stabilizes the collagen you already have: Due to its antioxidant properties (which we'll dive into in a mere moment), it helps neutralize free radical damage—which is a major culprit behind collagen degradation and DNA damage.
When someone mentions vitamin C, the phrase "glowing skin" tends to follow—for good reason: While antioxidants at large can manage UV damage (the primary cause of discoloration), vitamin C is the antioxidant for skin brightening—its glow-inducing abilities are well documented, as research shows using vitamin C topically can help diminish hyperpigmentation3, even skin tone4, and help reduce skin inflammation3.
Not to mention, it works across skin types and tones. "Vitamin C is one of the few active ingredients that can benefit all skin types," says Elizabeth Tanzi, M.D., board-certified dermatologist in the Washington, D.C., metro area and associate professor of dermatology at George Washington University Medical Center.
Advertisement
This ad is displayed using third party content and we do not control its accessibility features.
3.
It provides environmental protection
Let's circle back to the vitamin's free-radical-fighting abilities: As you likely know, free radicals (triggered by UV damage and other environmental aggressors) can lead to oxidative stress and visible signs of aging: like crepey skin, fine lines, and other textural and pigmentation changes. Antioxidants—oh, hello vitamin C—can protect the skin against photoaging by both absorbing UV rays and preventing UV-induced free radical damage5.
It's no wonder vitamin C is formulated into many sunscreens. "There is some evidence to suggest [antioxidants] can work with sunscreen to impart environmental protection," says Tanzi about the vitamin. In fact, research shows that topical vitamin C reduced the risk of sunburn by 52% and UV cell damage by 40 to 60%3. Of course, the antioxidant shouldn't replace your proper SPF, but a product laced with vitamin C may provide an extra layer of protection.
The takeaway
We don't technically need a reason to celebrate the famed antioxidant, but it's never a bad idea to freshen up on its beauty benefits. Three cheers for vitamin C!
Advertisement
This ad is displayed using third party content and we do not control its accessibility features.