How To "Veganize" The Ricotta Toast Trend + 4 Drool-Worthy Ways To Top It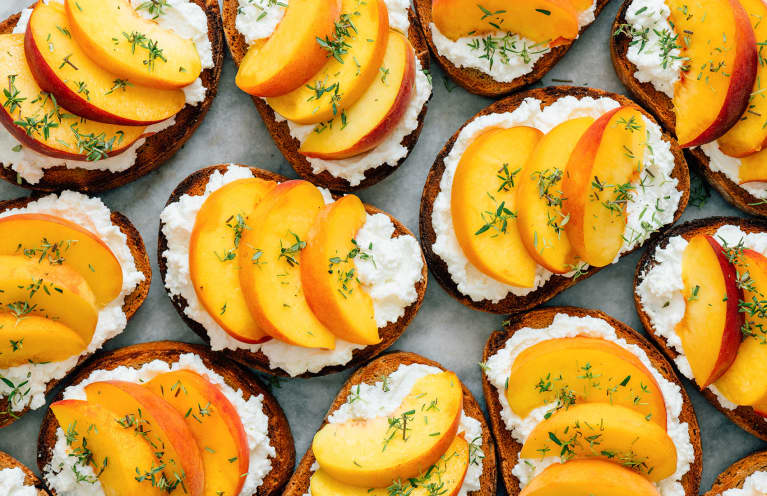 Our editors have independently chosen the products listed on this page. If you purchase something mentioned in this article, we may
earn a small commission
.
There's always an exciting new food trend to try, and these days, the one you're probably seeing everywhere is ricotta toast. But if you opt for a dairy-free or vegan diet, you may think this trendy (and, honestly, Instagram-able) treat isn't on your menu. Luckily, I'm here to remind you that it's actually pretty easy to make plant-based ricotta at home, so you, too, can enjoy a sweet or savory take on this buzzy toast.
How to make homemade vegan ricotta.
This simple recipe, from the cookbook Plant-Powered Athlete, uses almonds and probiotic capsules to make a rich and creamy plant-based version of this simple cheese. You can check it out in more detail here.
Makes 2 cups
2 cups almonds, soaked in water for 2-plus hours
1½ cups purified water
1 tsp. Celtic sea salt
1 to 2 probiotic capsules
Drain and peel the soaked almonds.
In a high-speed blender, combine the purified water and salt, then add the almonds. Blend until smooth and creamy.
Pour the mixture through a cheesecloth or nut milk bag and allow to drain for 4 hours or overnight.
Transfer the drained mixture to a clean glass bowl or container. Break open the probiotic capsule(s), and, using a wooden or plastic spoon, gently stir it in.
Cover with a clean towel and leave to ferment for 8 to 12 hours at room temperature. Use this timing as a basic range. The culturing process can go slower or quicker than expected, depending on the environment. Taste the cheese throughout the fermenting process to find the optimal flavor that you prefer. Be sure to use a clean spoon each time, so you don't contaminate the cheese.
Once fermentation is complete, you can add other ingredients, such as lemon juice, garlic, freshly ground black pepper, herbs, sun-dried tomatoes, or even dried fruit.
Store in the fridge in an airtight container for up to 2 weeks. The longer the cheese ages in the fridge, the tangier it will taste.
How should you top your ricotta toast?
The most popular topping online seems to be slices of sweet summer peaches, which I can totally get behind—but let's not neglect the savory options too. Here are some ideas for topping your toast:
Summer fruit with flaky salt and chili flakes: This is the variation that's all over my Instagram, with good reason. That combo of sweet, salty, and spicy is so delicious. Think of fruits like peaches, apricots, strawberries, and other ones that are easy to slice thin so it's still easy to eat. If you do go for a stone fruit, and have access to a grill, you could consider grilling the fruit before slicing it and using the grill to toast the bread, for another layer of flavor.
Garlicky mushrooms and herbs: Flip a recipe like this one on its head and use sautéed garlicky mushrooms to top your toast. Use whatever your favorite variety of mushrooms is, even frozen mushrooms; just make sure you add plenty of aromatics and some fresh herbs, like chives or parsley, on top to really make the flavor pop.
Tomatoes and basil, two ways: For a classic flavor, simply blister some cherry tomatoes in a pan with some garlic, extra-virgin olive oil, and basil—or simply slice some stunning fresh summer tomatoes and top with torn basil. Either way, it'll be amazing.
Citrus and nuts: You can interpret this in a few ways, but creamy almond ricotta pairs perfectly with supremes of your favorite citrus (I'm partial to blood orange, here, for the color) and some toasted nuts (like hazelnuts or macadamias!) to add a satisfying crunch.
Sure, ricotta toast might be taking the internet by storm—but if you'd prefer to stick to your avocado toast, you can try adding a base of ricotta before slices of avocado to get in on the trend without forsaking your go-to. Alternatively, we've got a whole dozen M.D.-approved variations on avocado toast here for you to try.