Why You Shouldn't Sleep On Frozen Mushrooms (Hear Me Out)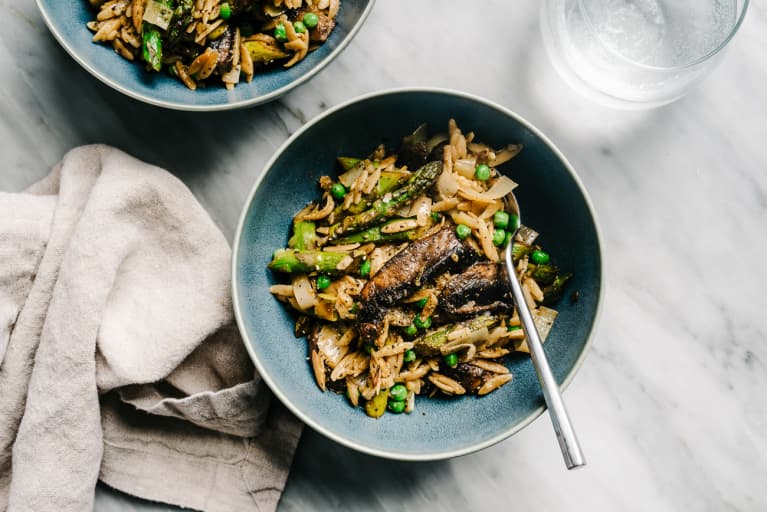 Our editors have independently chosen the products listed on this page. If you purchase something mentioned in this article, we may
earn a small commission
.
At mbg, we recently published a news story about the health benefits of mushrooms—specifically, how eating two medium-sized 'shrooms daily may lower cancer risk by 45%. As a self-proclaimed superfan of mushrooms, I hardly needed another reason to incorporate them into my day—but if you find it challenging to get a daily dose, let me share my latest kitchen hack that will make it way easier.
Mushrooms are the best...but they can be difficult to prep.
Let me first say, I've always loved mushrooms. Even when I was little, I was the weird kid forgoing cheese or pepperoni pizza and reaching for the mushroom-laden slice. Now as an adult (and a non-meat-eater at that), I still eat them almost every day, as they pack that umami-rich punch that can (for me) satisfy like a burger.
As the executive editor at mbg, I've also fully embraced the array of health benefits mushrooms have to offer. Shiitakes, in particular, have demonstrated antiviral activity in some research, immunologist Heather Moday, M.D., previously shared with mbg. "When specifically studied on influenza, shiitake was found to inhibit the growth of the virus by preventing the entry and uncoating process of viral infection."
I use an amalgamation of 'shrooms in my daily cooking, but nothing slows me down quite like wiping and brushing away dirt from fresh mushrooms. As chef and nutritionist Serena Poon, C.N., taught us last year, you shouldn't rinse these puppies, no matter how tempting it may be. Instead, you should use a damp paper towel (I prefer a reusable variety) and wipe each one with TLC.
The mushroom cooking hack I swear by.
Brace yourself for a dramatic sentence: My life changed when I found these frozen shiitake mushrooms by Woodstock (on Amazon). Whenever I want mushrooms, I grab the bag from the freezer and throw them in the pan—no tender cleaning required. There is nothing like the flavor of shiitake mushrooms. I'm not a food writer, so I won't bore you with an impression of one—but the exquisite taste of this product, plus the ease of use, makes me feel like I've uncovered a secret treasure.
Whether you want to add a little something-something to your morning eggs or you're throwing a bunch of veg together to top pasta, the frozen mushrooms make it a breeze to get these immune-supporting powerhouses into your diet.
You don't have to go with the variety I suggested (although I highly recommend); this is merely a heads-up that whatever type of mushroom you prefer, remember frozen is an option. So to start, I recommend sticking with one variety and cooking it on its own in a nonstick skillet with a bit of avocado oil to see how it browns. Once you get a feel for how they cook up, you can toss them in a stir-fry, an omelet, or really any dish that could benefit from some mushrooms. I've found the bags of frozen mixed mushrooms aren't as easy to evenly cook, due to varying sizes and pieces. So I'd stick with one variety.
No more washing grime away, no more delay to lunch. Mushrooms are on the menu (quite literally) for breakfast, lunch, and dinner with the snap of your fingers.