Your Partner Eats A Different Diet Than You? This RD's Tip Makes Meal Prep Easier
mbg Nutrition & Health Writer
By Eliza Sullivan
mbg Nutrition & Health Writer
Eliza Sullivan is a food writer and SEO editor at mindbodygreen. She writes about food, recipes, and nutrition—among other things. She studied journalism at Boston University.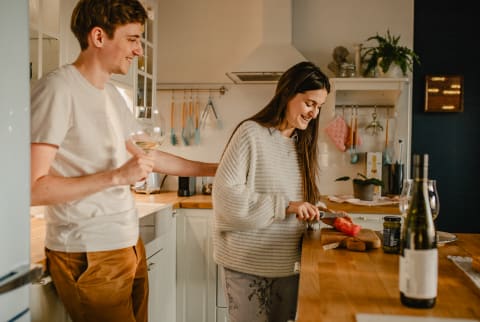 Image by Ivan & Asya / Stocksy
January 13, 2021
If you're in a couple with individual diet plans, you're likely no stranger to independent meal prep (or to one of you working at cooking two meals at once). This can be something of a logistical nightmare, to say the least. Not to mention the fact that sharing a meal at home is one of the best "date" options we've got right now—and ideally, that'd mean the meals are ready at the same time.
The key to vegan and meat-eater compatible meals, it seems, might just be working on finding the common ground: things you both love that ultimately give you a jumping-off point for dinner. "I think flexibility is key," says culinary and integrative dietitian Marisa Moore, MBA, RDN, L.D. "Though it's nice, there's no rule that we both have to eat the same thing at dinner."
Luckily, she gave mindbodygreen her top tip for making a meal for two with different proteins, that still feels cohesive—and it all starts with seasoning.
An R.D.-approved tip for creating cohesive meals.
"My tip is to focus on meals that are adaptable but can often use the same seasonings," suggests Moore. While you may not agree on what proteins to use, focusing on the flavor profiles of those proteins, along with the seasoning and spices you both like can help you find direction, even without a recipe.
While you might feel inclined to start meal planning with the protein, in this case, you should open up the spice cabinet first. Is there a flavor pairing you both love, like chili powder and cumin, or turmeric and ginger? Once you're found your flavor profile, find proteins from your respective diets that goes with the spices, sauce, or dressing you've picked.
Another great thing to consider is how the proteins are cooked: Can they both be roasted? Or maybe grilled? Even pan-fried? This can help cut down on dishes and also makes it easy to plan the timing of your meals.
Some examples to get you started.
While going off the things you like is an OK place to start, sometimes you may need a bit more direction. Luckily, Moore had some advice for where to start.
"Think tacos made with chipotle seared tofu for one, and chipotle seared chicken for the other," she says. "You can both enjoy the same blistered soft tortillas, crunchy cabbage slaw, and creamy avocado—simply swap the protein." Tacos, broadly, are a great example of the types of meals that work best for a pair with different diet habits: dishes with "some assembly required," that allow you to pick and choose the components.
Her other suggestion? "Use this same strategy for Mediterranean lunch bowls where you might include za'atar-spiced chickpeas for one and za'atar-spiced chicken for the other." This approach can also work great for no-cook, assembly-focused lunchtime meals. Canned fish and canned chickpeas both work well atop a great salad, paired with your favorite veggies and a homemade dressing.
Another great, simple evening option is the sheet-pan dinner: Assuming you have two sheet pans, you can prepare veggies, carbs, and other components for both as a base, and then top each pan with your preferred protein.
Whatever type of dish you decide to whip up, keep this simple approach top-of-mind as a great framework for many delicious, compatible meals to come.
Eliza Sullivan
mbg Nutrition & Health Writer
Eliza Sullivan is an SEO Editor at mindbodygreen, where she writes about food, recipes, and nutrition—among other things. She received a B.S. in journalism and B.A. in english literature with honors from Boston University, and she has previously written for Boston Magazine, TheTaste.ie, and SUITCASE magazine.