Nutritionists Open Up A Can: Sardines, Salmon & Tuna Recipes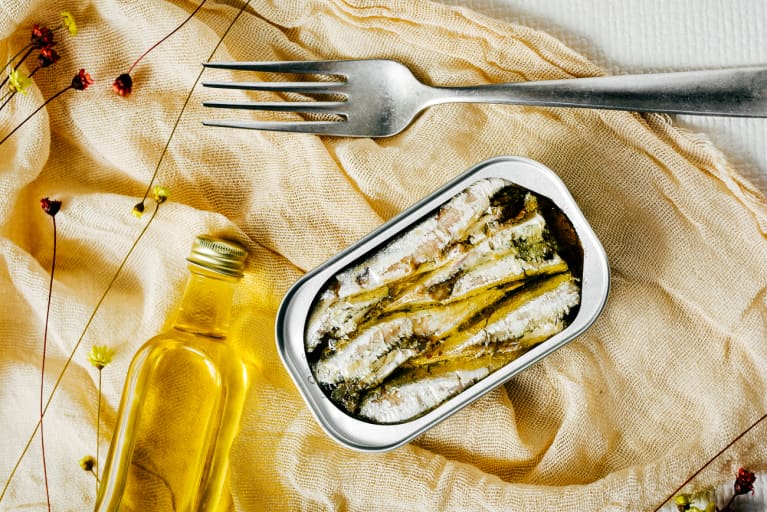 In an attempt to prepare for social distancing, many people are stocking up on nonperishable foods, including canned vegetables and beans. One canned food people may not be thinking about is canned fish. Not only is the oil-packed protein good for you, but it can also be delicious.
We consulted registered dietitians Jess Cording, M.S., R.D., CDN, and Molly Knudsen, M.S., RDN, who shared their favorite ways to eat canned fish, from sardines to salmon to tuna.
Cording said one of her favorite canned foods is wild sardines packed in olive oil. She opts for the boneless, skinless variety, "but if you dig the extra crunch (and the extra calcium) of bones, go for it," she said.
Aside from the flavor, Cording loves canned sardines because they're "a great source of omega-3 fatty acids, which help offset the negative effects of stress hormone cortisol, making them a great tool to have in your toolbox during uncertain times." Bonus, it's also sustainable.
Molly Knudsen is also a fan of canned fish for their "omega-3 fatty acids and protein, as well as their calcium and vitamin D (if you eat the bones)!" She enjoys sardines and light tuna, but her favorite is wild salmon.
Canned salmon is a great source of protein on top of a fresh, green salad (like this one). But for something a bit more hearty, she recommends making salmon cakes.
Cook a sweet potato until soft, and mash.
Dice half of a red bell pepper.
Combine drained, flaked salmon with sweet potato mash, bell pepper, an egg, breadcrumbs, and some onion and garlic powder.
Form that mixture into small patties, and cook on the stovetop until crispy.
Serve with a Greek yogurt dip or Dijon mustard.
According to the USDA, 3 ounces of canned tuna is 22 grams of protein and only 100 calories. Knudsen will also top her green salads with the fish, but for a more nostalgic taste, she provided a lighter version of the classic tuna salad.
Mix canned tuna with a little bit of olive oil, lemon juice, and diced celery.
Add a small dollop of plain Greek yogurt and a squirt of Dijon mustard.
Serve on a toasted slice of whole grain bread, a bed of lettuce, or crackers.
What's the major take-away?
Not only is canned fish a great low-cost option, but it can also "be stored in the pantry anywhere from three to five years (unopened of course)," Knudsen said. Meaning, even if you don't eat it right away, it certainly won't go to waste. Bonus: It's also sustainable.