Close Banner
Advertisement
This ad is displayed using third party content and we do not control its accessibility features.
What Makes Health Coaching So Valuable? Health Care Insiders Explain

By Colleen Travers
mbg Contributor
Colleen Travers is a freelance writer and editor who specializes in health, nutrition, diet, fitness, and wellness trends for various publications and brands. Her work has appeared in Reader's Digest, SHAPE, Fit Pregnancy, Food Network, and more.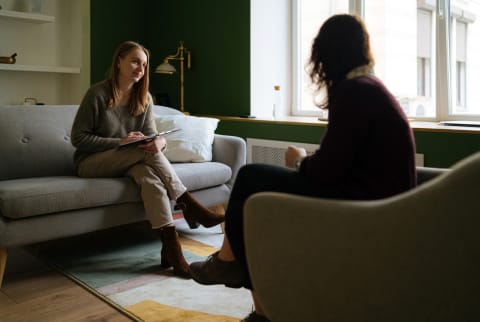 Image by Ivan Ozerov / Stocksy
We carefully vet all products and services featured on mindbodygreen using our
commerce guidelines.
Our selections are never influenced by the commissions earned from our links.
During a typical visit to the doctor's office, it may seem like an imaginary timer starts ticking the moment you slip on that paper gown, counting down the seconds before your practitioner has to go see their next patient. Or, you might think of three more questions you wanted to ask after the doc has already walked out the door.
This is exactly why health coaching has become such an important—and legitimate—arm of the health care system. "Health coaching is multifaceted and tailored to the individual to help a person achieve their health-focused goals," says Erica Zellner, M.S., CNS, LDN, a health coach for functional medicine clinic Parsley Health.
It may seem unnecessary to some, but you wouldn't run a marathon without consulting a fitness trainer (especially if you're new to the sport), so why would you tackle areas of your health you're not familiar with solo? Here, health care insiders explain why health coaching can be so beneficial for anyone looking to make positive changes and what you can expect when working with a coach:
1.
Health coaches set realistic benchmarks
"The main goal of a health coach is to take out the guesswork of your healing journey by helping you to establish goals and creating a plan to achieve them," says Will Cole, IFMCP, DNM, D.C., functional medicine expert and author of Gut Feelings. "Since everyone's health is different, they help make wellness personal to you and your lifestyle."
Health coaches do this primarily through motivational interviewing, says Zellner: "We get to know our patients and find out what their responsibilities are, likes, dislikes, and how their day is scheduled. This helps us figure out collaboratively where we can make sustainable improvement."
Barely have time to boil an egg in the morning let alone make a protein-packed breakfast? These are the nitty-gritty details health coaches want to hear about in order to outline a doable road map for you.
2.
They make the path to health less daunting
"You can be doing all the things that are recommended by your health care practitioner, but healing is not always linear," says Cole. "Health coaches offer the kind of unwavering support that your main practitioner can't give you by encouraging you, guiding you, and supporting you during the highs and the lows."
3.
They help you zoom out on your goals
Sometimes the slower the progression, the easier it is to make long-lasting changes you can manage on your own. "Health doesn't drastically shift overnight," says Zellner. "Oftentimes, it takes building in incremental and sustainable ways. A health coach will want to make some small changes, make sure that those changes feel good and that they're going to work, and build from there."
This means that depending on what you're aiming to achieve, you can expect to work with a health coach for several weeks to a few months.
4.
Health coaches are being better integrated into the health care system
There's a growing movement to have insurance cover visits to health coaches, particularly those who work within a primary care clinic, like Parsley Health. This helps eliminate the barrier of cost, making health coaches accessible to a wider population.
Even if your insurance doesn't cover the costs associated with a health coach, you may be able to use funds from your health savings account (HSA) or flexible spending account (FSA) to help.
If you seek a health coach on your own, make sure to mention it to your primary care physician so that your wellness goals are clearly mapped out and everyone involved is on the same page. "A health coach is someone who works in conjunction with clinical advice from qualified medical practitioners; they are not a replacement," says Cole.
How to find a health coach (or become one yourself)
The type of health coach you use will be unique to your wellness journey, but Cole and Zellner say you'll want to make sure you find someone who is certified through the National Board for Health and Wellness Coaching (NBHWC). Depending on what your goals are, it's helpful if your coach has certifications in those areas, too, adds Zellner. Some examples include a coach who also has experience in personal training or nutrition.
"Most importantly, find someone that you can really trust," says Zellner. "Your health coach is a safe space to be honest about everything that's going on in your life. We're trained to really look at a root cause approach to where things could improve, and having a solid connection between coach and client makes it easier to achieve success."
And if you're interested in helping others along in their health journeys, it's never too late to kick-start a career as a health coach. These top health coaching programs will equip you with the tools you need to get started.

Colleen Travers
Colleen Travers is a freelance writer and editor who specializes in health, nutrition, diet, fitness, and wellness trends for various publications and brands. Her work has appeared in Reader's Digest, SHAPE, Fit Pregnancy, Food Network, and more. She lives on Long Island with her two kids, two rescue pets, and husband.