How To Do Squats With Lateral Leg Raise To Spice Up Any Lower-Body Workout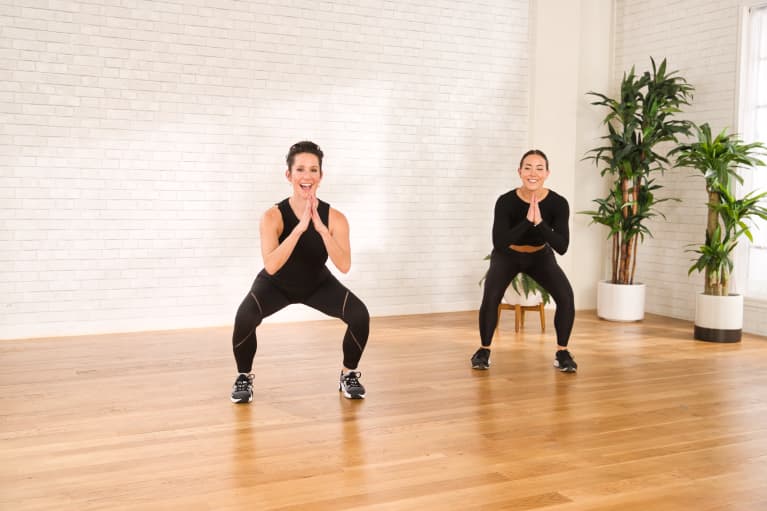 If you're looking to spice things up on leg day, you might want to consider adding some squats with lateral leg lifts to your routine. This compound exercise couples all the benefits of squats and lateral leg lifts, all with no equipment necessary. Here's how to do them, as demonstrated by fitness instructors Rachel Warren and Caitlin Riley, plus tips, modifications, and more.
How to do squats with lateral leg lifts: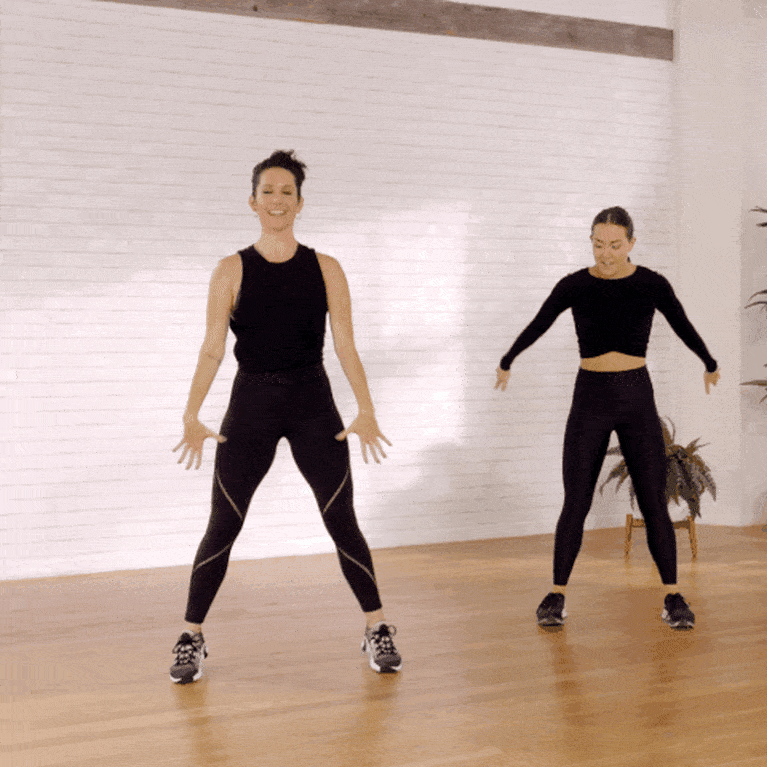 From a standing position, sit your hips back and lower down into a squat, bringing your hands together in front of your chest. Keep your chest proud and your core engaged.
Engage your glutes to come back up to start, and immediately lift your right leg to the side, as you bring your hands out wide for balance.
Sit back into your squat and repeat the movement, alternating legs each time.
Continue for at least 1 minute.
To support stability in your squat, keep your weight back in your heels, engage the core, and try to maintain a neutral spine (tailbone neither tucked forward nor arched back).
Make this move a bit more challenging by adding weight, either with ankle weights or dumbbells in your hands.
If you're finding this move difficult, you can practice squats and lateral leg lifts separately until you're able to combine them. Additionally, you can try doing the leg lifts while holding on to a chair for balance, if necessary.
Squats with lateral leg lifts provide so many benefits, particularly when it comes to strengthening your lower body. Of course, any squat is going to work your glutes and quads, but the addition of lateral leg lifts specifically targets your gluteus medius muscle (on the outer side of your pelvis), which is often neglected.
This muscle plays a big role in hip mobility and overall stability, so strengthening it is never a bad idea—especially if you sit a lot during the day. And in addition to giving your low body a solid workout, this move requires a bit of balance, so it can help with improving stability as well.
The bottom line is, if you're looking to take your squats up a notch, adding some lateral leg lifts to the equation can help you target even more muscles and get your legs fired up fast.
Want to turn your passion for wellbeing into a fulfilling career? Become a Certified Health Coach! Learn more here.