Our Guide To Soap Brows: A 4-Step Tutorial + Expert Tips For Perfection

Beauty & Health Editor
By Jamie Schneider
Beauty & Health Editor
Jamie Schneider is the Beauty Editor at mindbodygreen. She has a B.A. in Organizational Studies and English from the University of Michigan, and her work has appeared in Coveteur, The Chill Times, and Wyld Skincare.
July 14, 2023
We carefully vet all products and services featured on mindbodygreen using our
commerce guidelines.
Our selections are never influenced by the commissions earned from our links.
In the quest for fluffy, next-level brows, treatments run the gamut. There's something for everyone: brow lamination for hold, eyebrow tinting for fullness, microshading for permanent pigment, and the list goes on.
But what if you're looking for all the professional-grade brow benefits without committing to a salon procedure? Oh, hello, soap brows. Welcome to the party.
While you may have seen the trend gracing your social media feeds of late—controlled, brushed-up brows in all their feathery glory—soap brows are nothing new. Beauty experts have been perfecting the look for ages, and—get this—the technique is one of the easiest to master at home.
What are soap brows? 
Basic definition: You're just using bar soap in place of brow gel. Coating the hairs in soap gives them staying power, so you can mold the strands to your liking and trust that they'll lie flat all day long. "Almost like a glue stick," says brow expert Joey Healy.
The look, says Healy, hit the mainstream around 2016, but it's actually been revered by the drag community for years—performers frequently used soap (or even proper glue sticks) to lay the hairs down, so they could easily cover them with concealer or foundation before drawing on a brand-new shape.
The soap allows you to mold the brows however you please, whether you're looking to cover up any sparse gaps or fluff them upward for a feathery, brushed-up look.
Think of it as the middle ground between a strong-hold brow gel and a brow lamination treatment (which can last up to eight weeks). If you're a brow gel devotee and are looking for something a bit more, without too much of a commitment, soap brows are a great next step.
What are soap brows? A summary
Soap brows are a classic makeup artist technique that swaps brow gel for soap, which offers extra firm hold.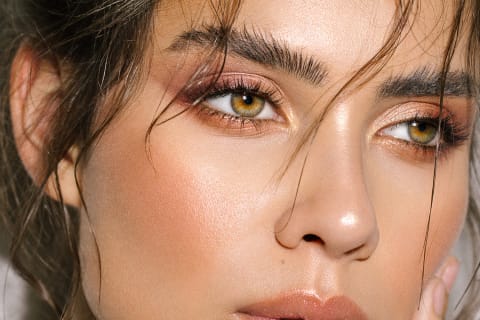 Image by svetikd / istock
A soap brow tutorial.
Soap brows can benefit all eyebrow shapes and sizes: whether you're sparse-browed and looking to add volume or you sport thick, coarse arches and need to mold them into shape. It's the same technique:
Lightly dampen a clean spoolie, lightly being the operative word here. As Healy warns, too much water can foam up the soap, and the suds can leave a white cast to the brow. "Maybe use just a little drop from a turned-off sink," he says.
Rake your damp spoolie across the top of the bar soap, making sure to coat all of the bristles.
Comb your brows with the spoolie in your desired shape. For a natural-looking fluffy brow, Healy suggests following the direction of the brow shape. Usually, that's upward at the base, a 45-degree angle at the peak, and downward at the tail. "If you brush the brow completely up the whole way, sometimes it makes the tail look gappy because you're not letting those tail hairs overlap," he says. But feel free to play around with it to find the look you want.
If your hairs are particularly stubborn, you may need to do a couple of rounds with the soap. Just make sure, again, you don't lather enough to create any suds or white cast.
What soap should you use?
Yes, the soap you choose matters. You don't want to use an opaque bar soap (like one that's milky white), as it'll transfer a flaky white cast on the brow hairs.
Not to mention, traditional soaps can be quite drying on the skin. Think about how your hands feel after scrubbing at the sink with traditional bar soap—they're tight and dry, no? The same can happen to your brows: "Soap brows can be really drying on the brow hair and skin when using regular soap," says international brow stylist and founder of Brow Code Melanie Marris.
As Marris notes, "I recommend looking for something containing nourishing ingredients to ensure your brow is not damaged in the process." Plus, if you find a nourishing bar soap you absolutely adore, you can use it as a cleanser, too.
What to look for in a soap for soap brows
Clear
Hydrating base, such as glycerin or aloe
Includes antioxidants, like vitamin E
Expert tips
Soap brows aren't without their nuances, especially if you have sparser areas. Before grabbing the spoolie, make sure you're well-versed on the below:
"You don't want to use too much pressure because if you have fine brows or thin brows you could actually pull out the brow hairs," says Healy.
It's a bit of a delicate dance—you don't want the spoolie sopping wet (which suds up and creates a cast), but you also don't want to brush too dry, as this can tug at the delicate strands.
2.
Use brow pencil before the soap
Instincts may tell you to use brow pencil or powder after laying the eyebrows down with soap (it makes sense; wouldn't you want to fill in any sparse areas after they're already brushed up?), but Healy suggests filling in your brows beforehand.
"The soap brow is waxy, and it really grabs the product, sometimes making the powder appear very dark or the pencil hard to blend," he says.
The best method is to lightly comb through your brows with a spoolie, fill in any gaps and blend it to your liking, then do your soap brows very lightly so you don't smudge the product.
3.
Give your brows a break
"I would not recommend soap brows daily," says Marris. You can, of course, but try to recognize when your brows are crunched dry.
Even the most natural-leaning cleansing agents can be a bit stripping if you overdo it, so try to give the brow area a break when you can.
Try multiple coats of clear brow gel if you're looking for a similar hold—it offers a bit more flexibility than soap brows, but that means it puts less stress on the arches, too.
Cautions
While this is a very popular brow technique for a reason, most pros will offer the same cautions:
Make sure you're using a hydrating, non-irritating soap. Look for ingredients like glycerin, aloe, botanical oils, and vitamin E.
Only use clear soaps—nothing pigmented or white, as that can transfer color onto the brows.
Avoid doing this daily, as it can be drying for brow hairs (even when using a hydrating soap).
Use gentle pressure when applying the soap, as anything too forceful may pull the brows.
The takeaway
In terms of hold, soap brows exist in the middle ground between brow gel and brow lamination—they grip the arches and hold them into place, without the commitment of a semi-permanent brow treatment. It's best for achieving fluffy, textured brows that hold shape all day—just make sure you're using the right product and technique.

Jamie Schneider
Beauty & Health Editor
Jamie Schneider is the Beauty Editor at mindbodygreen. She has a B.A. in Organizational Studies and English from the University of Michigan, and her work has appeared in Coveteur, The Chill Times, and more. In her role at mbg, she reports on everything from the top beauty industry trends, to the gut-skin connection and the microbiome, to the latest expert makeup hacks. She currently lives in Brooklyn, New York.