Brow Lamination: The Treatment For Fuller, Brushed-Up Brows + DIY Version
mbg Beauty Director
By Alexandra Engler
mbg Beauty Director
Alexandra Engler is the beauty director at mindbodygreen and host of the beauty podcast Clean Beauty School. Previously, she's held beauty roles at Harper's Bazaar, Marie Claire, SELF, and Cosmopolitan; her byline has appeared in Esquire, Sports Illustrated, and Allure.com.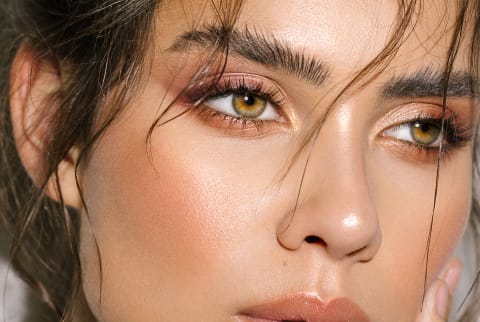 Image by svetikd / istock
July 1, 2020
We carefully vet all products and services featured on mindbodygreen using our
commerce guidelines.
Our selections are never influenced by the commissions earned from our links.
People are precious about their brows. There's a reason so many brow products and treatments tend to them, be it microblading, microshading, growth serums, or just your classic brow gel and pen. And if you fall into the group of people who are looking to improve and enhance their shape, brow laminations offer another route.
What is brow lamination?
"Brow lamination is a treatment designed to relax and straighten the brow hair, allowing the brow to be styled in a variety of ways such as sleek, straight, arched, or fluffy," says international brow stylist Melanie Marris. Essentially, the treatment itself is a chemical relaxer or perm for your brows.
And like when one gets a perm or relaxer, the stylist is able to reform and reshape the strands to their liking. In hair treatments, that means straightening the hair or adding curls. In brows, that means brushing them to add volume, moving them to cover gaps or scars, fluffing them out to make them wear wider, or redirecting stray strands. It's like using an extra-strength brow gel that doesn't go away with a face wash. In fact, brow lamination can last up to eight weeks with proper care (more on that soon).
What is the lamination process like? 
As Marris tells us: Brow lamination is a 45-minute multistep process with an additional if you're looking to have your brows tinted. Here's how it works:
Your technician will apply a perming solution, which is a chemical process that helps break down the bonds within the brow hairs so that they can be morphed into a new shape or style.
Following the application, your technician will cover the brows with cling wrap for five to eight minutes to ensure the brow hairs are fixed in an upright position. Your technician will then remove the cling wrap and remove the solution with a dry cotton tip.
They will then apply a fixing solution that helps set and form the hairs of the brow into its new shape. The technician will again apply cling wrap for five to eight minutes before removing the cling wrap and any excess solution with a dry cotton tip.
Your technician may apply brow tint if you are looking for a combination of the two treatments.
Once brows are tinted—if you choose—the final step is a keratin application that helps to restore moisture in the brows and skin.
Aftercare.
Aftercare is quite simple: Do not wet (this includes sweat), touch, apply product, or so on within the first two days, notes Marris. "In order to maintain the results of your brow lamination service, it's important to follow the aftercare regimen, as any excess moisture can cause a slight curl or frizz to the brow hair," she says. Again, think of it as getting your hair chemically treated, be it color, perm, or straightened: Hairstylists always advise you to avoid showering and the like for a few days after, right?
Of course, this poses some tricky situations: You can't sweat, so do your best to avoid workouts and sweltering heat. You also need to be careful about showers and washing your face. We recommend sticking to body showers, skipping makeup (so you don't need to remove it with a thorough wash), and then cleansing your face with towelettes or micellar water and cotton pads so you can more easily avoid the bow area.
Other than water, she also notes you should skip any retinol or exfoliation product for the first 72 hours. (This includes any physical scrub or a chemical exfoliator, like AHAs or BHAs.) But once you've made it through those tricky first few days, you should be good to go, says Marris. "You can continue with everyday activities like working out, showering, and so on after the initial treatment period," she says.
What to know before booking an appointment. 
The good news is there are few downsides to the treatment, and it offers a gentler alternative to microblading and -shading, as you are not injecting chemicals or dyes into the skin, she notes.
"The amazing thing about brow lamination is that it's a treatment that can work for everyone. Those with sparse, skinny brows can suddenly achieve fuller-looking brows, and even those who already have full brows love the defined, fluffy style that can be achieved with brow lamination, but it's best to confirm with your technician that you are not allergic to any of the ingredients used in the brow lamination service," says Marris.
How to mimic the process at home.
You can't fully "all-natural DIY" this since a relaxer is involved (unless you have ample experience with at-home perms, we recommend visiting a professional).
Remove the wand from the tube and let the product air dry on the wand for around 30 to 45 seconds to allow the formula to thicken.
Comb the product through the brows heavily and evenly. Bailey notes you want the hairs to be more saturated with product than normal, so you may need to re-dip the wand once or twice—just remember to let the product dry between dips.
Once you've swiped every hair, use your fingertips or the handle of a clean makeup brush to flatten the brow hairs and make the tips stick to the skin. How? Start at the base of your brow with a small amount of pressure and glide the handle or fingertip up to the top of your brow.
When it dries, you'll have the brushed-up full look you crave.
The takeaway. 
Brow laminations are a cool treatment to impart a full, fresh brow. If you're interested, visit a professional—or try this DIY option first to see if you like the look.
Alexandra Engler
mbg Beauty Director
Alexandra Engler is the beauty director at mindbodygreen and host of the beauty podcast Clean Beauty School. Previously, she's held beauty roles at Harper's Bazaar, Marie Claire, SELF, and Cosmopolitan; her byline has appeared in Esquire, Sports Illustrated, and Allure.com. In her current role, she covers all the latest trends in the clean and natural beauty space, as well as lifestyle topics, such as travel. She received her journalism degree from Marquette University, graduating first in the department. She lives in Brooklyn, New York.