This Fast-Acting Sleep Supplement Is Like A Gentle Massage Before Bed

mbg Sustainability + Health Director
By Emma Loewe
mbg Sustainability + Health Director
Emma Loewe is the Senior Sustainability Editor at mindbodygreen and the author of "Return to Nature: The New Science of How Natural Landscapes Restore Us."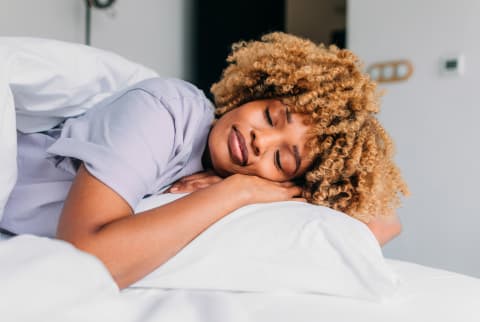 Image by Studio Firma / Stocksy
August 10, 2023
We put our bodies through a lot during the day, and nighttime should be our opportunity to relax and unwind. Unfortunately, lingering stress and tension can make this easier said than done.
Practices like writing in a journal, flowing through a breathwork sequence, or indulging in a hot bath can effectively promote calm—but they do take time. For nights when a full-on spa or retreat experience is not in the cards, sleep support+ can help.
mindbodygreen's bestselling sleep supplement was designed to promote whole-body relaxation—like what you'd expect after a deep massage or clarifying soak.* It works thanks to targeted ingredients present in efficacious, science-backed doses.
Instead of hitting you over the head with sleepiness like some other sleep aids (looking at you, melatonin), sleep support+ has a more gentle effect. Its ingredients work gradually to form a safe nonhormonal formula that people can't get enough of for relaxation. Here's what customers are saying about how this supplement helps them chill like no other:*
1.
I've tried everything else without success
"Love these! I've tried everything over the past 10 years and mindbodygreen's sleep support+ is the only product that works for me!"*
2.
I was skeptical at first, but it works
"I was skeptical at first. I could fall asleep but couldn't stay asleep all night. I ordered this although it's a little expensive. It's so gentle it seems like it isn't doing anything, but after taking it every night for a week or so, I noticed that yes, I was staying asleep. And I'm not groggy in the morning. I'm going to continue using it."*
3.
It helps me fall asleep and go back to sleep at night
"I've tried so many sleep all-natural aids but none had worked until sleep support+! Helps me fall asleep and go back to sleep if I wake up in the middle of the night like I tend to do."*
4.
I noticed a difference the first night
"From the first time taking sleep support+, I noticed a difference. Falling asleep was easy; staying asleep has been my challenge and this worked so well. I awoke feeling rested and refreshed. Have recommended to several people with similar results. Thank you, mindbodygreen!"*
5.
Finally, I feel well-rested again
"I've tried everything and nothing has helped until I started taking mbg's sleep support+. Now I not only sleep soundly, but I don't have the usual 3 a.m. 'brain chatter.' I get eight hours of sleep with no interruption. I wake up feeling energized, clear, and refreshed."*
6.
It's subtle but effective
"It's subtle but it works. My sleep was often interrupted at least 2x per night, with difficulty getting back to sleep each time. I'm almost all the way through my first bottle of sleep support+, and I've experienced fewer sleep interruptions. More notably, when I do wake up, I go right back to sleep after a few minutes (instead of hours)."*
The takeaway
If you are pregnant, breastfeeding, or taking medications, consult with your doctor before starting a supplement routine. It is always optimal to consult with a health care provider when considering what supplements are right for you.