A Nutritious 5-Minute Salad To Make For Lunch, From A Functional MD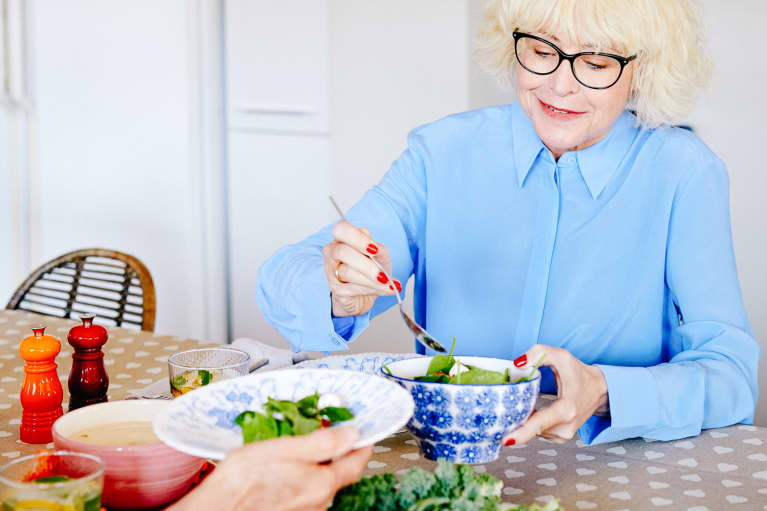 Our editors have independently chosen the products listed on this page. If you purchase something mentioned in this article, we may
earn a small commission
.
Dinner is often a time for experimenting in the kitchen, slow-cooked meals, and gathering around the table. As nice as it would be to apply the same mindset to lunch, let's get real; that's simply not feasible most days.
That said, just because lunch has to be thrown together more quickly doesn't mean it can't be as nutritious, filling, or enjoyable. When he has only five minutes to spare, functional medicine doctor and mbg Collective member Mark Hyman, M.D., makes what he calls a fat salad.
In case you're curious, here's how his favorite five-minute lunch got its name: "It's full of powerful plant-based compounds that help you stay healthy and fats that help you stay full and speed up your metabolism," Hyman writes on his Instagram post.
How to make a five-minute lunch salad. 
The go-to ingredients in Hyman's lunch salad include arugula, olives, pumpkin seeds, tomatoes, avocado, artichokes, and canned wild salmon.
For the dressing, he mixes olive oil, balsamic vinegar, mustard, salt, and pepper. "You can add in mustard, tahini, or lemon for different flavors," Hyman suggests.
Simply throw your ingredients in a bowl and mix them up.
This simple salad is perfect for even the busiest of days. Keeping shelf-stable ingredients handy (think oil, vinegar, spices, seeds, tinned fish), takes the brain work and prep time out of making a delicious and nourishing lunch. "But you also want to go get fresh ingredients like tomatoes or avocados," he adds.
The ease of preparing this salad is reason enough to make it, and the health benefits are an added bonus. The majority of the ingredients are rich in omega-3 fatty acids, which support both the brain and the heart, and the tinned fish provides a sustainable source of protein.
The tomatoes contain the antioxidant lycopene, which supports immune functioning through its anti-inflammatory properties. Oh and by the way, "Lycopene becomes more bioavailable when you add fat, like olive oil," registered dietitian Jess Cording, M.S., R.D., CDN, previously told mbg. So definitely don't skimp on adding them to this fat-filled salad.
The middle of the day may feel rushed, but that doesn't mean you have to pass on a meal or opt for something that leaves you feeling less than energized. This satiating and flavorful dish is the solution to your lunchtime woes.