Nutritionists Open Up A Can Of Tomatoes & Here's What They Make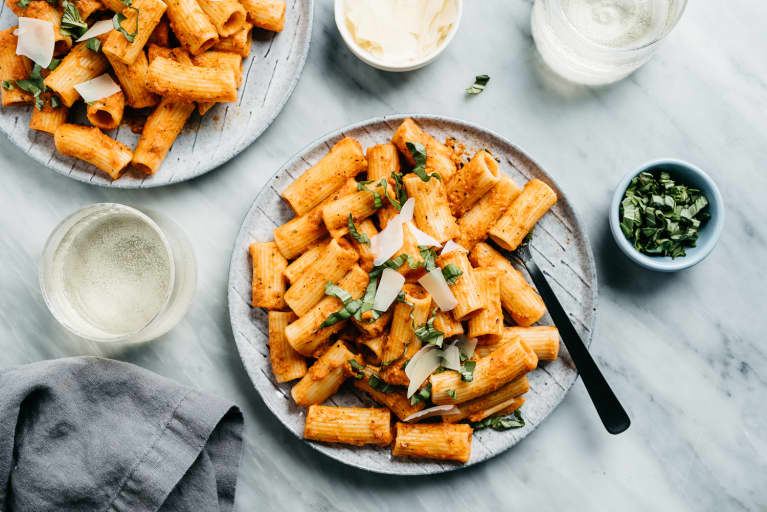 Our editors have independently chosen the products listed on this page. If you purchase something mentioned in this article, we may
earn a small commission
.
It's nearing the end of another long week, which means it's nearly time to hunker down with a good book and some comfort food. Think tomato soup, a bowl of chili, and practically any and all pasta. But what do all of these cozy dishes have in common? Canned tomatoes, of course.
We consulted lifelong fan of canned tomatoes Jessica Cording, M.S., R.D., CDN, who shared why she loves them so much and a few ways to enjoy the canned fruit.
The nutritional value of canned tomatoes.
Aside from her Italian roots, Cording chooses canned tomatoes because "They're a good source of immune-supporting vitamin C." The antioxidant lycopene, present in red tomatoes in particular, helps support the immune system by reducing inflammation.
Pro tip: "Lycopene becomes more bioavailable when you add fat, like olive oil," Cording said.
Like most canned items, one thing to check when purchasing canned tomatoes is the sodium level. To control your intake, opt for low-sodium or no-salt varieties.
How to eat canned tomatoes.
Aside from just tasting good, the act of squeezing whole canned tomatoes in your hands can actually be quite cathartic. "My typical response to stress is to make a batch of marinara," Cording said. She'll then repurpose it for dishes like shakshuka or tomatoey butter beans and olives."
Unfortunately, most marinara recipes contain sugar to balance the acidity, and functional medicine doctor Mark Hyman, M.D., recommends reducing or cutting out refined sugar to help strengthen immunity.
To get those cozy flavors of red sauce without the added sugar, try making a big batch of this goji-tomato marinara tonight.
2 (28-ounce) cans whole plum tomatoes, preferably unsalted
½ cup dried goji berries
2 tablespoons olive oil
1 medium yellow onion, finely diced
Sea salt
2 tablespoons garlic, minced (about 5 or 6 cloves)
½ teaspoon dried oregano
2 tablespoons fresh basil, minced
Place the entire contents of the canned tomatoes, including the juice, into a blender, along with the goji berries. Blend briefly—you can leave the sauce a little chunky or puree it until it is completely smooth, depending on the texture you prefer.
In a large heavy-bottomed pot, warm the olive oil over medium-low heat. Add the onion, a big pinch of salt, and sauté for 7 to 10 minutes, until the onion is golden brown.
Add the garlic and oregano, stirring frequently, and sauté for about 1 minute, until the garlic is fragrant.
Pour the tomato-goji puree into the pot. Bring the sauce to a simmer, and cook it over low heat for 20 to 25 minutes, uncovered, stirring occasionally, to reduce and slightly thicken the sauce.
Stir in the basil and add a generous amount of salt to taste (usually around 1 teaspoon or more if you're using unsalted tomatoes, and about ½ teaspoon if you're using salted tomatoes).
If you want a smooth sauce, you can return the mixture to the blender and fully puree it. Or just leave the marinara chunky if you prefer a more textured sauce.
Recipe Adapted with permission from Smart Plants © 2019 by Julie Morris, published by Sterling Epicure.