The Best Way To Eat Canned Roasted Red Peppers, From RDs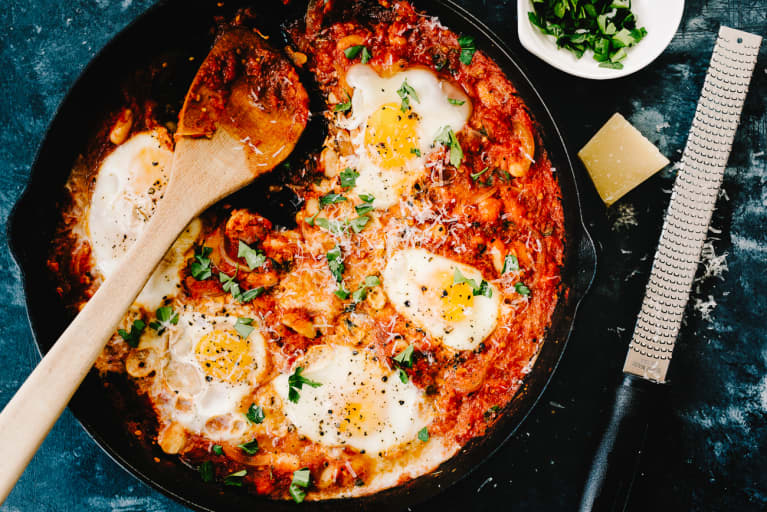 You could roast your own red peppers, sure. But between all your new hobbies, Zoom meetings, and at-home exercises, who has the time? All jokes aside, keeping canned versions on hand will ensure your red peppers don't perish in between grocery runs.
We reached out to Molly Knudsen, M.S., RDN, and Abby Cannon, J.D., R.D., CDN, to figure out how they use their roasted red peppers and the nutritional benefits.
"Canned roasted red peppers are great because you still get that vitamin C and beta-carotene content of fresh bell pepper but in a nonperishable form," Knudsen told us.
If there was ever a time to increase our vitamin C intake, it's now. In fact, immunologist Heather Moday, M.D., told mbg, "It's a crucial free-radical scavenger that significantly protects against infectious disease."
Along with vitamin C, Cannon said roasted red peppers also contain a good amount of vitamin A and iron.
Roasted red peppers are sold in many varieties: in water, in oil, seasoned, or unseasoned. Just be sure to check the sodium levels when purchasing seasoned peppers; otherwise, Knudsen advised, "Go for the option in water and season them yourself."
Once you've picked the right version for you, there are many ways you can add them to your diet. "Roasted red peppers are a great addition to marinara sauces or folded into scrambled eggs," Knudsen said. For something a bit more indulgent, she likes adding them to quesadillas, in addition to black beans and taco seasoning.
For a classic WFH lunch, Cannon said they give great texture and flavor to salads. "They can be quite slippery, so be careful when cutting them," she said. "They would also be great in a veggie hummus wrap," Knudsen added.
Not having to commute to work has likely added some extra time to your morning. Meaning, more time to make a slow-cooked breakfast (goodbye for now, oatmeal). If that's the case, try this tomato shakshuka with roasted red peppers, created by Leah Vanderveldt for the mbg clean eating guide.
olive oil
1 shallot or ½ small onion, finely chopped
1 garlic clove, finely chopped or grated on a microplane
½ teaspoon smoked paprika
1 14-oz. can chopped tomatoes
1 roasted red pepper from a jar, chopped
½ teaspoon salt
A big handful of baby kale or spinach
2 to 3 eggs
Pinch of red pepper flakes (optional)
Finely chop shallot (or onion), garlic, and roasted red pepper.
Coat a small pan in oil and heat over medium-high heat. Add shallot and cook for 2 minutes, until beginning to soften.
Add garlic and paprika, and cook, stirring, for 30 seconds.
Add tomatoes, red pepper, and salt. Cook, stirring, for 2 minutes. Stir in baby kale.
Make little divots with a spoon and crack eggs into them (so eggs stay relatively contained). Cover the pan and reduce heat to medium-low. Cook for 5 to 7 minutes until egg whites have set but yolk is still runny.
Sprinkle with chili flakes and serve with toast, pita, or quinoa.
Want to turn your passion for wellbeing into a fulfilling career? Become a Certified Health Coach! Learn more here.