9 Signs Your Relationship Is Going To The Next Level, From Relationship Experts
mindbodygreen Editorial Assistant
By Sarah Regan
mindbodygreen Editorial Assistant
Sarah Regan is a writer, registered yoga instructor, and Editorial Assistant at mindbodygreen. She received her bachelor's in broadcasting and mass communication from SUNY Oswego, and lives in Brooklyn, New York.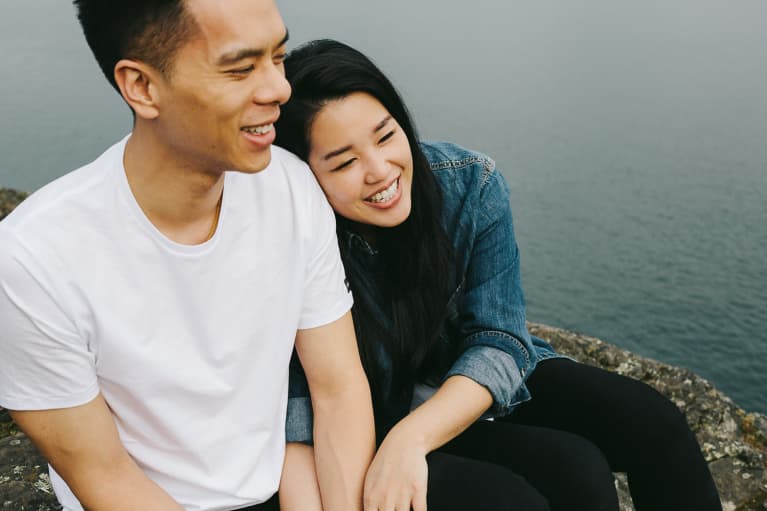 Our editors have independently chosen the products listed on this page. If you purchase something mentioned in this article, we may
earn a small commission
.
We've all been there: You've been seeing someone new for a while now and things seem to be getting more serious. Perhaps you're ready to have the conversation about becoming exclusive or "labeling" your relationship, but you're wondering where your potential partner stands. Or maybe you're worried they're showing signs that they're not ready. Whatever it may be, we asked relationship experts to name some of the telltale signs your relationship is going to the next level, plus what to do about it from there:
1.
You can feel that the "vibe" has changed.
When affection grows, it's often hard to contain, and that will usually tip you off. "Watch for a felt sense of the warmth, the sweetness, the care, deepening," explains Ken Page, LCSW, relationship expert and host of the Deeper Dating podcast. "You're developing a deeper connection with this person and you're discovering the nuances of their vulnerability, their interest, their passion, and more. You will feel it when they drop down into a deeper place of caring."
2.
Spending a lot of consistent time together.
According to psychologist and author of Marriage and the Law of Attraction, Paulette Sherman Psy.D., spending more time together is another sure sign. What was a date once a week or so may have developed into spending whole weekends together, lots of sleepovers, and constant communication.
3.
Discussing your future.
Discussing your future, Sherman adds, is another sign. After all, there wouldn't be much future to discuss if one of you wasn't thinking about it. "It's time to speak, communicate, and express!" Page adds, noting, "If you have a sense that your feelings for this person are growing, and if you have a sense that the other person's feelings are growing, but there's no communication around this, that's something to look at!"
4.
Making plans months ahead.
Additionally, making plans far in advance is a definite indication that you're both thinking about the future and feel secure enough to plan ahead with each other, Sherman notes. Whether it's a weekend getaway or tickets to an event, the point is you're both hoping the other will be around for it.
5.
Meeting each other's friends.
Meeting the people in the other person's circle is considered a significant step for many. It allows your friends and the person you're dating to get to know one another—which you probably wouldn't do if you didn't see a future. Additionally, Sherman says, "letting loved ones know that 'this is it,'" is another sign, and bringing them around is a good way to show it.
6.
Meeting each other's parents.
Similarly, meeting parents is another one of those big steps (that often induces a little anxiety, if the stakes feel high), Sherman adds. For many people, bringing someone you're dating around to meet the parents isn't something that's done lightly, and there's usually the hope that your parents will like them—and their parents will like you.
If you're spending a holiday together, specifically with each other's family, Sherman says, that's definitely significant. For many people, holidays are intimate and special celebrations that you don't spend with just anyone. If you're bringing each other around for Christmas dinner or Easter brunch, it'd be a far cry to suggest you're not serious.
8.
Sex is more passionate.
"People have frequently described to me that sex changes when they begin to fall in love," Page notes. Things to watch out for, according to him, include deepening emotions, more tenderness, more passion, and more expression of needs. "Or conversely, sometimes for a period of time, the intensity of sexual arousal actually diminishes, until we find equilibrium at our new level of emotional depth," he adds.
9.
There may be some pushback.
And lastly, Page says, there are some who tend to meet intimacy with a bit of fight-or-flight. "Sometimes we have a paradoxical reaction to a growing sense of closeness," he says, which can make us temporarily scared. "We pull back, or we feel less sexual or more shy or more defended. These bewildering signs are actually often signs of a growing and deepening interest. It's our way of protecting ourselves as we recognize that we are becoming more vulnerable."
Based on the aforementioned signs, you likely have a gut feeling about what stage of the relationship you're in.
If you want your relationship to move forward but the signs aren't there, it might be time to take action: "If you're in a place where you were unsure whether things are static or growing, it might call for you being more vulnerable," Page suggests. If you're interested in things growing, he says, find ways to let the other person know this. "Let them know what you appreciate about them, that's been proven to be a real aphrodisiac!" he says. "You can even let the other person know verbally that your feelings are deepening and see how the other person responds."
Good ol' healthy communication goes a long way in these situations. Don't be afraid to bring it up. "We think we need to figure all of this out in our own head," Page says, "but often just speaking with the other person illumines what's really going on for them."
If you do see your relationship moving forward, it may be worth having a conversation to define the relationship together to make sure you're on the same page.
The early days of a relationship are a wonderful and enjoyable time that shouldn't be wasted overthinking. If you're second-guessing or questioning, communication is key. And if you're feeling secure in your new relationship, celebrate it, Page says.
"Give yourself the gift of that new sense of romance. It's magical—and the more you allow yourself to feel it and enjoy it, the more you can bottle it for those cold winter nights when things might be more difficult in your relationship," he says, adding, "You're becoming a specialist in the nuances of this person, so learn to trust your judgment."