These Side-To-Side Lunges Will Get Your Lower Body Burning Fast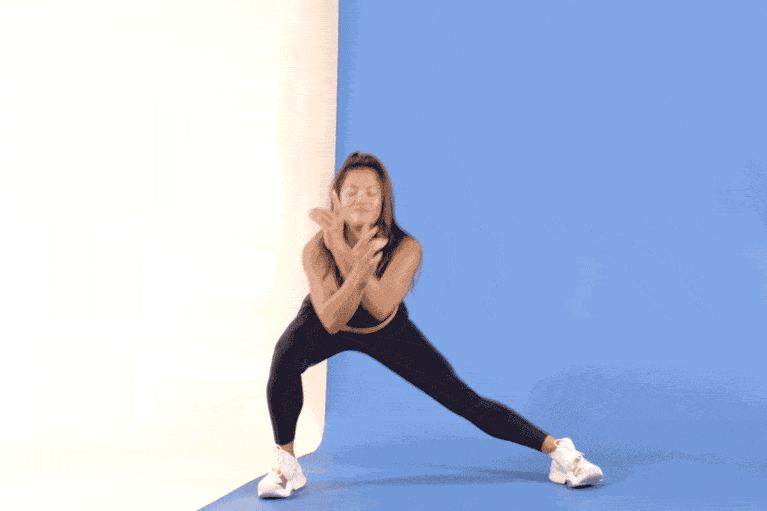 Did somebody say leg day? If you're looking for a new move to spice up your usual routine, it might be time to kick your standard lunges up a notch. Enter side to side lunges. All you need is a few minutes of this move to get your glutes and quads burning. Here's how to do it, demonstrated by certified fitness instructor CJ Frogozo.
How to do side-to-side lunges:
Bring your feet wider than hip-width apart, with your toes facing forward.
Bend one knee and shoot your hip creases back; flip your butt cheek to the sky.
Feel a big stretch in your inner thigh, then switch to the other side.
Continue for 3 minutes, and incorporate some arm movements throughout.
Shifting your weight to the outer edge of the extended leg as you alternate lunges will help you stay balanced and work the outer thigh and glute.
You can turn up the heat and incorporate some arm work by holding a weight in both hands or two small weights in either hand.
Remember to keep your bum angled up to engage those glutes.
Try to keep a flat spine and engage your core as best you can.
This is a great move to incorporate on leg day (or any day, for that matter). Not only does it strengthen your glutes, quads, and hamstrings, but it's also great for loosening up the hip joint and aiding in flexibility. And when you incorporate arm movements, weights, and/or engage your core, this move has the potential to work your full body.
It's versatile, simple, and who doesn't love an ultra-fast move? All that to say, side-to-side lunges ought to earn a spot on your regular fitness roster.