Close Banner
Advertisement
This ad is displayed using third party content and we do not control its accessibility features.
5 Things To Keep In Mind This Scorpio Season, According To Astrologers
mbg Spirituality & Relationships Editor
By Sarah Regan
mbg Spirituality & Relationships Editor
Sarah Regan is a Spirituality & Relationships Editor, and a registered yoga instructor. She received her bachelor's in broadcasting and mass communication from SUNY Oswego, and lives in Buffalo, New York.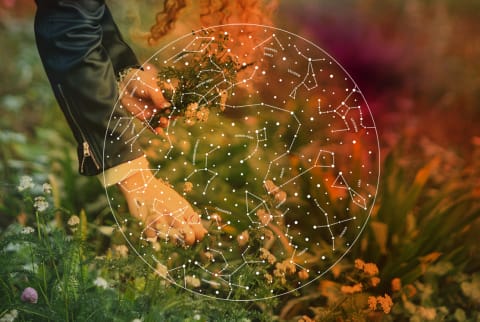 Image by LAURA STOLFI / Stocksy
Spooky season is well underway, and with it, Scorpio season has officially arrived. As the days get shorter, colder, and darker here in the Northern Hemisphere, Scorpio reminds us that light cannot exist without dark—and sometimes answers can be found in the shadows.
Here are the important astrological happenings to watch out for this Scorpio season, plus what they might mean for you:
1.
Scorpio season invites us to dive into the depths
Scorpio season kicks off this year on October 23, and Sagittarius season begins on November 22. The thing to understand about Scorpio as a sign is that it's all about mystery, mysticism, passion, and creativity. It's known to be jealous and possessive when underdeveloped, but at its best, this sign is powerful and magnetic.
We'll all be feeling this energy as Scorpio season rolls out, and we can tap into it by remembering that life requires a balance of darkness and light, of comedy and tragedy, and of the seen and unseen. But fear not—Scorpio has no fear, after all, and that could be why this sign is able to transform, evolve, and regenerate time and time again.
2.
The eclipse portal closes with a full moon lunar eclipse
If you've been feeling topsy-turvy for the past few weeks, you can thank eclipse season for that. But come October 28, the eclipse portal that opened with the recent new moon in Libra will close with the full moon lunar eclipse in Taurus.
According to the AstroTwins, this Taurus lunar eclipse is also the grand finale of a two-year eclipse cycle that's been rocking the Taurus/Scorpio axis since November 2021. These eclipses have been highlighting issues like money, sensuality, sex, and reproductive rights on a larger scale, they say, while on a personal level, they've impacted our relationship to finances, self-worth, and the way we share energy and resources.
"Look back to where you were a couple of years ago, and notice any shifts in these areas," the twins suggest.
3.
Saturn wraps up its retrograde backspin
In astrology, Saturn is the planet that deals with structure, discipline, responsibility, and hard work. It's also known for throwing challenging curveballs and obstacles in your way (in order to teach you the importance of persistence, of course).
Since mid-June, Saturn has been retrograde, but it's spinning back to reality on November 4 in the sign of Pisces. It's possible that during this retrograde period, you ran up against delays or setbacks, but sometimes delays allow us time to reflect and reset in order to make the best decision. Now that the ringed planet is moving direct, it could feel easier to get things done, set boundaries, or finally tackle a problem that's been stewing since the summer.
4.
Venus in Libra will soften our hearts
Just watch out for codependence, indecision, and passive-aggressive behavior—all of which are things Libra can be susceptible to. For the most part, though, Venus in Libra encourages us to prioritize balance, harmony, and supportive relationships.
5.
Communication opens up as Mercury moves into Sagittarius
For the first half of Scorpio season, the planet of communication and information is teamed up with the sun as they're both in Scorpio. But on November 9, Mercury will move out of Scorpio and into Sagittarius, shaking up communication after a reserved few weeks.
When Mercury is in Scorpio, we hold our cards close to our chest and prefer to keep an air of mystery around what we're willing to share with others. When it's in Sagittarius, on the other hand, we tend to prefer the opposite—leaning into bold and brash communication, sarcasm, and asking for forgiveness instead of permission. That's all well and good when it comes to wearing your heart on your sleeve and being honest; just be sure not to ruffle too many feathers in the process. (Venus in Libra should help with that!)
The takeaway
Scorpio season is a time to start going within as colder weather creeps in, preparing for the quieter months of the year when rest and regeneration are the priority. Lean into the mystery and remember this motto for Scorpio's season: Your true power can only be found when you accept and honor your shadow.
Sarah Regan
mbg Spirituality & Relationships Editor
Sarah Regan is a Spirituality & Relationships Editor, a registered yoga instructor, and an avid astrologer and tarot reader. She received her bachelor's in broadcasting and mass communication from State University of New York at Oswego, and lives in Buffalo, New York.