Reviewers Swear This Collagen Powder Makes Their Nails Strong & Skin Plump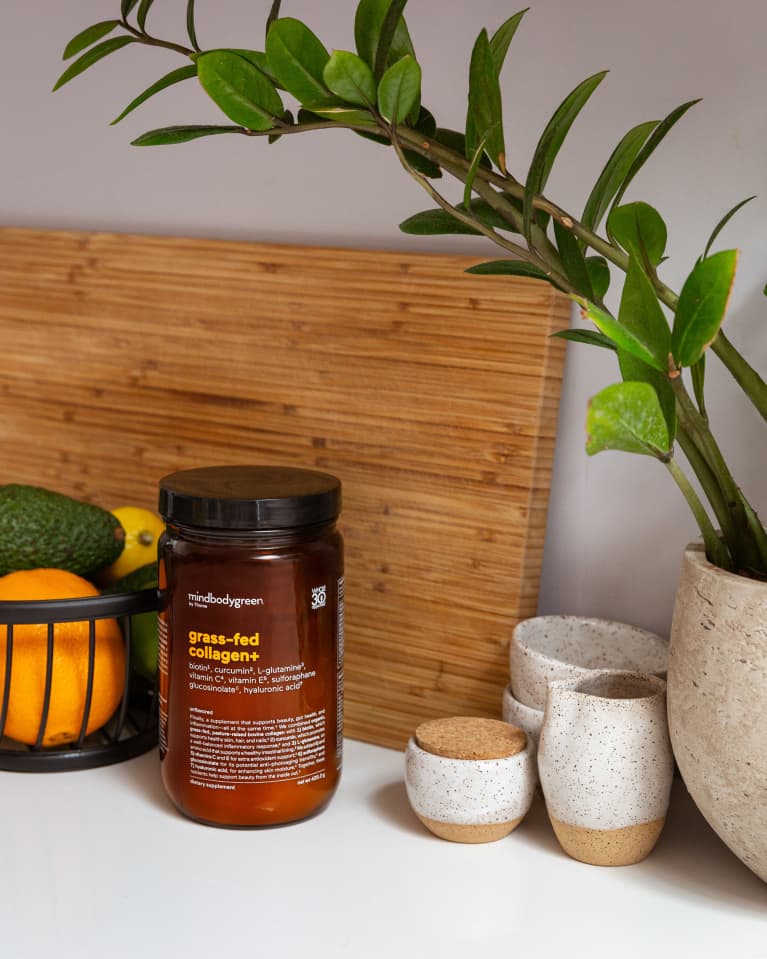 Glowing skin, stronger nails, and fuller hair? Now that's something to write about. Turns out, many of you thought so too. We've received plenty of praise for our grass-fed collagen+ from users, and we thought we'd share (so you don't have to take our word for it!).
But before we jump in, a little refresher on why grass-fed collagen+ is so effective. The base is a grass-fed, organic hydrolyzed collagen that is able to be absorbed by the body and enhance your skin cells' production of collagen and elastin. This also includes vitamin C, which is a vital part of collagen synthesis. So vital, in fact, that your body can't adequately produce collagen without it. It's also supported by vitamin E, which helps stabilize vitamin C in the body. It's rounded out by biotin (for better hair health) and a plethora of anti-inflammatory agents. No wonder it's gaining fanfare.
Here, some of our favorite reviews.
Skin looks better than ever.
"I have used this product for almost two months. I definitely feel like I am seeing a difference in my nails and skin: My skin looks better than ever, and my nails appear to be growing in suddenly stronger. I feel really good, and I don't know what else to say except it is also encouraging me to make delicious smoothies daily...so that I can put the collagen into it."* —Amy C.
"I've caught myself in the mirror recently early in the a.m. and late at night during bathroom breaks (which used to be terrifying), and now my eyes aren't at all puffy and my lips and cheeks have a blush to them. My skin is firm yet supple to the touch, and my nails are stronger. I love the high dose of vitamins C and E, and biotin, too. I imagine I'm still getting some serious support from the vitamins."* —Rosalina
Best-quality collagen I've found.
"I've used the unflavored collagen for a month now. Love how well it mixes into my morning matcha. Maybe it's the placebo effect, but it seems just in the last week my fingernails have started growing much more strong (and quickly)! At the very least, I know I'm doing something healthy for my gut and skin. This is the best-quality collagen I've found. You get what you pay for."* —Sydney L.
"I haven't been taking it for very long, but it already made a difference in my hair texture, which is fuller and thicker."* —Esti M.
"grass-fed collagen + has solved issues that I've tried to solve unsuccessfully with expensive face creams and digestive calming supplements. My nails are now stronger, with a healthy nailbed color. My skin looks hydrated, and I don't need to take three products to calm my digestive tract. Two tablespoons a day is all I need to be on a healthy track."* —Alyse S.
"I love the grass-fed collagen, both the chocolate and unflavored. I have been taking it for about 30 days now, and I feel better, with less joint pain. And my skin looks fresher, which is saying something at 59 years of age. Thank you for the thoughtful nutritional product." —Cynthia B.
"Love this. I add it to my coffee and smoothies; it does not clump. I haven't taken it long enough to see long-term benefits, but I can tell my nails and hair appear healthy."* —Marina B.
Pure ingredients and simple.
"Omg! This is the best collagen powder ever! Pure ingredients and simple. Mixes great and not overpowering. So glad I found it! I use it in my smoothie every morning and sometimes for dinner too! Thank you!"* —Joanna M.