Close Banner
Advertisement
This ad is displayed using third party content and we do not control its accessibility features.
Reviewers Love That This Omega-3 Supplement Doesn't Leave A Fishy Aftertaste

Registered Dietitian Nutritionist
By Molly Knudsen, M.S., RDN
Registered Dietitian Nutritionist
Molly Knudsen, M.S., RDN is a Registered Dietician Nutritionist with a bachelor's degree in nutrition from Texas Christian University and a master's in nutrition interventions, communication, and behavior change from Tufts University. She lives in Newport Beach, California, and enjoys connecting people to the food they eat and how it influences health and wellbeing.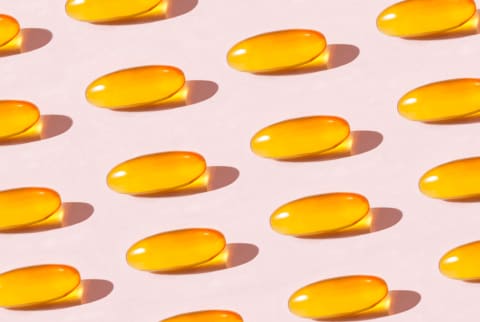 Fish oil is bursting with beneficial omega-3 fatty acids that support heart, brain, vision, immunity, and joint health.* However, fish oil supplements should not be bursting with a fishy flavor. This unpleasant effect is actually listed as one of the top complaints1 people have when taking an omega-3 supplement.
Some supplements are formulated to not smell or taste like the ocean. Here's why taste and odor are important markers of quality and how to find an omega-3 supplement that's actually pleasant to consume.
What does it mean when something doesn't smell right?
"Like any oil (including the olive oil you cook with), rancidity can be a major issue if quality-control parameters are not top-notch," mbg's vice president of scientific affairs Ashley Jordan Ferira, Ph.D., RDN, previously shared.
Some of these parameters include thoughtful processing of the oil during manufacturing as well as the addition of antioxidants in the formula to help prevent premature oxidation.
And not any old omega-3 supplement on supermarket shelves adheres to these best-in-class practices.
mindbodygreen's omega-3 potency+
omega-3 potency+ is intentionally formulated to include an efficacious amount of both EPA and DHA omega-3 fatty acids directly from fresh wild-caught, cold-water South Pacific anchovies from off the coast of Chile.*
In addition, this unique formula, "incorporates organic lemon oil and the herb rosemary to thoughtfully counteract fish burps and enhance the fish oil's antioxidant capacity and freshness, respectively,"* Ferira previously explained.
Customers are noticing a drastic difference with this combo compared to previous fish oil supplements. Here's what they're saying.
No fish burps!
"I have only recently started to take the omega-3 product. So far, so good. I like that even though the capsule is large, I don't have any problem swallowing them. Also, I do not have any fish taste or burps, so that is a big plus. I will get another omega quant test in a few months to see where I am with the omegas."*
I appreciate the quality 
"After learning about the rigorous process that mbg goes through to get the best fish oil, I had to purchase it. No fishy burps and I know I am doing my body good by taking the supplement. It was approved by my functional nutritionist as well!"*
It's a great supplement
"Important for everyone to get daily doses of omega-3s. I highly recommend this one from mindbodygreen."
Love it because there's no icky aftertaste
"The omega-3 potency has been a great addition to all of my other mbg supplements that I love to take daily. It doesn't give you that icky aftertaste, as some other omega supplements. I'm expecting, and I love that this one has all of the omega, DHA, etc that my body needs, and then some!"*
My favorite omega-3
"No fishy taste. I love this product!"
A fantastic addition to my supplement lineup
"I am beginning to see a difference in several things like my skin tone and texture and my endurance. Of course, I am using several of your products and am into several months of use and telling the difference in overall well-being!"*
Finally found an omega-3 to stick with!
"I've been wanting to take fish oil for some time now, as I've read all about the benefits. But I hate the taste and smell. Not with this one! The lemon oil seriously helps, and I finally found one I can actually stomach taking every day."*
Great quality
"I love the quality of this omega-3 supplement. Also easy to take, there is no fishy aftertaste!"
The takeaway
If you are pregnant, breastfeeding, or taking medications, consult with your doctor before starting a supplement routine. It is always optimal to consult with a health care provider when considering what supplements are right for you.