Close Banner
Advertisement
This ad is displayed using third party content and we do not control its accessibility features.
The Data Is In: This Supplement Makes It A Breeze To Get A High Sleep Score

Editorial Operations Manager
By Emily Kelleher
Editorial Operations Manager
Emily Kelleher is the editorial operations manager at mindbodygreen. Her work has appeared in Shape, Well + Good, Greatist, Romper, Fatherly, and more.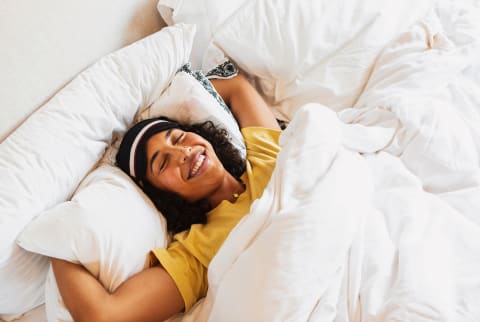 Image by Brilli / Contributor
While many well-being metrics are intuitive, new innovations in the wearable space can certainly help us detect how our body responds to subtle shifts in our routine. A stressful day at work or a cocktail-heavy weekend might show up as a dip in HRV or disrupted sleep.
Since great sleep is always top of mind at mindbodygreen, we're constantly experimenting with different lifestyle factors to improve our sleep scores. But there's one habit that mindbodygreen staffers, readers, and customers have found consistently makes a quantifiable difference in their sleep: taking mindbodygreen's sleep support+.*
How sleep support+ improves sleep scores
Our gentle, hormone-free supplement, sleep support+, contains three key ingredients:
Magnesium bisglycinate: an essential mineral shown to promote slow-wave sleep and support muscle relaxation.*
PharmaGABA®: a calming neurotransmitter shown to decrease the time it takes to fall asleep*
Jujube: a sleep-supporting ancient fruit used in traditional Chinese medicine*
These three powerhouse ingredients help you get to sleep faster and stay asleep longer.* But don't take our word for it.
Our commerce editor, Carleigh Ferrante, decided to try sleep support+ last winter when her Oura ring flagged that she wasn't getting enough REM sleep. On her first night of taking sleep support+, Carleigh's REM duration jumped from 18 minutes to 1 hour and 23 minutes.* The 400% improvement in her sleep score was so stunning, she thought it might be a fluke. But after months of taking sleep support, she continues to clock over an hour of REM sleep each night, having previously struggled to surpass 20 minutes.* And she's not the only one.
Happy customer Michael O. wrote that even half a serving of sleep support+ shows up in his sleep score. "I just take one capsule, and my sleep tracker consistently has shown an increase in deep and REM sleep, with no fog in the morning,"* he says.
Executive editor Hannah Margaret Allen tracks her sleep with a Fitbit, which delivers a sleep score from 0 to 100, with 100 being the best. Having taken sleep support+ for years, she still notices a huge difference in her sleep on nights she skips the supplement.* "Beyond feeling groggy the next morning, my score tends to fall short of my target, and I experience energy dips throughout my day. On nights when I do take sleep support+, though, getting to 90 is basically a breeze,"* she previously told mbg.
Another reviewer, Sharon M. found that when she took sleep support+, her sleep tracker reported much less tossing and turning.*
The takeaway
We're advocates of a holistic approach to great sleep here at mindbodygreen. sleep support+ is just one part of that. We know that good sleep hygiene, like limiting late-night screen time, eating dinner earlier rather than later, and catching morning sunlight, can make a difference. But many of us need a little extra help, and that's where our calming blend of magnesium, PharmaGABA®, and jujube comes in, helping us get the rest we need.* And when it comes to its effectiveness, the data speaks for itself.
If you are pregnant, breastfeeding, or taking medications, consult with your doctor before starting a supplement routine. It is always optimal to consult with a health care provider when considering what supplements are right for you.

Emily Kelleher
Editorial Operations Manager
Emily Kelleher is mindbodygreen's editorial operations manager. Her work has appeared in Shape, Well Good, Greatist, Romper, Fatherly, and more. She holds a bachelor's degree in journalism and political science from Syracuse University.