The Supplement To Relieve Gas & All Of Its Uncomfortable Symptoms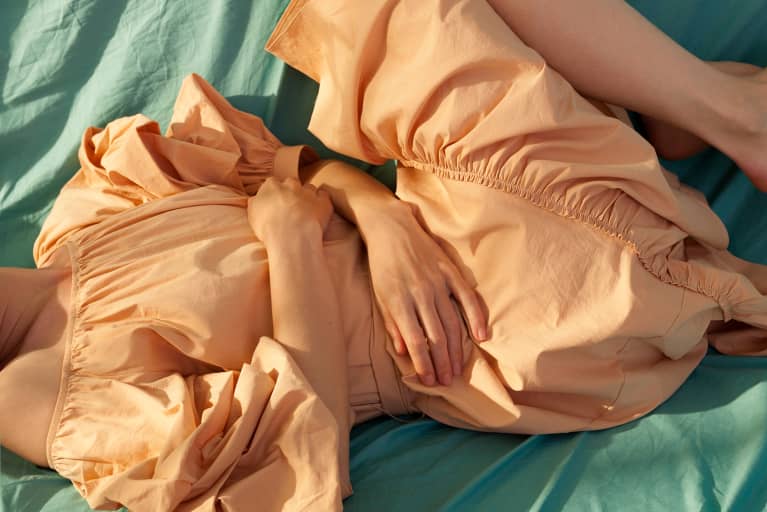 This article was produced to support the mindbodygreen supplements+ line. Our supplements adhere to the highest standards of ingredients and quality. We hope you enjoy these products, for more information
click here
.
Passing a little gas here and there is totally normal. And, who are we kidding? It can feel great, too. When that gas starts to build up in excess, though, it can lead to abdominal pain, bloating, and it may be a symptom of constipation or other gastrointestinal (GI) issues. Thankfully, managing these symptoms can be possible with targeted probiotic strains.*
When mbg developed probiotic+, we purposely included 2 billion colony-forming units of Bifidobacterium lactis HN019 (B. lactis HN019). The probiotic strain has been shown to support regularity by decreasing intestinal transit time.* Translation: The less time poop spends traveling through the digestive tract, the less likely it is for gas to build up in there.
The gas-reducing benefits may not be noticeable straight away. In fact, it can take about two to three weeks for the effects to show up.* Generally, lower gastrointestinal issues, like constipation, irregular bowel movements, and flatulence (aka gas), will start to lessen by the second week.* By Week 3? Abdominal pain should also be in check, especially for people with irritable bowel syndrome (IBS), research suggests.*
All in all, these gut-friendly bugs enhance the health of the gut microbiome and, therefore, help ease the discomfort of unwanted gas.* While the timeline will vary by person, many mbg reviewers raved about the positive results. Here's what they have to say:
"Less gas and bloating."*
"After using this product for just one month, I noticed a difference in my digestion. Less gas and bloating.* Less of a heavy feeling in my gut.* HIGHLY recommend. Worth every cent."
—Dianne M.
"37 years of suffering, cured."*
"Since I have been a small child, I suffered with constipation, bloating, and gas. I have taken high-dose sennoside laxatives for the past 10 years in order to relieve these issues. I was starting to think I would never go on my own again. Although the price point was higher than others, after reading reviews I had to try probiotic+. Three weeks later, I started pooping every day. This is a miracle to me!!!!* If you're not sure, try it. It can only help and is worth the investment in yourself!"
—Lauren G.
"Best probiotic I've tried."*
"I've been taking probiotics for about five years and never really noticed a real difference in the way I looked or felt. I just took them because I knew they were "good for me." I started taking Probiotic+ at the beginning of February, and a week in, I started noticing a real difference in the way I felt (less bloated and gassy—TMI but true), and three weeks in, I noticed real changes in my digestion.* If you have digestive issues, this is the probiotic for you. I am now on their auto-order program!"
—Ivete C.
"This item is great! My bloat has gone down as well as digestion discomfort.* I will be buying more!"
—Christina C.
"This product delivers."*
"Excellent product that does everything it says it will."*
–Alison S.