I Replaced Retinoids With These Nontoxic Alternatives—And I Love The Results
mbg Contributor
By Amy Chang
mbg Contributor
Amy Chang is a writer and beauty blogger currently living in Los Angeles, California. She received her bachelor's in communications from New York University, and is the founder of beauty and wellness blog, BOND EN AVANT.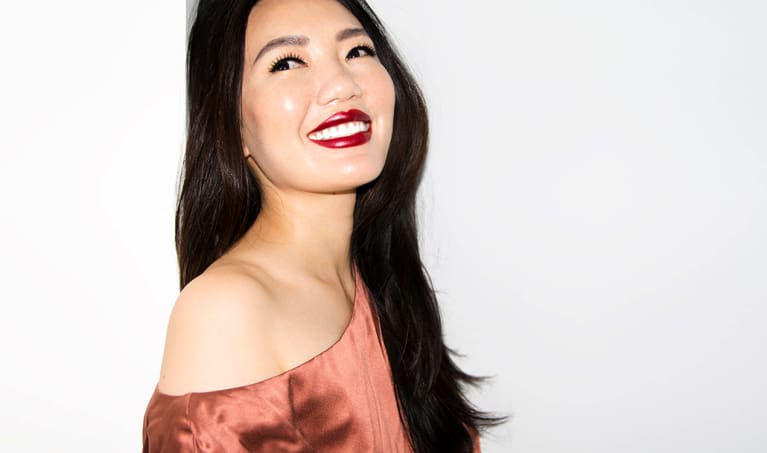 Pregnancy these days has a steep learning curve with so many do's and don'ts. So when I found out we were expecting last August (due in May with a baby girl!), I, of course, turned to my network of veteran moms for advice on how to traverse this new path. Raw sushi, hot tubs, and imbibing were the obvious no-nos, but figuring out which skin care ingredients to steer clear of was uncharted territory for me. Thankfully, one of my girlfriends, Thy N. Le, Pharm.D., pharmacotherapy specialist and program director at the Brooklyn Hospital Center in New York and a mother, began the conversation early on with me about which skin care ingredients to avoid due to their potential teratogenic effects (birth defects). Retinoids were the main category she recommended I avoid while pregnant and breastfeeding, as the FDA has marked tretinoin (prescription Retin-A) as a Category C drug, meaning "harm to the fetus cannot be ruled out."
When she highlighted retinoids, I sighed with relief since I haven't used a retinol product in years—or so I thought. But as I began inspecting the ingredient labels of various brightening and anti-aging products in my bathroom, I realized quite a few contained small amounts of retinoid vitamin A derivatives, like retinyl palmitate, without actually marketing themselves as retinoid products. Into the trash they went.
Now for me, moving through the next two years (nine months of pregnancy and a year or so of breastfeeding) without the gold standard in beauty—retinoids—was a slightly uncomfortable thought as I anticipated the wear and tear to come from sleepless nights. I became curious about alternatives. So I asked New York City board-certified dermatologist Dr. Estee Williams and in-demand celebrity esthetician and co-founder of Spa Radiance Angelina Umansky for the best retinoid alternatives for combating acne, pigmentation, and signs of aging. Read on for the ingredient alternatives they recommended.
"For acne, as an exfoliant to prevent congestion," says Dr. Williams, "glycolic acid is a good alternative and has been used by pregnant patients of dermatologists for decades." Glycolic acids fall under the alpha-hydroxy acid umbrella, a category deemed safe for use while pregnant and breastfeeding.
What to try: REN Clean Skincare makes a super-gentle glycolic and lactic acid toner I love, Ready Steady Glow Daily AHA Tonic, that provides great daily exfoliation, preventing clogged pores and subtle brightening. But if you have trouble tolerating acids and want something even gentler, try the Osea Ocean Cleanser, a gorgeous milky cleanser containing lactic acid derived from fermented beets I've recently become obsessed with.
"There are other things you can do for brightening besides retinoids," says Umansky. "Anything with onion and vinegar is great for combating pigment; onion is great for brightening, and vinegar is also great for cleansing and brightening the skin too." She also highly recommended one of my favorite skin care ingredients for brightening—placenta.
What to try: Biologique Recherche P50 Toner, one of Umansky's favorites, that incorporates sulfur, onion, and vinegar and comes in a range of targeted formulations for sensitive skin, pigmentation, dry skin, oily skin, etc. And if you're looking to dip your toe into the placenta pool, she recommends trying Biologique Recherche Placenta Serum and Placenta Cream.
Vitamin A in the form of beta-carotene is another safe alternative to retinoids, says Dr. Williams. "Beta-carotene is a form of proVitamin A, so there are several steps required for it to be active, meaning the risk is very minute. OB/GYNs don't routinely advise pregnant women to limit natural sources of vitamin A (beta-carotene) because the body is able to maintain normal physiological levels."
What to try: Many oils and butters are naturally rich in vitamin A beta-carotene, like shea butter, moringa oil, and rosehip oil, and are able to combat signs of aging by depositing regenerative vitamin A and healing vitamin E into the skin. If your skin is on the drier side, try Eu'genia's Shea Butter or True Moringa's Moringa Oil, since both are rich in hydrating oleic fatty acids. Rosehip oil is high in linoleic acid, which has been found to benefit combination skin types due to its natural astringent properties and ability to control sebum production. For a pure rosehip oil, try Pai Rosehip Regenerative Oil, a perennial favorite among bloggers, or a rosehip oil blend, like MV Skincare Rose Plus Booster if you're on the drier side and/or find pure rosehip oil sensitizing like I do.
Read more from Amy: Here's what happened when she tried placenta skin care products.