paid content
 for

News Flash: These Are The Natural Beauty Trends You Need To Know This Year
September 18, 2017
We've got good news: after several years of being a niche market, non-toxic beauty is finally mainstream! Big box beauty retailers like Sephora and Target are adding new natural offerings on the reg and indie beauty speciality shops like Credo Beauty, Jill Lindsey, Follain, and CAP Beauty are expanding nationwide. With an enormous infusion of brands and products to the naturals space this year, consumers have more options than ever before, ranging from the original tried and true crunchy granola brands to those that are designed to deliver a modern, luxurious experience. Game-changing ingredients, new techniques, and product innovations are at the forefront of this year's trends, as consumers start to realize that an "inside out" approach to beauty is more effective than a skin care regimen alone. People are beginning to understand that the skin is a communicator, and many issues are a result of a larger, symptomatic imbalance best treated with food, supplements, hydration, and of course better-for-you skin and makeup, which has lead to an empowering inside-out beauty revolution. Read on for the full list of beauty trends!
1. An inside-out approach to better skin spotlights new beauty superfoods and supplements.
While the notion of eating well for bright, clear skin is a steadfast recommendation of estheticians, nutritionists, and even yogis since we can remember, 2017 has seen more people trying to understand their individual sensitivities, experimenting with adding superfoods and supplements like collagen and removing potential irritants like dairy, caffeine, booze, and sugar. When it comes to superfoods, pomegranate and acai are out, replaced by collagen, algae, and manuka honey. And for those superfood nutrients that aren't readily accessible in food, brands like HUM Nutrition, long at the forefront the inside-out beauty movement, offer vitamin supplements made of superfoods that support clear glowing skin, shiny hair, and a healthy body.
The effects of ingesting collagen have been well-documented by trial this year especially, which is in-line with the findings of recent research that investigated whether it actually helps skin. Spoiler alert: it does. Stronger nails, better hydration, and overall improved texture are just some of the purported benefits of taking collagen. HUM Nutrition's Collagen Love has been a favorite this year. It's also been a golden ingredient in beauty products themselves, too, most often as treatment products like serums and masks.
Raw manuka honey is our sweetener of choice because it contains more enzymes than any other type, has anti-inflammatory benefits, boosts immunity, and, in this case, has a lower glycemic index than straight sugar. When used as a face mask (either on its own, or with collagen and spirulina powder added), it can clear cystic acne, help reduce the appearance of dark spots and scars, lock in moisture, and seemingly endless other benefits over time.
In the form of spirulina, algae is one of the most potent superfoods on the market because of its ability to detoxify and dense nutritional offering. Fun fact: spirulina isn't actually a plant, but a strain of cyanobacteria that photosynthesizes like plants do, synthesizing the benefits of seawater and plant nutrition for a one-two punch. For an ingestible, we like this Raw Beauty Powder that also contains 39 other superfoods like chlorella, goji powder, and ashwagandha. Topically, it is typically found in brightening serums and firming masks.
SHOP THIS BEAUTY TREND
2. Hybrid makeup and skin care products provide coverage and benefit the skin.
The makeup category has enjoyed significant growth in the green beauty sector this year, in part due to an increased focus on naturals generally, improved color formulas, and simply better efficacy. We're seeing a new class of products we're deeming, "the hybrids." It's a direct reflection of beauty from the inside out, helping to nourish the skin from the outside in. Makeup with skin care benefits—and the reverse—have been "mainstream" for years, helping busy bees who want to minimize time spent applying makeup and maximize skin benefits. And while naturals have a reputation for being particularly beneficial (or at least not detrimental) for skin, these hybrids take the trend to the next level.
Cocokind, one of the most affordable brands on the market, has come out with color-correcting primer drops that also even out skin tone, and skin-smoothing facial powders. Greesa has released a serum foundation, which looks and feels like a tinted moisturizer, but smells much, much better and with extracts from nutrient-rich food, delivers antioxidants, vitamins, and minerals directly to the skin. Last but not least, in perhaps the most brilliant combination, ILIA has finally combined mascara and a lash growth serum.
3. Natural deodorant goes mainstream.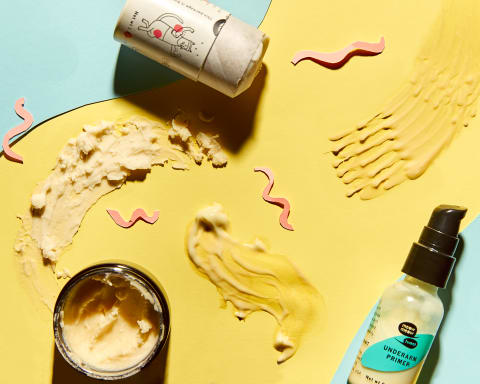 Aluminum-containing antiperspirants have a reputation for being the best conventional personal care products to replace with naturals. We apply it directly onto our lymph nodes daily, and it works by clogging our sweat glands. And while that certainly leaves you with drier underarms, it doesn't allow the body to detox through its natural pathways.
Some research points to a link1 between aluminum antiperspirants and breast cancer, but others like the American Cancer Society maintain that a causal link has yet to be determined. While both sides agree that there's not enough research on the long-term effects of aluminum at present, we've seen an increasing number of brands develop aluminum-free formulas.
Because of this, natural deodorants are becoming an accessible entry point for the natural beauty newbie. This year has seen (and will continue to see) innovation around making natural formulas last longer, like leading brand Meow Meow Tweet's underarm primer, new and improved scents, baking soda free formulas made especially for sensitive skin, and formats that work for everyone, from OG pots to sprays to sticks.
4. Women are viewing hormone balance as a beauty tool.
Ancient traditions and functional medicine doctors have been saying this for ages, but now we know it to be true: the skin talks. Especially for hormonal issues, women are starting to see that charting skin problems can be helpful in unearthing a larger imbalance that, in many cases, can be helped or corrected with lifestyle changes like diet, sleep, rest, or movement. When it comes to beauty, women are focusing on optimizing their hormones and using their cycles as a guide to understand what their bodies need. Clear skin is often an end goal or a very happy side effect.
We wish it were as simple as "chin pimples mean you have hormonal acne," but of course, our hormones play a very detailed symphony in our bodies. There are a number of factors that affect the skin—many skin conditions may indicate that the body needs care elsewhere, and often western solutions treat the symptom and not the root cause. There is no one-size-fits-all formula here. In fact, it's the opposite: what works for you might not for your pal, and vice versa.
This realization, empowerment, and action is due in large part to pioneers who have made it their mission to educate women at scale about their reproductive health, hormones, and fertility and the effect those have on our bodies. The hormones and the skin are intimately linked, and speak to the idea that beauty starts from within. Alisa Vitti and her book Woman Code was one of the first texts to present this information in a way that resonated with modern women. Others leading the charge include Natalia Hailes and Ash Spivak of Our Brilliant Bodies, the women behind The Fifth Vital Sign, and many, many more.
5. By next year, you'll have at least one probiotic product in your skin care regimen.
Following the golden age of the gut, we know that having a healthy one is linked to glowing skin, high energy levels, and improved immunity—which is one reason why supplementing with probiotics is so important—but can probiotics be effective topically, too?
Experts say yes, the skin has its own microbiome and taking an inside-out approach is the best way to ensure it's balanced. One study showed that a compromised gut was present in about two-thirds of people with acne, while people without the skin condition had healthy guts, nodding to the link between gut health and the skin. Oral probiotics have also been shown to "restore tissue homeostasis," which may lead to an improvement in the skin. We like HUM Nutrition's probiotic which delivers 25 billion friendly organisms of potent probiotics, and it's vegan, gluten-free and non-GMO, too.
6. Cleansing dust will replace (or complement) your oil cleanser.
If 2016 was the year of the oil cleanser, 2017 is the year of the powder cleanser. Powder cleansers are a newer product category gaining traction in the natural beauty space for a few reasons. First and foremost, keeping cleansers in powder form is super smart way to avoid having to put too many preservatives in products, which is beneficial for our skin as many preservatives are harsh, and for the environment. Products need preservatives whenever water is added to keep microbial growth down. They're also multi-tasking products and, depending on what they're wetted with, can be used as a facial treatment or mask.
Key ingredients include arrowroot, cacao, clay, dried milk, rice bran, and matcha are key ingredients in a host of new products released this year. Bonus? Powder cleansers won't explode in your carry on, nor do you have to worry about the three ounce TSA limit.
7. Eco-friendliness is a priority for formulas and packaging.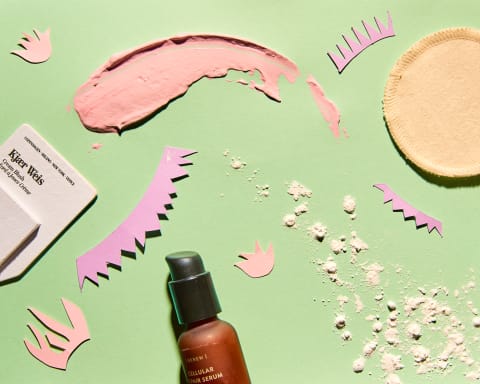 More often than not, a side effect of caring about natural beauty products is a deep love of the Earth and the potent healing she offers us. As the dangers of climate change become more real each day, the beauty industry is doing its part—being mindful about packaging, offering refills, using recycled materials, and exploring ingredients that are better for the earth.
SHOP THIS BEAUTY TREND
8. Skin labels are out—listening to your skin is in.
Natural beauty and makeup expert Jessa Blades maintains that "there is no such thing as sensitive skin," and that we simply have skin sensitivities. Like we saw in nutrition and diet earlier this year, the same approach is now being echoed when choosing personal care products: It's all about finding the ingredients that work for you, and exploring what your skin and body needs today. Letting your skin inform the decisions you make on the daily is one of the best things we can do for our bodies.
It makes so much sense. Instead of claiming that you have "combination," "dry," or "oily" skin from now until the end of time, this updated approach to skin care addresses issues as they arise and nods to the ever-changing nature of the skin, because skin changes with seasons, with what we eat, and of course, hormones, along with many other factors.
Fluidity of routine is encouraged, backing away from the strict cleanse, tone, treat, moisturize regimen and instead, personalizing your ritual for what your skin needs today. Odacite, a tried and true OG natural skin care line, offers a line of serums designed to do just this. The idea isn't to collect them all, said founder Valerie Grandury. Rather, it's to identify your top skin issues and be able to solve for those with specific targeted treatments. Similarly, Tata Harper's super popular mask treatments aim to achieve a similar goal. She even coined the phrase "multi-masking" which is using two different masks on different areas of the face, depending on what is needed.
9. Move over, botox. Facial massage is the new way to a youthful glow.
As part of a larger movement, people are turning to ancient remedies for modern ails. Don't get us wrong—western medicine and solutions will always have a time and a place in our book—but the healing powers of self-care are both instant and cumulative, and too strong to ignore.
One of the women behind this movement specifically for skin care is Britta Plug. She uses an East Asian technique called gua sha and has adapted it as a holistic treatment for detox and to combat aging. Gua sha literally translates to "scraping" and a cursory Google image search returns terrifying photos of bruised backs. Facial gua sha is much gentler, but uses similar tools and scraping patterns, and shares an end goal to move the body's blood and lymph.
Another reason massage works well for the face is because it manipulates the facial fascia, which is like its second skin. Hailing from Lanshin, a trendy wellness studio and healing center in Brooklyn, Plug has seen enough demand for her facials to open a business of her own, which is a testament to the effectiveness of facial massage as a holistic, viable, and accessible treatment.
Other non-invasive techniques that speak to the facial massage trend include eye rollers, jade rollers to depuff the face, and mircocurrent facials—and while spa treatments can be pricey, all have a sustainable, DIY-at home element and are effective ways to improve the texture, tone, and structure of the skin.
SHOP THIS BEAUTY TREND