Close Banner
Advertisement
This ad is displayed using third party content and we do not control its accessibility features.
Wait, You're Not Using A Nail Concealer? Why You Should + Best Options To Try

Beauty & Health Editor
By Jamie Schneider
Beauty & Health Editor
Jamie Schneider is the Beauty Editor at mindbodygreen. She has a B.A. in Organizational Studies and English from the University of Michigan, and her work has appeared in Coveteur, The Chill Times, and Wyld Skincare.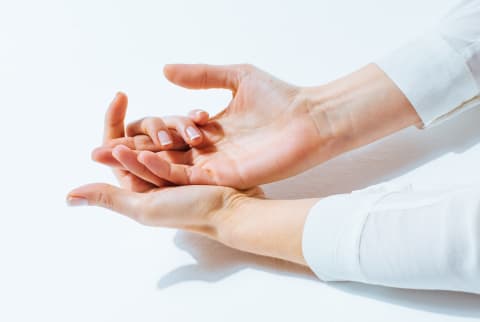 Image by BONNINSTUDIO / Stocksy
Concealer, IMO, is the most versatile product in your makeup bag. A confection that can diffuse fine lines, hide discoloration, brighten skin tone, and even help you fake a brow lift, concealer can truly do it all. Even the most natural "no-makeup" makeup looks require at least a few swipes of concealer, thanks to its ability to effortlessly freshen up the complexion.
It turns out, we can use that same logic for naturally gleaming nails. Allow me to introduce you to the mighty "nail concealer," the low-fuss polish bound to become your new favorite nail care staple.
What is nail concealer? 
Just like an under-eye concealer masks dark circles and brightens up the area, a nail concealer immediately covers up nail stains and discoloration.
Some options do contain a subtle, sheer pigment, but most don't add any actual color to your nails; a high-performing concealer makes you appear like you aren't wearing any makeup at all, and the same goes for the nail variety. Their main gig is to provide vibrant, fresh, natural-looking tips.
It's not a strict product category at the moment—even lightly pigmented base coats can be considered concealers—but we've seen an onslaught of sheer polishes making waves lately with the rise of "naked" nail looks.
"We're seeing a lot of 'barely there' nail looks right now because they're low maintenance and never go out of style," Nadine Abramcyk, co-founder of clean salon tenoverten, once told mbg about polish trends. A bare, healthy nail is always on trend, and a milky nail concealer is A+ for a "your nails, but better" look.
Benefits
Nail concealers do have some specific criteria—they're not merely sheer polishes. Here's what you can expect from the category:
Hides discoloration: Nail concealers illuminate the natural color of your nails, neutralizing any stains or yellowing. The veil of sheer polish instantly makes your tips look shiny and thriving.
Protects from future stains: The polish also acts as a shield for your nails, protecting them from environmental aggressors (like pollutants and sun exposure) that can result in stains or ridges. Some even contain UV filters to help keep your nails from yellowing over time.
Strengthens nails: Better yet, some nail concealers come infused with nail-strengthening ingredients, like argan oil, panthenol, and antioxidant-rich botanical extracts. That said, these concealers can enhance the appearance of your nails both in the moment and over time.
How to apply 
First things first: Investing in a nail concealer doesn't mean you can ignore overall nail care. You wouldn't toss your skin care routine out the window and rely only on makeup to cover up any concerns, would you? The same goes for those tips.
Always start by prioritizing nail health: Hydrate frequently with cuticle oil and hand cream, protect your nail plate while washing dishes and completing household chores, and perhaps dabble in internal nail nutrients, like biotin and collagen. In terms of the latter, one study showed that when participants took collagen daily for 24 weeks, their nail health was better maintained1, including faster growth rates, reduced breakage, and improved appearance.
After treating your nails with proper care, cut and file them however you like (some inspo here) before painting. The great thing about nail concealers is that they are quite sheer—you don't have to worry as much about paint spilling into your cuticles. Perfect for at-home mani novices (self very much included).
And voilà: Bright, happy, healthy nails in no time at all—it takes about as much effort as swiping on your favorite creamy concealer.
The takeaway 
If you've ever brushed on a light base coat or ultra-sheer polish for extra oomph, then congrats—you've used a nail concealer! These products hide discoloration and stains while enhancing your natural nail color, similar to how an under-eye concealer masks dark circles and allows your natural skin texture to shine through. But a very good nail concealer will also prioritize the health of your nails, too—so this is a trend we can certainly get behind.

Jamie Schneider
Beauty & Health Editor
Jamie Schneider is the Beauty Editor at mindbodygreen. She has a B.A. in Organizational Studies and English from the University of Michigan, and her work has appeared in Coveteur, The Chill Times, and more. In her role at mbg, she reports on everything from the top beauty industry trends, to the gut-skin connection and the microbiome, to the latest expert makeup hacks. She currently lives in Brooklyn, New York.