Close Banner
Advertisement
This ad is displayed using third party content and we do not control its accessibility features.
Emotional Health In 2021: Mind Gyms, Tele-Therapy & The Rise Of Mental Fitness

Written by
mbg editorial
The mindbodygreen editorial team worked together on the creation of this article, combining their deep expertise honed by years of reporting on health and well-being. It has been thoroughly researched, written, fact-checked, and reviewed by our editors.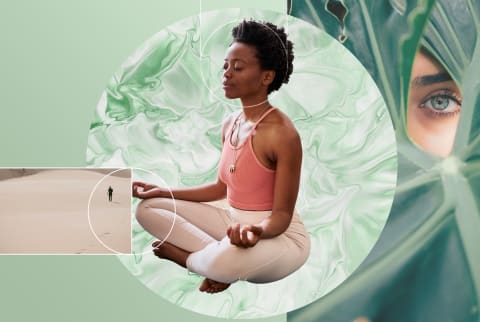 Graphic by mbg creative x MICKY WISWEDEL x Drew Graham / Stocksy + Unsplash
We carefully vet all products and services featured on mindbodygreen using our
commerce guidelines.
Our selections are never influenced by the commissions earned from our links.
We're not going to sugarcoat it: 2020 was a challenging year for mental and emotional well-being.
"Mental health is the silent pandemic that is also happening right now," says Uma Naidoo, M.D., nutritional psychiatrist, chef, nutrition expert, and author of This Is Your Brain on Food. "With lockdowns, quarantine, physical distancing, and ongoing uncertainty—loneliness is at its peak for many. The individuals who are thriving are few and far between, as the majority of individuals are lonely and isolated with limited supports."
Renowned clinical neuroscientist psychiatrist Daniel Amen, M.D., calls this intersection of mental health and COVID-19 "pandemic squared," which refers to the way COVID has been multiplied by a subsequent pandemic of psychological problems, such as anxiety, depression, post-traumatic stress disorder (PTSD), and addiction.
Data supports these observations, too. A survey in JAMA, which included 1,441 respondents from during COVID-19 and 5,065 respondents from before the pandemic, found the prevalence of depression symptoms1 was three times higher during the COVID-19 pandemic than before. What's even more devastating, in August of this year, the CDC released data that among the 5,412 adults they surveyed, more than 10% said they seriously considered suicide2 in the past 30 days (compared to 4.3% in 2018).
We would also be remiss not to mention the significant toll this year has taken on the BIPOC community. As Eudene Harry, M.D., wrote for mindbodygreen in October, BIPOC individuals already face racism-related vigilance, "the adverse stress response that comes from living with the constant expectation of experiencing racial discrimination in your daily life." With the added weight of a pandemic that has disproportionately affected BIPOC and a push for justice against police brutality and systemic racism—2020 has been trying, to say the least.
While the data from 2020 can seem discouraging, it was also a year of turning inward, with more people becoming proactive about their mental health. "2020 has taught us that instead of sticking metaphorical Band-Aids on things, escaping from symptoms, or simply chasing temporary relief, we have to look at the source and redesign a life," Perpetua Neo, DClinPsy, a psychologist and executive coach. In fact, according to a report published by Mental Health America, the number of people seeking help for mental health has drastically increased this year: 93% more people took their anxiety self-screening test and accessed immediate resources from their website this year, compared to 2019.
Roxanna Namavar, D.O., psychiatrist and integrative medicine practitioner, says she's similarly noticed her patients paying more attention to what's happening in their bodies, along with seeking ways to take better care of their physical and mental health. "There's been a lot of slowing down and figuring out what they really need," she says. "I've noticed more awareness of the present moment, and I think that's going to continue from a mental health perspective."
Companies and startups are also working to keep up with the demand for more accessible mental health care. In fact, venture capital funding of U.S. mental health startups totaled $1.37 billion through the third quarter of 2020, which outpaced the $1.06 billion in 2019, according to PitchBook data. The meditation app Calm, for example, raised $75 million, and the company is now valued at $2 billion. While the first mental health gym, Coa, is supported by several notable angel investors, including professional basketball player and mental health advocate Kevin Love, who recently spoke about mental health challenges on mindbodygreen's podcast. "The first thing is realizing that it's normal to feel this way," Love told mbg. "It can be tough to realize so many people are suffering and going through a lot of pain, but on the other side, it's really powerful knowing you're not alone or isolated."
With the heightened awareness around mental health, its important connection to physical health, and vice versa—we're confident mental well-being will continue to take priority in 2021. We've already seen some significant upticks in mental health services and priorities to accommodate these tumultuous times, and here's how we predict mental health care will continue to grow and evolve as we head into the new year.
We'll add more "mental fitness" to our routines.
After spending a year confirming that mental and physical health are intricately connected, it seems only natural to start referring to our mental health care with a new, more tangible term: fitness. "'Mental fitness' is a ton more proactive and palatable," says Neo. Creating parallels with physical fitness implies that mental health is something we should work on regularly, as part of a healthy routine, even when we're feeling just fine. After all, "You don't neglect your body and stop training after building muscle," she says.
In fact, this very concept is what inspired Alexa Meyer and Emily Anhalt, PsyD, to co-found the world's first gym for mental health, called Coa, which officially launches in January 2021. "Based on the thousands of people who have joined Coa's free group classes and therapist-led Q&A's in 2020, we're already seeing a shift in mindset," says Anhalt. "People are beginning to understand that we can work on our emotional fitness the same proactive way we work on our physical fitness."
Dan Harris, journalist and author of 10% Happier, says, to him, "[Mental fitness] is a really exciting concept because it means that happiness isn't just something that happens to you but something you can take responsibility for. It's a skill that you can train." His go-to mental exercise is meditation, "where you train the brain to be better at focusing, to be less reactive to stress, to be more self-aware, and to be more compassionate."
Mental exercise goes beyond meditation, though. At Coa, they feature classes dedicated to different emotional strength traits like "mindfulness" and "self-awareness," then you "practice them with others to strengthen your emotional muscles," says Alexa Meyer, co-founder and CEO of Coa. In a resilience class, for example, one workout might focus on building self-confidence over time. "To do this, participants are encouraged to build a 'Self-Esteem File,' where they collect and reflect on positive feedback that they've received from others. They can revisit this file when their confidence is low," she says. "This exercise helps shift our deeply embedded tendency to ruminate on negative feedback and let reflections of our value fly right past us."
As this concept becomes more widespread, Anhalt is confident that mental health "workouts" could become something we do in our community and as part of a daily routine, "making all of us more resilient for whatever else comes our way."
We'll look at mental health more holistically.
As mentioned, one silver lining of this pandemic is having the time to turn inward and get in touch with your body and mind. "There's been a lot of slowing down and figuring out 'What I really need? Do I really like what I'm doing every day?'" says Namavar. During this reflection, she says it's important to discover a few things you can control that make you feel good, then making time for those.
"Unless we start to intervene for ourselves in our mental well-being, the stats will only rise more in 2021. An easy intervention is to pay attention to how we are eating—we have the power to heal and fortify mental health at the end of our fork," says Naidoo.
"Food and nutrients are an easy way to start to build up our mental wellness, and why not start during the pandemic?" she says. "We cannot control what's going on around us, but we can control what's going onto our plates and into our mouths. This is where nutritional psychiatry is a powerful way for people to feel emotionally stronger."
Tele-therapy will be the new normal.
"One of the good things that has emerged from the pandemic is easier access to psychiatric care via tele-mental health," says Amen. "At Amen Clinics, we treat patients from 150 countries, so we've been using virtual appointments for decades. I predict that in 2021, even more people will realize they can get the care they need from anywhere in the world."
Like Amen Clinics, numerous therapy and psychiatry offices are now offering teletherapy services. What's more, companies like Real, Mindstrong, Ginger, Calmerry, and Tia are building their entire brand around virtual care.
Teletherapy is particularly important in an era when face-to-face contacts are few and far between. As science journalist and author of Friendship Lydia Denworth explained on an mbg podcast, eye contact is crucial for healthy social connections and well-being. While virtual interactions aren't quite the same as IRL, they're better than nothing. In fact, one study of 1,400 older U.S. adults found people who connected with others on video calls3 had a lower risk of developing depression compared to those who used only audio and instant messaging. Technology companies like KOMP are even creating easy-to-use video communication devices for seniors, for this very reason.
"We've seen an explosion of meditation apps, therapy matchmaking services, and online mental health resources, and my prediction for 2021 is that the number of options will continue to grow," says Anhalt.
We will continue to chip away at stigmas.
In your daily pandemic social media scrolling, you may have noticed more people vocalizing mental health challenges this year. While that may come as no surprise considering the staggering statistics, it's also a sign that we're slowly dismantling deeply rooted mental health stigmas—and they'll continue to crumble in the upcoming year.
"Because it's a collective experience—albeit experienced to different degrees—we're learning these [feelings] are very real," says Neo.
Anhalt also thinks the accessibility of mental health care is part of the progress: "I believe we'll see the rise of in-person experiences as soon as it's safe to do so, and as the stigma continues to drop, we'll see more people open up about the importance of mental health," she says.
"It's been a wild ride of a year," says Anhalt, "and the influx of interest underscores a major cultural shift that's taking place: People are realizing that no one should have to face tough times alone and are starting to see that proactive emotional wellness is key."
This is just one of the trends mbg is predicting will be huge in 2021. Check out our full list of the latest health & wellness trends.

mbg editorial
The mindbodygreen editorial team worked together on the creation of this article, combining their deep expertise honed by years of reporting on health and well-being. It has been thoroughly researched, written, fact-checked, and reviewed by our editors.